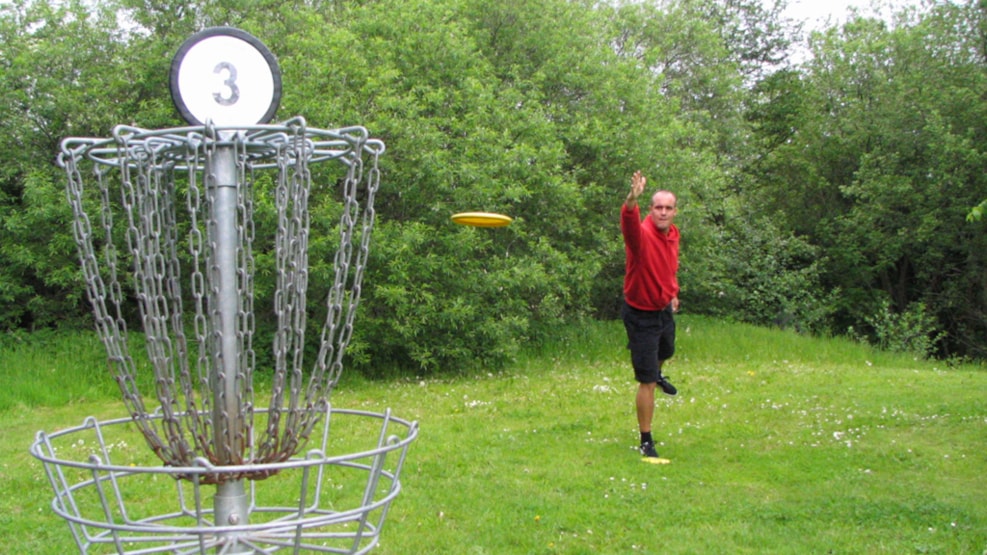 Horsens Disc Golf Course
At a central location in Horsens in Bygholm Park, you can try this fun game and combine it with lots of fresh air in the outdoors. Bring your family or friends for a game of a sport that combines golf and frisbee.
Fun activity for all
Do you seek inspiration for a fun activity in nature? Disc golf is a relatively new sport that is perfectly suited for children as well as adults. This 9-hole disc golf course in a charming setting in Bygholm Park is free to use. You do not need to make a reservation – just show up. You can use your own frisbee, but do not worry if you do not have one. You can borrow equipment in the reception of the beautiful manor hotel Comwell Bygholm Park at a small fee.
What kind of golf?
Disc golf is a new sport that has gained popularity in Denmark in recent years. This type of golf does not require a golf club and balls, but a disc. The "holes" on the course consists of fixed poles with baskets and chains. The rules are similar to regular golf, and the goal is to get the disc into the basket or the chains in as few throws as possible. The number of throws is noted down at each hole, and the winner is the person who have used fewest throws after all holes.
Classic golf requires membership or pay & play whereas disc golf courses are usually developed in public parks and urban spaces where everyone can use it for free. Since the sport is so easily accessible, it is easy to find out if it is a game you like.
Do you not have your own disc? Do not worry
The beautiful old manor hotel in Bygholm Park. If you do not have your own frisbee, you can report to reception in Comwell Bygholm Park and rent equipment for 100 DKK. This way you can try the sport without visiting a sporting goods shop in advance.  
About Bygholm Park
Bygholm Park is built around the old historic manor Bygholm. It is very close to the city centre and connected to the train station via a tunnel. The majestic park is a popular set of lungs for the local citizens – including joggers and families with children who are attracted by the two big playgrounds, and the many ducks. There is also a fenced dog park in Bygholm Park.
There is ample opportunity to enjoy picnic at the many tables and benches. Otherwise, Comwell Bygholm Park also has an excellent restaurant where you can also enjoy a cup of coffee or a piece of cake.
The park has a big free parking lot which is accessible from the street Bygholm Parkvej.
Destination Kystlandet © 2023