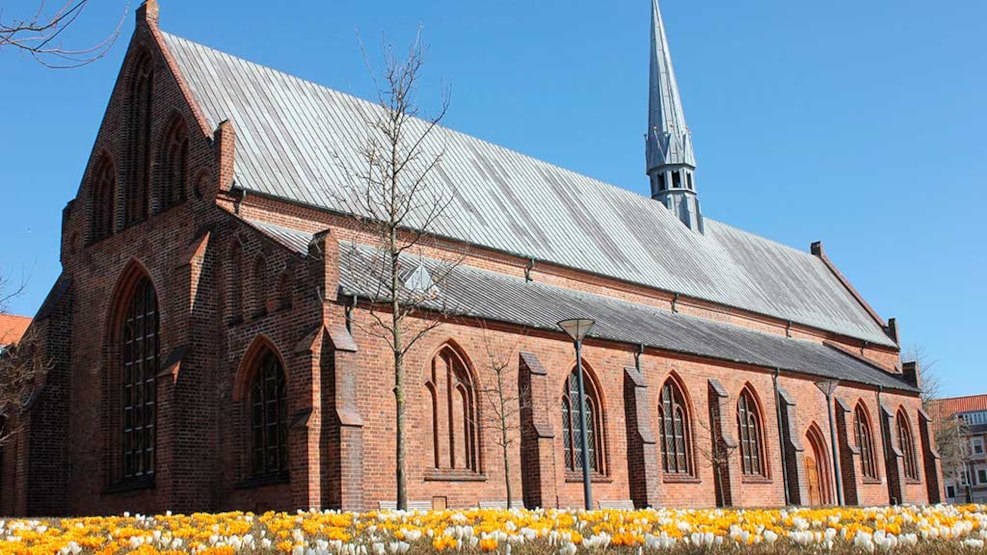 Horsens Abbey Church
The Abbey Church was constructed in the 1260s. As the name implies, it was formerly part of a monastery complex, which was built on a plot donated in 1261 by Squire Niels of Barritskov to the Franciscan monks, also known as the Greyfriars. They were beggar monks and had to make a living through alms and charity.

Both monastery and church were expanded and remodelled several times in medieval times, and had grown into a stately complex with four wings by the time the monks were banished in 1532. Less than 100 years after the Reformation, most of the monastery buildings had gone. The church itself was kept as parish church for the town and served in this function until 1794. The Abbey Church was then demoted to burial church (and for a time even used as a powder magazine), but in 1904, after a ten-year restoration, it became a parish church once again

Today, visitors find a beautiful Gothic building with a lavishly decorated and very atmospheric interior. The 16th century altarpiece comes from the Church of Our Saviour at the nearby town square. The pulpit was built around the year 1600, and the chancel holds two old monks' chairs with numerous names and dates carved by misbehaving grammar school pupils. Two manorial pews line the chancel screen. They were built in 1738 for Gerhard de Lichtenberg and his wife. Manorial pews were common in churches. They provided a distinguished seating position for noble families, away from the common rabble. The church imposed a fee on the pews to augment its income.

Wealthy people could also acquire part of the church space, complete with basement if needed, for use as a family chapel of rest. Several memorial tablets and chapels can be seen in the church. The family of foundry master Jens Stallknecht is buried at the Horsens Abbey Church. Stallknecht cast many of the local church bells, and his entire monument is constructed from cast iron.
The building that now holds the church offices held the grammar school from 1747 to the mid-1800s. The original building has been modified heavily. The reading of the gospel for Christmas day at the Abbey Church is a beautiful and atmospheric annual tradition.