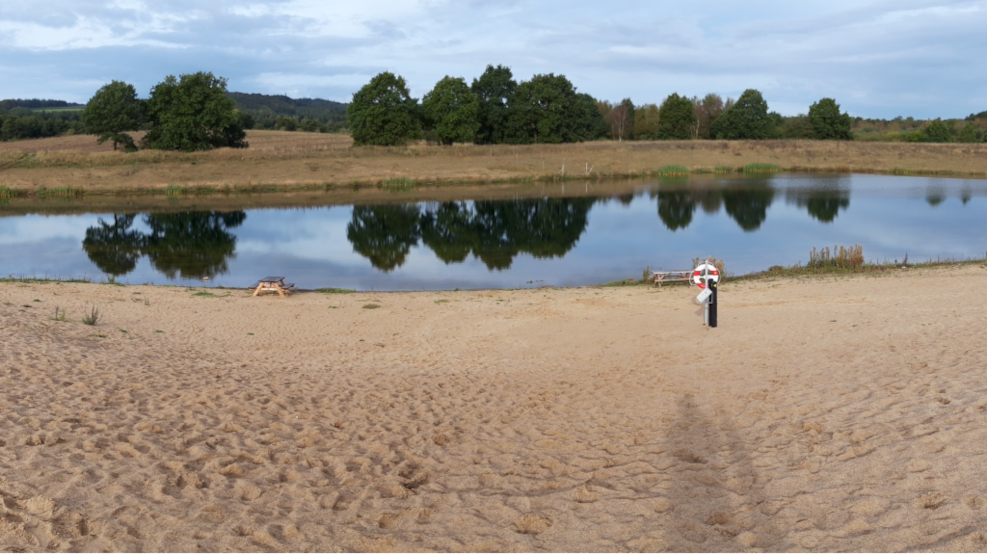 Fyel Bathing Lake (Fyel Badesø)
This bathing lake, located in beautiful nature between Horsens and Silkeborg, has a fine sandy beach. Go for a ducking on a warm summer's day – and combine your visit with great nature experiences nearby.
Lovely bathing lake in the Danish Lakelands
Between Horsens and Silkeborg, you can visit this new bathing lake in an area characterized by hills, forest, and lakes. When you arrive, you are welcomed by a lunar landscape since the lake is located in a former gravel plant which has been rebuilt into a new recreational area. There is a big parking lot, toilets, a water pump and benches under roof where you can enjoy your packed lunch.
From here, there is a trail that leads to the bathing lake. On the side of the lake that you will get to first, there is a 50-metre-wide beach. On this side, the water is shallow and slowly descending the first eight metres. But be aware that the water level then quickly descends to six metres. Therefore, children and inexperienced swimmers should stay near the beach.
At the beach there is also lots of space for sunbathing.
From gravel plant to recreational area
The closed down gravel pit is currently being developed as a green oasis in nature for everyone. The first step in this process is the new bathing lake. Here, nature runs its course – no seeds or trees are planted. Nature will slowly, but undoubtedly, do the job, so the barren landscape is replaced by a green and vigorous paradise for nature lovers.
Natural and clean bathing water
Fyel Bathing Lake is a natural groundwater lake. Therefore, as a rule, you can expect bathing water of a high quality. Horsens Municipality frequently tests the quality of the water. In case of contamination, this will be communicated on information boards at the lake and on the Horsens Municipality website.
Explore Bakkelandet
Fyel Bathing Lake is in an area rich in nature with many exciting nature attractions. Only one kilometer from the lake, you can visit the Uncovered Bridge, which is one of Denmark's most popular nature attractions. The river Gudenå also runs close by the lake, and there are several interesting hiking- and bicycle routes. One of them, the Nature Path Horsens-Silkeborg, is right in the neighborhood. And in the village Voervadsbro nearby, you can find the start of the Gudenå Path which follows the river over the beautiful viasta point, the Sugar Loaf.
Are you looking for other beaches or bathing lakes in the area?
Fyel Bathing Lake is located in an area with several natural bathing lakes. And you are also close to the fine sandy beaches of the east coast. Find inspiration for beaches and bathing lakes in the Coastal Land on this page.