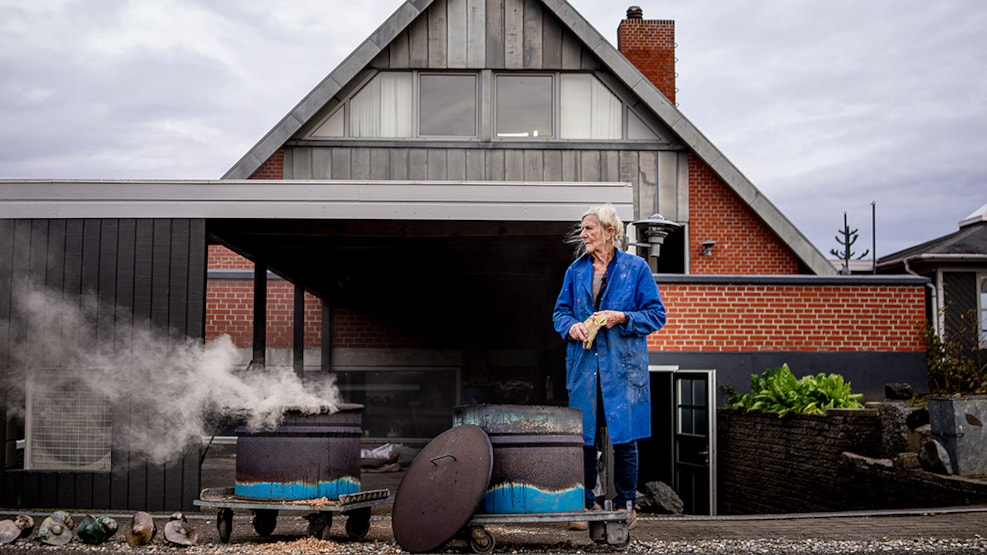 Eva Keramik
The experienced ceramicist Eva Pedersen has her atelier, galley and art store only a stone's throw from Rude Beach and a few hundred metres from Saksild Beach. Eva specialises in raku ware sculptures as well as bronze and glass sculptures.
Beautiful handicraft at the Odder Coast
You can visit one of the region's most skilled ceramicists in a private home with a view to the calm waters of the Danish east coast. Eva burns ceramics using the old Japanese raku method and makes glass and bronze sculptures. Lovely platters as well as beautiful figurines such as clowns, ladies and birds are among the artwork for sale at Eva Keramik.
About raku ceramics
In the old times, the Japanese sought peace and harmony by surrounding themselves with beautiful objects. One of the virtues of raku ceramics is its very beautiful surface.
Raku means tranquility and harmony.
After the object, such as a pot, is shaped by the ceramic clay, it is burnt in an oven at a temperature of 1000 degrees Celsius. Afterwards, it is glazed and put back in the oven - this time at 900 degrees Celsius.
The glaze is smelted after approx. 20 minutes. The pot is taken back out of the oven and swung back and forth to create cracks. After the aeration, the pot is placed in a sealed container with sawdust – a process that enhances the beautiful colours and creates a unique and exciting glaze. The oxygen is pulled out of the clay and the cracks a beautiful scenery. One last effect is achieved by putting the glowing pot in a water bath.
Weather, wind and method of burning greatly influences the outcome of each burning but the unpredictability of the outcome makes raku a particularly exciting artform that is now more frequently used in Western European arts & crafts.
Opening hours
You ought to take the time to visit Eva Keramik when ever you are at the Odder Coast. Eva happily welcomes you with a smile, open arms, and a willingness to talk about the creation of the art.
Open April 3 – October 1 at 11 a.m.-5 p.m.  
Closed on Mondays and Tuesdays. Otherwise by appointment. Feel free to call in advance at +45 51 34 04 82.
Explore the coastal area at Rude and Saksild
The beaches of Rude and Saksild are probably the best bathing beaches at the Danish east coast. There are good facilities, a lifeguard tower, eateries, shopping options, and the chance to rent equipment on land and on water. Get inspiration for other experiences around Saksild on this page.
Destination Kystlandet © 2023