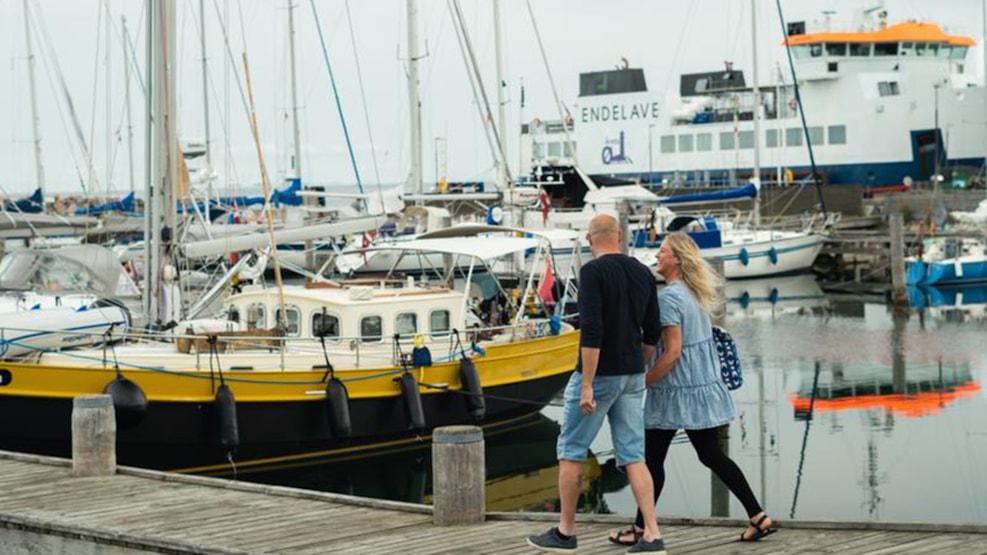 Endelave Marina (Lystbådehavn)
The island of wild rabbits, Endelave, is a wonderful stop on the sailing holiday in the Eastern Jutland Archipelago. The cosy marina has great facilities, and wonderful experiences and wild nature awaits nearby on the idyllic island.
Feel the unique island atmosphere on the sailing holiday
On Endelave, you can experience a cosy, maritime atmosphere. At the end of a long pier, there is a little ferry port and a marina. There is plenty of room at the marina, and all the most important facilities that you need. There is a modern service building, a slipway, electricity, washer, dryer, barbecue facilities, showers, playground, and much more, so you have the best possible conditions while docked on the sailing holiday. Endelave is a popular destination for sailors who wish to experience the unique atmosphere on the Danish Island of the year 2020/21.
Explore Endelave
The marina is located close to the island's village, which you reach at the start of the pier. There is an inn, eateries, shops and lots of idyllic Danish houses. Life is lived at a low pace on Endelave, and you will sense that as you walk around the streets where there is not much traffic. You can walk on the popular hiking route, the Kanino, which goes all the way around the island through preserved nature on a 21-kilometre-long route. You can also choose on of the three shorter waymarked rabbit routes of 3-12 kilometres.
At the harbour you can visit Endelave Grill & Café where you can rent bicycles. You can reach all parts of the island by bike. At the café you can also order breakfast or enjoy a game of miniature golf.
Take part in the many activities
The local inhabitants regularly organize events for the island's visitors. During the summer period, you can participate in events such as yoga at the beach, golf, CrossFit and sailing school organized by Active Island. And you can participate free of charge.
In addition, there are also several tour organizers who arrange guided tours. Try seaweed safari or a writer's walk.
Go for a dive
There is excellent bathing water at the marina, and with the brand-new bathing-jetty you have the best possible conditions for cooling down in the calm waters of the Kattegat. Next to the marina (and almost all the way around the island) you find beaches where you can sunbathe in peace and quiet.
Destination Kystlandet © 2023