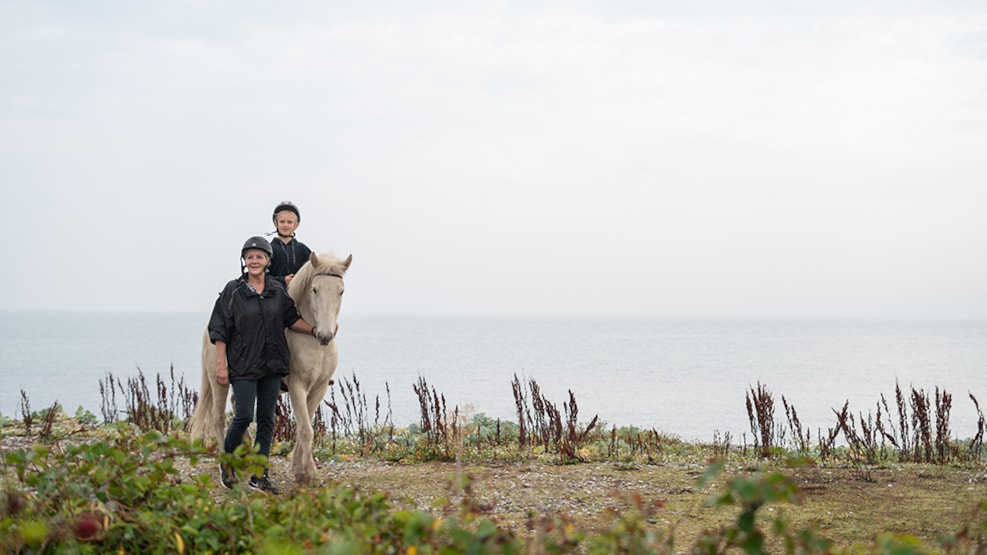 Turridning Endelave - guided horseback riding tours
Experience the sunny island of Endelave from horseback. With Turriding Endelave you are guaranteed a fun experience for both children and adults whether you are a beginner or an experienced rider.
Go on a ride in Endelave's wilderness
Turridning Endelave (Endelave Horseback Riding Tours) offer guided tours in beautiful unspoiled nature at the island of Endelave in The East Jutland Archipelago, only a short one-hour sail from Snaptun harbour between Horsens and Juelsminde. 
The riding tours often traverse into the 300 acres nature reserve "Øvre", and naturally, along the calm shores of Endelave.

At a horse back riding tour you will go through places where the common tourist will rarely go - and we can almost certainly promise, that you will spot a bunny or two, as the island is famous for its thousands of wild rabbits.
Choose between a ponying trip, day-trips or group tours
Endelave Horseback Tours offer ponying- and riding tours on both calm and more energetic icelandic horses.

You can choose between ponying tours , a selection of day-trips, and group tours with prolonged stay and themed experiences.

In addition, is it posssible to attend Turridning Endelave's Horse camp. There is one yearly camp for adults and one for children.
Booking and price 
Book your horseback ride right away at Turridning Endelave's web page, via e-mail info@turridning-endelave.dk or by text at +45 61 75 97 87. 

Fairs start at 425 danish kr. pr. rider, depending on which trip you choose. 
See all prices right here. 

If you have specific whishes or requests for your trip, please contact Turridning Endelave. 


Good to know
The horses are able to carry a rider with a bodyweight of maximum 90 kg. 

All horseback riding is at your own risk. 

During the high season (weeks 27-32) the horses rests on sundays. 
For more information, please contact Turridning Endelave at info@turridning-endelave.dk.


Combine your ride with a vacation at Endelave
Turridning Endelave offer accomodation in their charming holiday apartment. One-night stays are available at request, as are weekend- and week-long rents.

Find more experiences at Endelave and learn about the ferry, eateries and additional accommodation in Destination Kystlandet's big guide to Endelave. 
Yee haw! 
Destination Kystlandet © 2023