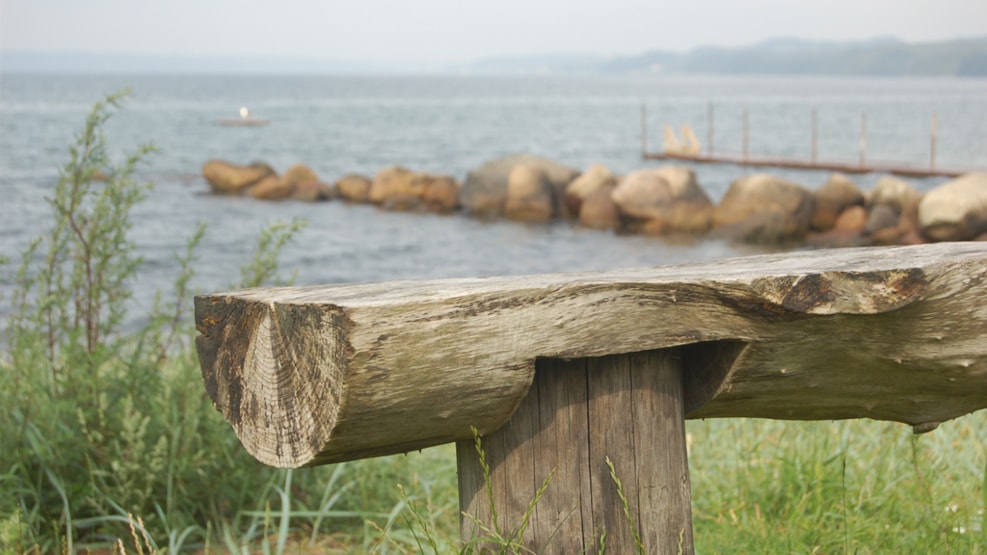 Daugård Beach
Do you want to go bathing in the beautiful nature at Vejle Fjord? This Blue Flag beach near Daugård is ideal with its fine bathing water, a wide sandy beach, and good facilities. The beach offers a tremendous view of Vejle Fjord.
Beautiful bathing beach in lovely nature
In the very hilly and distinctive nature on the north side of Vejle Fjord, you can visit this fine sandy beach in peaceful surroundings. The beach is a popular attraction during the summer months due to the quality bathing water and the picturesque surroundings.
There is a big parking lot right behind the beach that is well shielded so you do not hear the traffic as you are lying on the beach. You can also find toilets between the parking lot and the beach.
The beach itself is quite wide but not very long. There is a lawn area behind the sand with tables and benches and lots of space to enjoy your packed lunch with a terrific view.
From Daugård Beach you have a good visual overview of the fjord, and you can easily see the Vejle Fjord Bridge to the west and Træskohage Lighthouse to the east.
Wheelchair users have access to the waterfront, ramps, the parking lot, and toilets.
Blue Flag
Daugård Beach is Blu Flag certified. This is your guarantee of a clean and safe beach with quality bathing water.  Here, you can always find lifeguard equipment, information boards, dustbins, and frequent water quality testing. The Blue Flag is also an environmental label. At Blue Flag beaches an effort is made to protect nature and the environment, and every year specific Blue Flag events are organized that focus on mediating nature.
You can find an overview of Blue Flag activities on this page (in Danish). Choose Hedensted Municipality to see events near Daugård.
The lovely surroundings
Daugård Beach is located at the beautiful northern coast of Vejle Fjord, which is characterized by Denmark's longest coastal forest and often tall bluffs. It is very hilly in the area around Daugård Beach, and you will see a stunning view at the top of one of Denmark's biggest hills, Askebjerg, from which the view is worth a break. East of the beach is Rohden River Valley offering unique nature and vista points.
Because of the hills, Daugård Beach is popular with cyclists. If you wish to explore the area on two wheels, you can follow the blue signposts of Kulturringen or one of the roundtrips on Kystlandet's digital map (Google Maps).
We also recommend combining a visit to the beach with a walk at the nearby Træskohage Lighthouse and the beautiful treatment paths through forest and park at Hotel Vejlefjord.
You can find inspiration for more experiences at Vejle Fjord on this page.
More beaches in the Coastal Land
On this page you can find inspiration for other good beaches nearby.
Destination Kystlandet © 2023