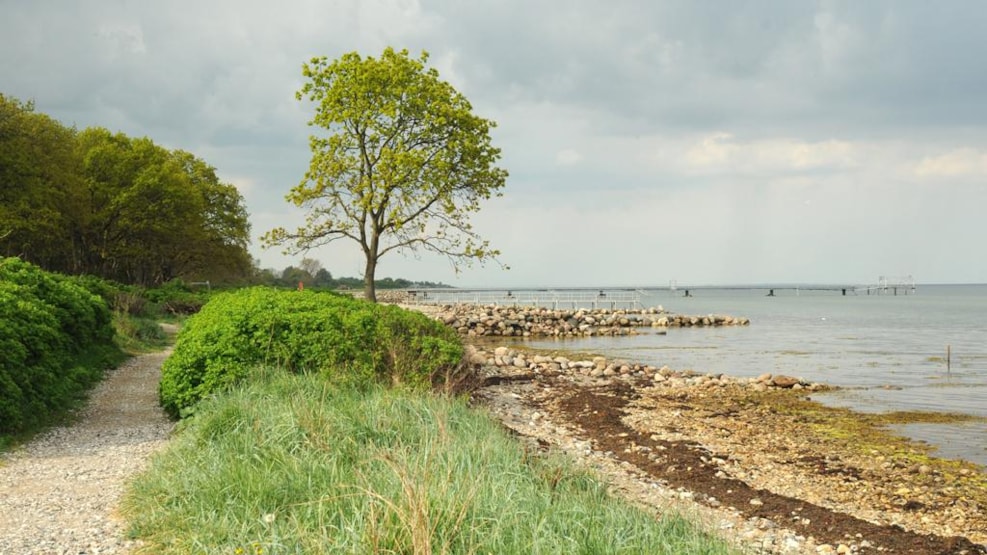 The Coastal Path at Hou
Put on your hiking boots and head out on this 10-kilometer-long hiking trail at the port of Hou. This beautiful hike takes you along the Odder Coast to Hølken Beach and back through Hou town.
Beautiful hike along the coast
This circular tour around the maritime ferry town and port of Hou shows you some of the best that Hou has to offer. A beautiful coastline, a cosy harbour environment and exciting local history. And then the route is signposted making it easy to find your way.
The route starts in the town of Hou and follows the coast north past Hou Beach and on to Hølken Beach. At Hølken, you can take a break at the caravan park Hygge Strand Camping and enjoy a delicious Italian ice cream in a bubble cone. You can also take a dip in the sea from the bathing jetty on the fine beach.
The trail back to Hou is an inland trail that takes you through the surrounding nature and the sights of the town, the harbour and town centre.
Get to know the local history
The history of Hou is intriguing with many interesting tales. Along the path, you can scan qr-codes and listen to stories about e.g. the first fisherman of Hou, the Hou thorn, the mounds of Bjørnkær and Gersdorffslund Manor.
You can install a qr-scanner on your smartphone free of charge from App Store or Google Play Store. 
Following the route on your telephone
This digital map lets you follow the route through the nature.
Interesting detours
A little west of Hou, you find the medieval rampart of Bjørnkær which is one of the largest and best-preserved ramparts in East Jutland. South of the rampart is the forest Ravnskoven Forest which is an obvious choice if you want to combine the hike along the Coastal Path with an immersive nature experience.
You can also continue the hike further along the coast north of Hølken. About five kilometres north of Hølken, you reach the popular seaside resort of Saksild.
Spending the night along the Coastal Path
There are several options of accommodation along the Path. At Hou Sea Sport Center, you can spend the night in disabled-friendly holiday homes. This part of the Coastal Path has 850 metres with special handicap-friendly paving. Not far away is Hou Strandcamping where you can spend the night in a tent if you do not have your own caravan. At Hølken, you can spend the night in charming wooden huts at Hygge Beach Camping. At Hølken, there is also a popular shelter/barbecue hut where you can spend the night outdoors for free.
Looking for more interesting hiking routes?
This page may provide inspiration for your next hike in the Coastal Land.