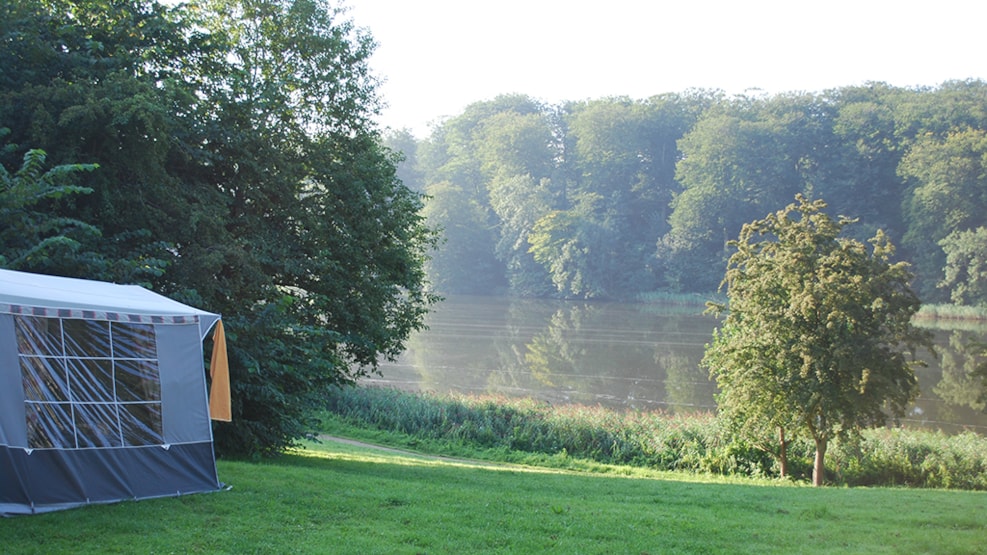 Bygholm Lake Camping (Bygholm Sø Camping)
This idyllic campsite is located in lovely surroundings at the shore of Lake Bygholm. Enjoy the freedom near lake and forest with good options for outdoor activities in close proximity to the city centre. 
Picturesque caravanning
The Horsens area's smallest but arguably most beautifully located campsite is at the shore of the popular nature area Bygholm Lake. The campsite, which has 28 units, slants downwards to the surface of the water so all campers can expect a great view over the lake and Åbjergskoven Forest on the other side. The site is not big but has all the most necessary facilities. There is a kiosk, reception, restaurant, bathing facilities, fire ring and playground here.
Accommodation for everyone
At the campsite you can of course bring your own caravan. But if you do not have your own caravan, you can also rent one of the charming cabins. The wooden cabins can accommodate four people and come with cooking plates, kitchen utensils, tableware, and a fine patio with wooden furniture.
Alternatively, you can choose to sleep in one of the three shelters with room for five people. There is a fire ring, tables, and benches near the shelters as well as access to the campsite's other facilities. A part of the campsite is for tents only. So, bring your tent and spend a night under the blue sky at the lakefront.
Book your stay
On this page you can book your camping holiday at Bygholm Lake and read more about each type of accommodation. Or follow this link to see the current prices. For information in English, call the campsite.
A wonderful base for outdoor activities
Bygholm Lake is a popular excursion point for local citizens as well as tourists. The 8-kilometre-long hiking route around the lake is loved by hikers and runners, and there is also a mountain bike trail and a horse-riding trail through the forest.
You can also fish in the lake. At the campsite you can buy permission to sail at the lake.
Destination Kystlandet © 2023