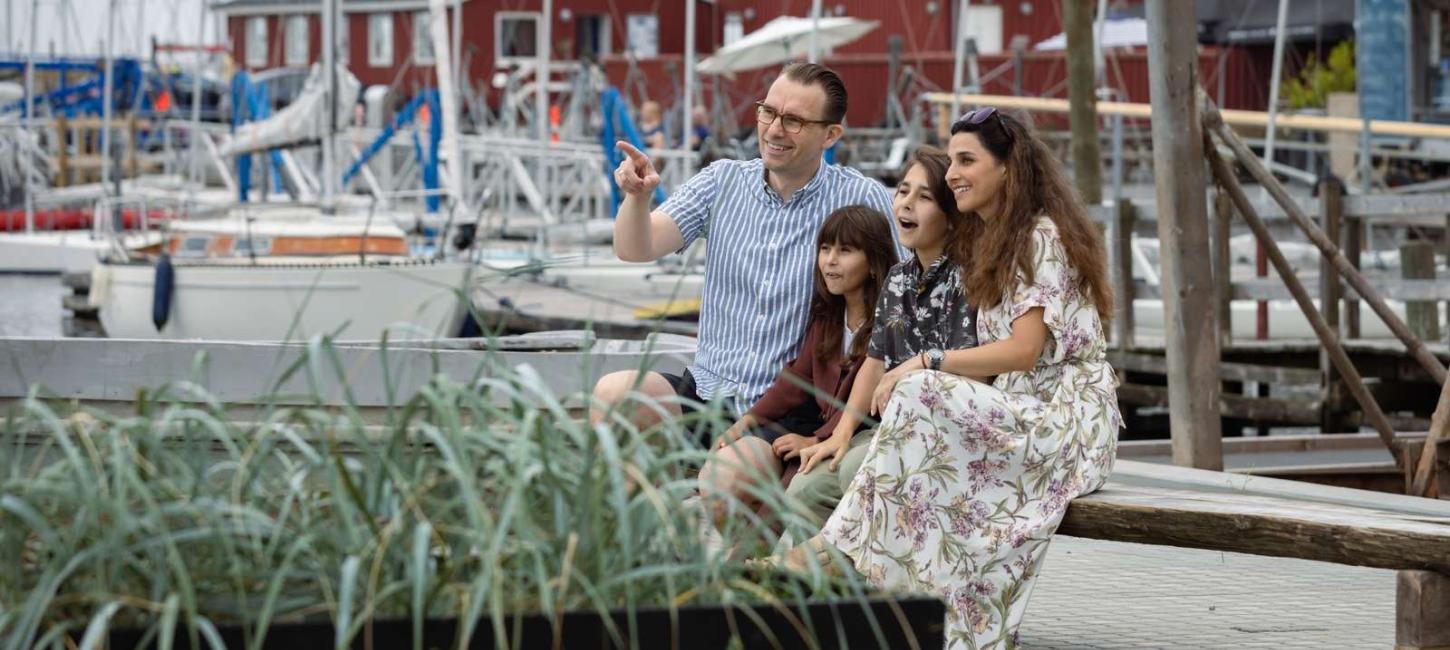 Hou - experiences in a charming ferry town
With its ferry port and large marina, Hou is a maritime centre in East Jutland, and the proud maritime traditions characterise the town. Hou is much more than just a place to wait for the ferry. Here you will be welcomed with harbour cosiness, beautiful countryside and lovely beaches.
The gateway to the East Jutland Archipelago
All year round, a stream of people flock to Hou and hop on one of the daily ferry departures to the islands of Samsø or Tunø. Many do so without knowing the cosy atmosphere that literally awaits right around the pier by the marina and the old fishing village.
Behind the old historic shipyard is the large marina with a perfect setting for pleasure sailors. The harbour is not just for sailors, but for everyone. It is nice to walk along the quayside, where you feel the maritime atmosphere.
Around the harbour quay is an ice cream parlour/café, while you will also find a convenience store and one of the region's best butcher shop. 
Did you know that every July the harbour of Hou provides a setting for the Hou Harbour Festival with music, fun, sports, entertainment and the popular Hou Drop, where brave participants plunge into the harbour in creative homemade vessels?
8 km of hiking-friendly sandy beach
Next to the ferry port is Hou Beach, which is a really nice beach with excellent facilities. The beach can be found on VisitDenmark's list of Denmark's best beaches. From the harbour, the beaches of the Odder Coast continue for many kilometres. It is highly recommended to take a walk in the direction of Saksild and Norsminde on the fine beach sand.
The Coastal Path at Hou is a 10-kilometre disabled-friendly hiking trail that leads to Hølken Beach along the water. The walk back towards the harbour goes through Hou town.
It is also recommended to take a walk in the local forest of Ravnskoven and a visit to the historic rampart Bjørnkær. 
Messing about in Denmark's most accessible swimming pool
An obvious alternative to beach swimming is Vandhalla, a large swimming pool with a 90-metre slide. 'Vand' in Danish means water. The water park is Denmark's most accessible with special aids and the country's only fully accessible water slide. Vandhalla is hours of fun for everyone!
Destination Kystlandet © 2023
English