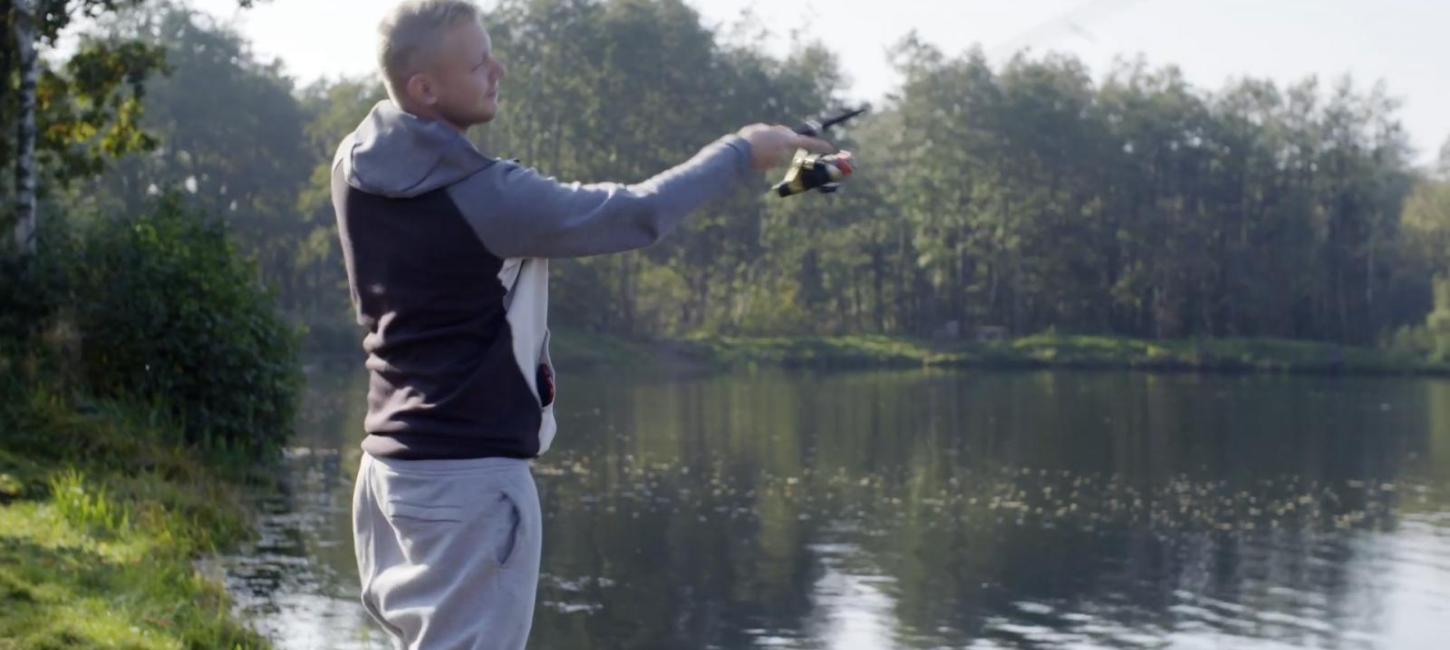 Fishing in the East Jutland lakes
Photo:
Destination Coastal Land
Lake fishing is popular in the lakes of the Coastal Land, where pike, zander and perch are the primary targets for anglers. From the very small forest lakes to some of the country's largest lakes, you will find idyllic fishing experiences with some of the country's best put & takes.
Here you can cast your fishing rod in a lake
Whether you are fishing from your rowboat or from the lake shore in a forest, fishing on the area's lakes is an immersive, quiet and relaxing experience. Here you can really relax - surrounded by nature. There is plenty of life in the lakes with many different fish species. On this page you get an overview of the area's best fishing lakes.
Put & take -

fun for the whole family
New fish are added daily in the area's put & take lakes. You will find two of the country's best put & take centres in the Coastal Land. Both Fyelmose and Hedensted Put & Take are good places to get acquainted with fishing - not least for the youngest in the family, who can try their hand at the children's lakes.  
The Vestbirk Lakes
Close to The Uncovered Bridge (Den Genfundne Bro) are the Vestbirk Lakes, which consists of Vestbirk Lake, Naldal Lake and Bredvad Lake. The three lakes have excellent fishing waters, and here it is possible to catch pike, perch, eel, burbot, bream and roach.
The lakes are located in a beautiful area and are a good starting point for a fishing trip. At Elite Camp Vestbirk it is possible to buy day passes and weekly passes for fishing on the lakes.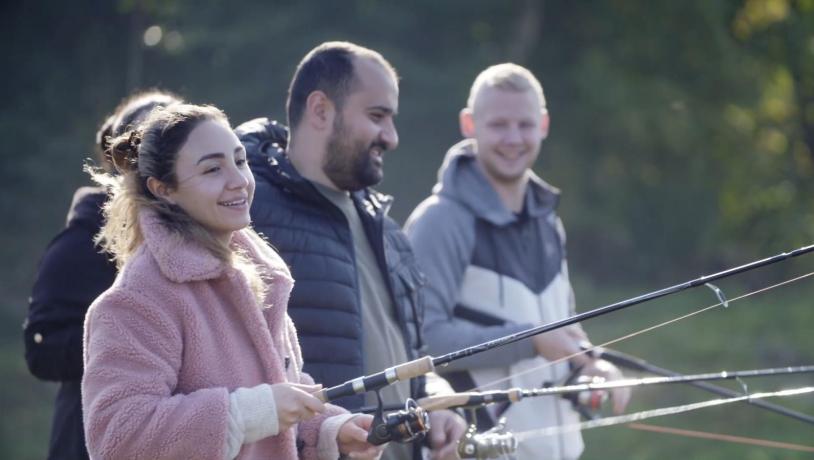 Photo:Destination Coastal Land
Mos Lake
A little north of Horsens is Mos Lake, Denmark's fourth largest lake and part of the river Gudenåen.
Mos Lake is known for a large stock of fish. In fact, there are as many as 19 fish species, which is the largest population of species in any Danish lake. Most of Mos Lake is not accessible for anglers, but in several places on the west and east side of the long lake it is allowed to fish from the shore or from a boat. The right to fish on Mos Lake belongs to Silkeborg Fishing Association. Find out where you can fish on their website.
Bygholm Lake
Not far from the centre of Horsens is Bygholm Lake,
which is a favourite excursion destination for runners and walkers. The lake is located in a wooded terrain with rich wildlife both above and below the water surface.
The artificially landscaped lake offers, among other things, pike and perch, but it is primarily the large population of zander that makes the lake special among anglers.
The fishing rights for Bygholm Lake belongs to Bygholm Angling and Boat Owners Association (Bygholm Lystfisker- og Baadejerforening), and a day pass cost DKK 20. It can be bought at Bygholm Lake Camping and at Effektlageret.
Ring Lake
At Brædstrup is Ring Lake, where you can fish for free from the shore 200 metres west of the jetty. By the lake there are good chances of catching pike and perch. 
Also try fishing in scenic Elverdam in Bjerre Forest. No association fishing licence is required here - only the state fishing licence.
Good to know about lake fishing
Where can I buy a fishing licence?
The Danish Fisheries Agency administers the national fishing licence. On their website, you can buy fishing licences, which give access to fishing throughout the country. You can choose to buy a fishing licence for a day, a week or a whole year.
Where can I buy a fishing licence for the lakes?
Most fishing lakes are affiliated with a local fishing association, which holds the right to fish. Some fishing associations require membership, while others sell fishing licences that give temporary access to fishing. In return, the fisheries association cares for and maintains the waters.
The Vestbirk Lakes: Brædstrup og Omegns Sportsfiskerforening (fishing licences can be purchased at Vestbirk Camping).
Mossø: Mainly Silkeborg Fiskeriforening (fishing licences can be purchased via their website).
Bygholm Lake: Bygholm Lystfisker- og Baadejerforening (fishing licences can be purchased at Bygholm Sø Camping).
Er der minimumsmål på fisk?
Er fisken på krogen for lille, så du ikke må tage den med hjem? Via denne fredningsberegner kan du undersøge, om fisken skal smides ud eller kan hjemtages.
Du kan også se kalendere for mindstemål på Fiskeristyrelsens hjemmeside.
Hvornår er det fiskesæson?
What kind of fish can I catch in put & take lakes?
The Danish put & take lakes are trout lakes. You will mainly catch rainbow trout, but river trout and golden trout are also common. In some lakes, you will also be able to catch pike and eel.
Why fish in a put & take lake?
Put & take is a fun form of fishing with good chances of catching fish. There are plenty of fish in the lakes, and they are also easily accessible, so you can pick several different spots. Put & take lakes have good facilities such as a shop where you can buy and hire equipment, lakeside parking and a cleaning room so you can prepare your fish and take it home. At the same time, put & take is a more social form of fishing with good opportunities to take a break and lunch at the tables/benches set up and chat with strangers.
For families, put & take is the obvious way to try fishing for the first time, to hone your technique or just to have a fun and different nature experience. And if the children get impatient, there's often a playground near the lakes.
Do I need my own equipment to fish in a put & take?
Some put & take lakes have equipment hire so you can try your hand at fishing without having to spend a lot of money. You can hire a rod and buy bait in Fyelshop at Fyelmose Put & Take.
Where can I buy the equipment for put & take fishing?
Many put & takes have a shop where equipment is often sold, and Fyelmose Put & Take does just that in its shop, Fyelshop. In Horsens, there is a large outdoor shop with a large section with fishing tackle, including starter packs for put & take fishing. If you can't get to Horsens, you can also visit their large webshop.
How do I know if I have to fish in a specific lake?
On Fishingindenmark's digital map, you can see if a fishing association has fishing rights for a particular lake. If so, you need a fishing licence to fish there. If the lake is not marked on the map, fishing is generally not allowed. Fishing is free in a number of state-owned forest lakes. In the Coastal Land, this applies to Elverdam Lake in Bjerre Forest. Please note, however, that fishing from a boat is never allowed in state-owned areas. On some lakes, fishing is permitted on a limited stretch of the lakeshore. In the Coastal Land, this applies to Mos Lake and Ring Lake.