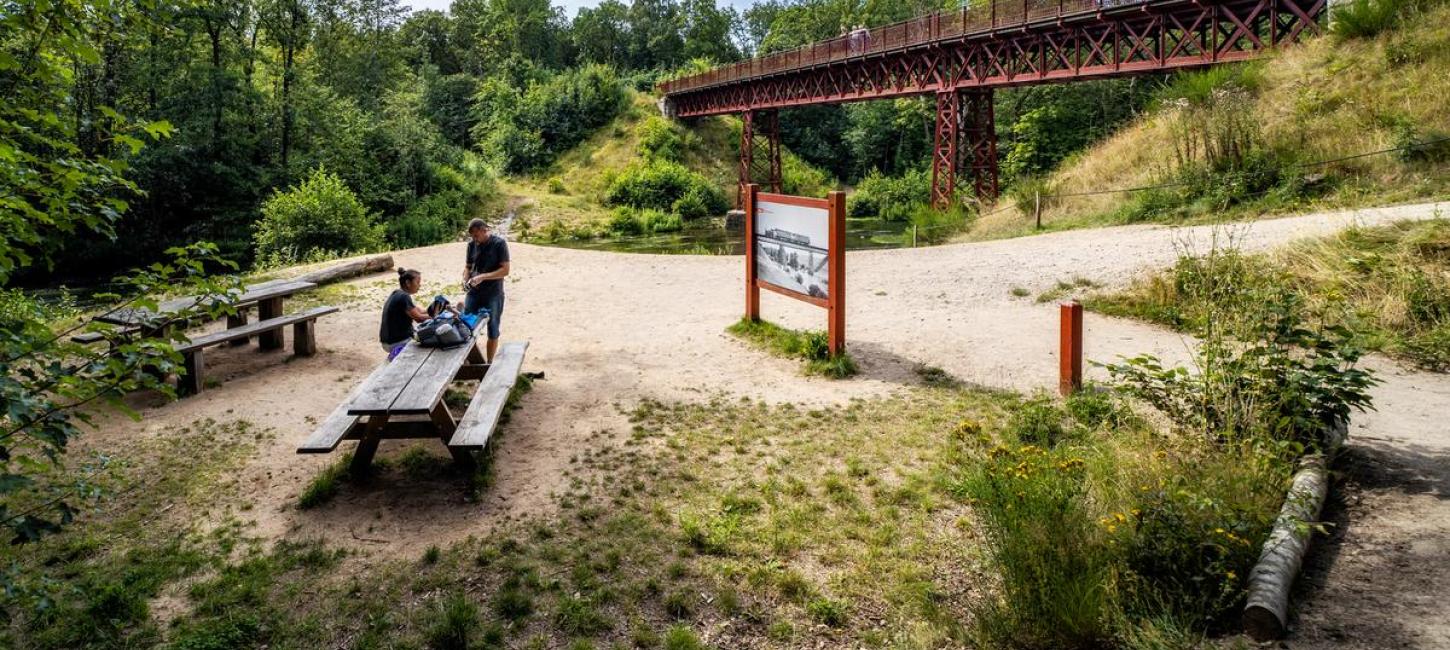 Micro-adventure at The Uncovered Bridge
Photo:
Destination Coastal Land
You will find The Uncovered Bridge in the middle of picturesque scenery by Vestbirk northwest of Horsens, with its nose in the treetops across the Gudenå river. The perfect micro-adventure for you who love the wild countryside spiced with a good story, and without too much hassle. 
Start in Brædstrup - the stronghold in Bakkelandet
Among Denmark's highest hilltops you will find the town of Brædstrup, which offers great food, cosy shops, green oases and a railway path with historical significance. Here you park the car, if you have one with you, and start your adventure. 
The Horsens-Silkeborg Nature Trail, which is also called Bryrupbanen, runs straight through the town. That's what you're going to do today. 
By bike or on foot to The Uncovered Bridge

?
You decide! It's just under 7 kilometres each way, so it depends on the energy in your legs and your companions. Hotel Pejsegården lends free town bikes if you have not brought a two-wheeler yourself. Call if necessary in advance to make sure there are some available.
If you choose the hiking style, then it is probably a good idea to grab a sandwich or another to-go in Brædstrup before departure. See this guide for the possibilities in Brædstrup at VisitHorsens: Brædstrup - Højborgen in Bakkelandet. 
If you hop on the iron horse, you can either bring a packed lunch or get back to Brædstup in time for lunch in the cosy town.
Find the Horsens-Silkeborg Nature Trail on this Google Map and go on an adventure! 
When you have something that becomes outdated and left over, then you can bury it or cover it up. According to nature guide Jesper Sandgaard, it solves 90% of all problems in Jutland. At least until a city dweller comes by and digs it up again!
Once you have seen what you were supposed to do at the beautiful, forgotten bridge, the trip goes back to Brædstrup. Like the previous railway line, the Bryrup railway path is a piece of industrial Danish history in itself, and then it is flat as a pancake and so perfect for the less experienced cyclists.
Have a great trip!
Taste experiences in Bakkelandet
When hunger strikes, fortunately you do not have to look far for the small culinary gems scattered around the hinterland near The Uncovered Bridge. 
Stay overnight in the middle of the countryside
Are your legs tired after a full day of exploration?
There are many fantastic options for staying overnight close to nature around Bakkelandet.