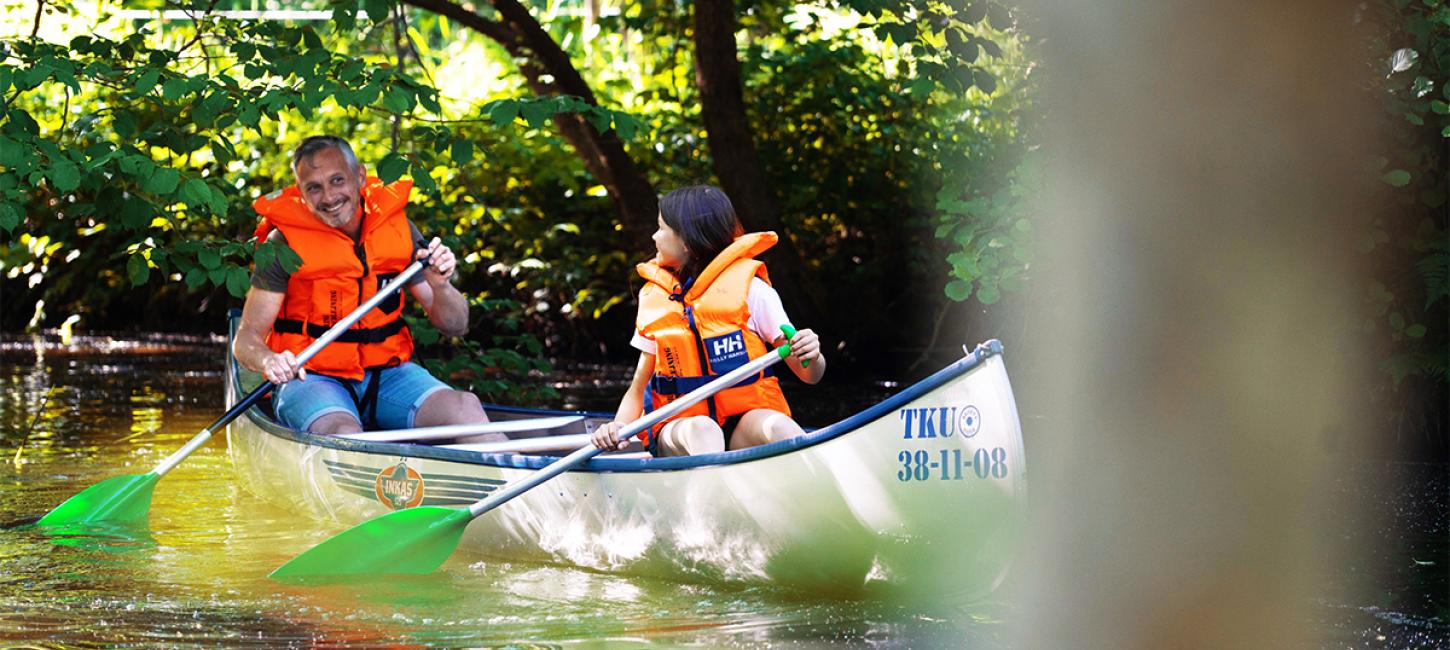 A day trip canoeing on the Gudenå: Åstedbro-Vestbirk
Photo:
Destination Coastal Land
Go for a day trip and float downstream through peaceful nature in a canoe. When you rent the canoe, you can have it delivered to the starting point, so everything is ready when you arrive. Here, you can have a memorable experience without much planning and trouble.
Idyll and quality time together on Denmark's only river
Canoeing on the Gudenå is one of those special experiences that can be scaled up and down, at a pace perfectly suited for you and your followers.
On the peaceful stretch between Åstedbro and Vestbirk, northwest of Horsens, you can see the landscape change character as you approach the forests, lakes, and hills of the Danish Lakelands.
The trip from Åstedbro to Vestbirk is perfect for a day trip. It takes approx. 3½-4 to paddle the 12-kilometre distance.
We will guide you to a good and comfortable day in the canoe.
Step 1: Book your canoe(s)
It is not very difficult to book the canoes for today's trip. Contact Vestbirk Camping to book the canoe. They have all the practical stuff covered - and they will even make sue that the canoe is ready for you at the starting point in Åsterbro.
We recommend that you rent the canoe some time in advance if possible. There are limitations to how many people can sail on the Gudenå per day - and annually. Therefore, you risk that it is not possible to rent a canoe if you try to book last minute.
On this southern part of the Gudenå river, you are only allowed to sail from June 16 to December 31 - the reason for this is to protect an important nature area. 
Step 2: Off to Åstedbro
If you have your own car, then it is possible to park at the camp site in Åstedbro (Nørresnedevej 140) and leave the car there until you return. If you wish to use public transportation, then you can get on bus 116 that connects Horsens and Herning. You can also choose to rent a car for the excursion - for example from Oscar Car Rental i Horsens. It is cheaper than you think - and if you are more people travelling together, then it can actually be cheaper than the bus. 
You are allowed to sail on the Gudenå from 8 a.m. until 6 p.m. Your time of departure depends of course, on when you expect to be in Åstedbro, and whether you wish to get a ride back to Tørring with the Gudenå Bus. It has one daily departure - we will get back to that. 
Step 3: Get in the canoe
When booking the canoe for this trip, make sure to ask the canoe rental where they will leave the canoe for you. Vestbirk Camping Vestbirk Camping are ready to inform you about safety and techniques, and will gladly give you tips and tricks. Pull the canoe down to the water and get comfortable in the canoe once it is halfway into the water. You will be able to push the canoe out from here. You will be sailing north - away from the bridge. If you never tried canoeing before, then this stretch is fairly suited with calm and shallow water. If you are looking for the most beginner-friendly stretch , then we recommend Tørring-Åstedbro, just south of this trip. 
Åstedbro is located between the big wetland Uldum Kær to the south and the lush and hilly lakelands in Bakkelandet to the north. As you make your way northwards, you will notice how the landscape changes from vast expanse to dark green colours and lakes.
We recommend that you start the trip from Åstedbro around 10 a.m. This way, you can have lunch after six kilometres at the camp site Gudenå Camping. The camp site has a kiosk and a cafeteria that is open during the summer. Here, you can buy delicious fast food and pizza. Keep an eye out for the camp site's landing site on your right hand. 
Shortly after the camp site, you will get to a particularly winding stretch with many turns which is quite entertaining. After a few kilometres, you will reach Bredvad Mill, which is one of the most beautiful places around the Gudenå with big trees leening over the river. At Bredvad Mill, there is a landing site  with toilets and a picnic area. Shortly after, you will venture onto Bredvad Lake. The lake marks the end of today's trip. Here, you will find the big camp site, Vestbirk Camping. On your right hand, you can pull the canoe ashore. If you wish, you can spend the night at this beautifully located camp site. There are several types of accommodation available. You can rent a wooden cabin, a glamping tent or a caravan. Alternatively, you can also sleep in your own tent.
Step 4: Back to Åstedbro - or just back home
From June 25 to August 7 you can get a free ride back to Åstedbro with the Gudenå Bus. It departs at 4:20 p.m. from Vestbirk Camping's parking lot. There is a sign at the bus stop. Since the bus only has one daily departure, it is recommended that you leave from Åstedbro quite early. 
If you arrived with public transportation, then you can get on bus 112 to Horsens from Vestbirk. Before getting on the bus, consider stopping by the big attraction of Vestbirk, The Uncovered Bridge. 
Frequently asked questions about canoeing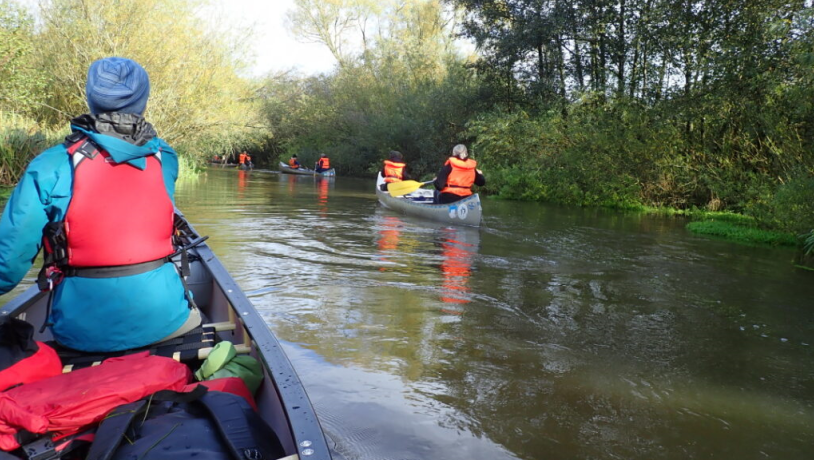 Would you rather start with a canoe course?
Some feel safest in the company of an experienced guide when they go canoeing for the first time. Outdoor Connection offers courses, tours, and fun activities in the canoe on Gudenåen. 
Active in the Coastal Land
Destination Kystlandet © 2023