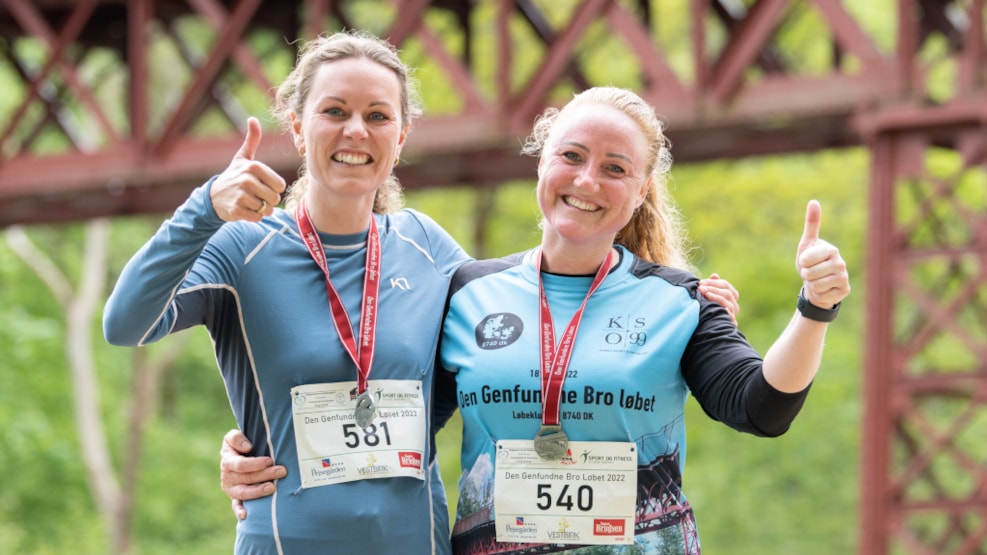 The Uncovered Bridge Run (Den Genfundne Bro Løbet)
Come along for the cosiest running event of the year. At this well-visited run in Brædstrup and around one of Denmark's biggest nature attractions, you can run or walk a mile and receive a specially designed running shirt and medal as a souvenir. Here, exercise is combined with beautiful nature and good facilities.
Run through enthralling nature
Every year on the third Saturday of May, the running club Løbeklubben 8740 organizes this run from Brædstrup to The Uncovered Bridge. The distance is manageable, and you can choose to walk or run. The trip to the region's biggest attraction has become increasingly popular in recent years with more than 800 participants in 2022. As a participant, you are handed a specially designed shirt before the race and get a medal for completing. There are toilets and changing rooms in the start area, and there are also stands selling food and other products, music, and a good atmosphere.
The race has chip timing. There is plenty of room for both the competitive type going for fastest time of the day, and those who are there to enjoy the atmosphere, nature, and the company.
Downhill in Bakkelandet
The race starts at Brædstrup Stadium where you can change into your running clothing. The first section is grass. From here you head through the beautiful park Brædstrup Folkepark to The Nature Path Horsens-Silkeborg. This tarmacked railway path which is perfectly suited for running is followed for seven kilometres until you reach The Uncovered Bridge. Brædstrup is the most elevated city in Denmark, and the start of the race takes place 116 metres above sea level.  Almost the entire route is lightly descending (the route descends 68 metres) with a finish line 51 metres above sea level.
You will receive medal, fruit and water in the finish area. The spectator area at the finish line has stands where you can buy sausages, coffee, cake, and drinks.
Shuttle buses are frequently driving between Brædstrup and the bridge, so you can easily get a ride back to the start area.
Registration
Are you ready for a great day with exercise, fresh air, and good company? Then register for the race on this page. Here, you can also learn more about the event and see prices. If you register before March 1, the impressive official running shirt is included.
About Brædstrup and Bakkelandet
Brædstrup is a charming little commercial town with specialty shops, good restaurants, and options for accommodation. For a city with less than 4000 inhabitants it has a surprisingly big supply, and we recommend that you stay a little longer – and possibly spend the night.
The city is surrounded by lovely nature and there are several big nature attractions nearby in Bakkelandet and the Danish Lakelands.
On these pages you can learn more about the experiences of Brædstrup and Bakkelandet.
Destination Kystlandet © 2023