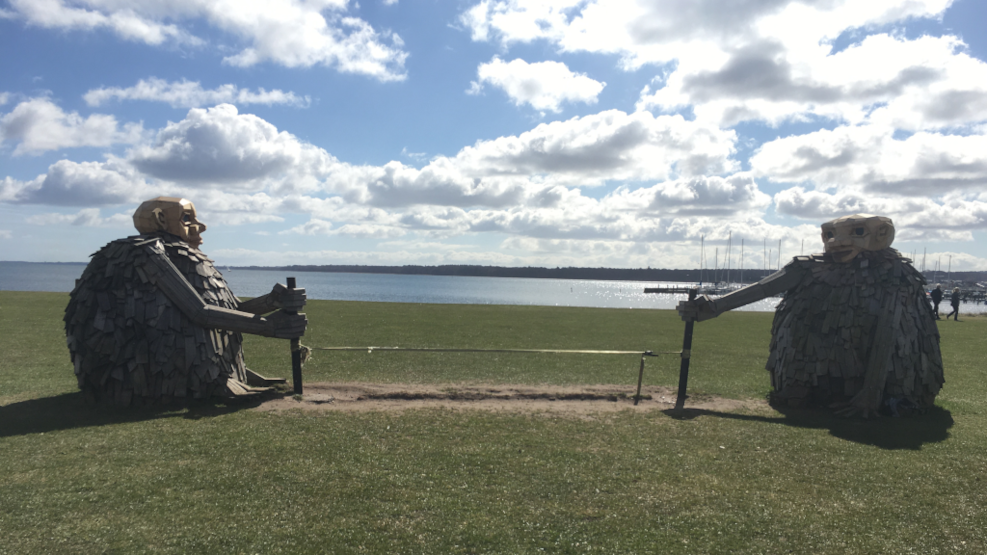 The troll children Laura and Julian
Two wooden trolls created from recycled wood stand tall at the city beach Langelinie and Horsens Marina, crafted by the renowned artist Thomas Dambo. Between them, they hold a balance beam that children and those young at heart can test their strength on.
The troll children invite you to play
In 2015, the artist Thomas Dambo created the troll Troels, situated at the beautiful and bustling city beach, Langelinie, in Horsens. Troels quickly became a beloved figure—so much so that he ended up having two children—Laura and Julian. The trio of trolls became a popular attraction, drawing many visitors eager to meet the troll family. But alas, just like humans, trolls can grow old and worn. Trolden Troels is no longer here, and Laura and Julian are now orphaned.
However, their spirits remain undaunted—they hold their heads high and still want to play and greet children and their parents. Between them, they hold a tightrope, inviting children to test their balance on the beam.
A View Hard to Match
While there are many trolls scattered around Denmark, few can boast a view quite like the one Laura and Julian wake up to each day. From Langelinie, they have a fantastic vista overlooking Horsens Fjord.
Langelinie is a recreational area that extends from Horsens' marina. Here, there is a beach with a bathing bridge, and on the grassy area behind the beach, there are fun and relaxing furniture, play equipment, a beach volleyball court, a petanque court, football goals, as well as a kiosk, toilets, and plenty of events during the summer. Langelinie is a lively, urban gathering spot when the sun is shining.
When visiting Laura and Julian, take in the surroundings and stroll along the new harbour promenade in Horsens. Families with children should also stop by the Industrial Museum's excellent playground.
Say Hello to Jensnej too
Laura and Julian aren't the only trolls in the Coastal Land. In Ring Skov in Brædstrup, the troll Jensnej stands holding a mirror over his head. Jensnej is located close to the town's new activity park with a playground and a Tarzan course, and Brædstrup, in general, is worth a day trip with a charming town center featuring specialty shops and eateries.
More Experiences in Horsens
On this page, you can find inspiration for activities in Horsens.
On this page, you can find suggestions for activities for families with children in the Coastal Land.
Destination Kystlandet © 2023