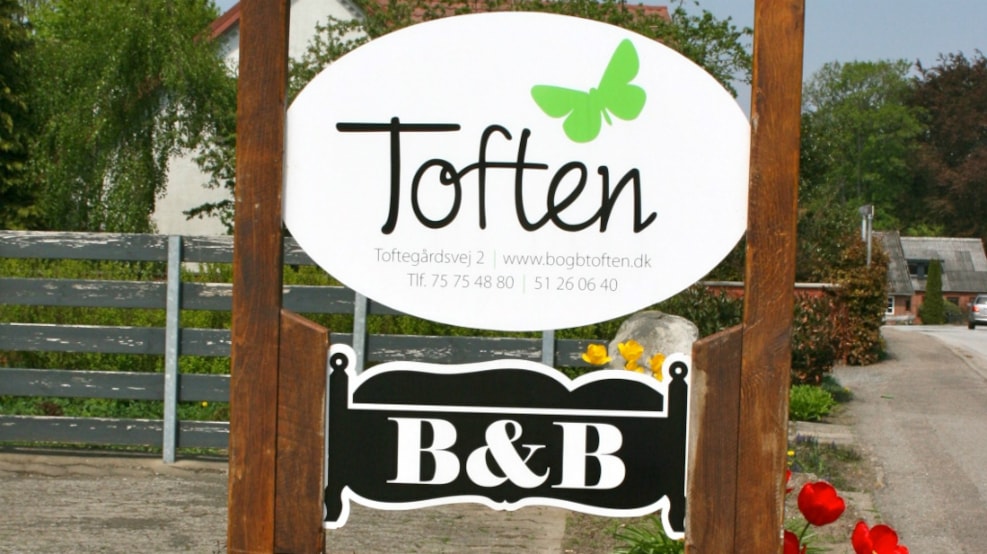 Toften B&B
In the rolling hills of Bakkelandet lies the historic and cozy village of Sdr. Vissing, surrounded by vast natural beauty. Here, you can stay in delightful holiday apartments offering ample space and excellent amenities.
Holiday Apartments in Bakkelandet
The village of Sdr. Vissing is beautifully situated in the hilly and wooded landscape of Bakkelandet. Here, you'll discover a wealth of natural wonders within a short distance, such as the Rediscovered Bridge and Himmelbjerget.
Toften B&B offers 7 spacious apartments with ample room. The apartments feature a living room with a dining area, a bedroom, and a private bathroom. There's a tea kitchen with a refrigerator, access to a shared coin-operated laundry facility, and a large garden with a covered barbecue hut.
These apartments are located adjacent to Sdr. Vissing Torvehal—the town's modern farm shop with its own café. When you stay, you can opt for breakfast available from the café.
A great base for a cycling or fishing holiday
Renting a mini-apartment at Toften B&B grants you access to fishing from Klostergården, which holds a kilometer-long fishing right along the Gudenåen river. Klostergården is three kilometers from Toften B&B at the foot of the Sugar Loaf (Sukkertoppen). This means you won't need to acquire a fishing permit from a local fishing association.
You'll need a valid fishing license, purchasable on this page. There's an option to borrow a fishing rod at the farm.
Moreover, Toften B&B is conveniently close to the large Fyelmose Put & Take fishing area.
Bakkelandet is a popular cycling area with the country's largest hills and plenty of good gravel roads. At Toften B&B, you can store your bicycle in a locked garage.
Accessible accommodation
Toften B&B's apartments are set in a former nursing home, designed with a focus on accessibility. This includes wheelchair-friendly bathrooms and no baseboards. It's easy for wheelchair users to move around within the apartment.
You can take a 360-degree virtual tour of the apartment and inspect the conditions firsthand on the Sdr. Vissing Torvehal website.
Booking and prices
Are you ready to book a stay in a mini-apartment in Bakkelandet? Contact Sdr. Vissing Torvehal via phone or email for inquiries. Reservations can be made per night, per week, or per month with advantageous rates for longer stays. Current prices can be found on the website. Utilities and bed linen are included in the price.
Inspiration for experiences during your stay
Sdr. Vissing is ideal for nature enthusiasts with excellent hiking trails, cycling paths, the Gudenåen river, bathing lakes, and attractions like the Rediscovered Bridge, Himmelbjerget, Sukkertoppen, Klostermølle, and more. In Sdr. Vissing town, treat yourself to a visit to the church where you can see Queen Tove's historically significant runestone and take a walk on the scenic Sdr. Vissing route.
You can find inspiration for experiences in Bakkelandet on this page.
Destination Kystlandet © 2023