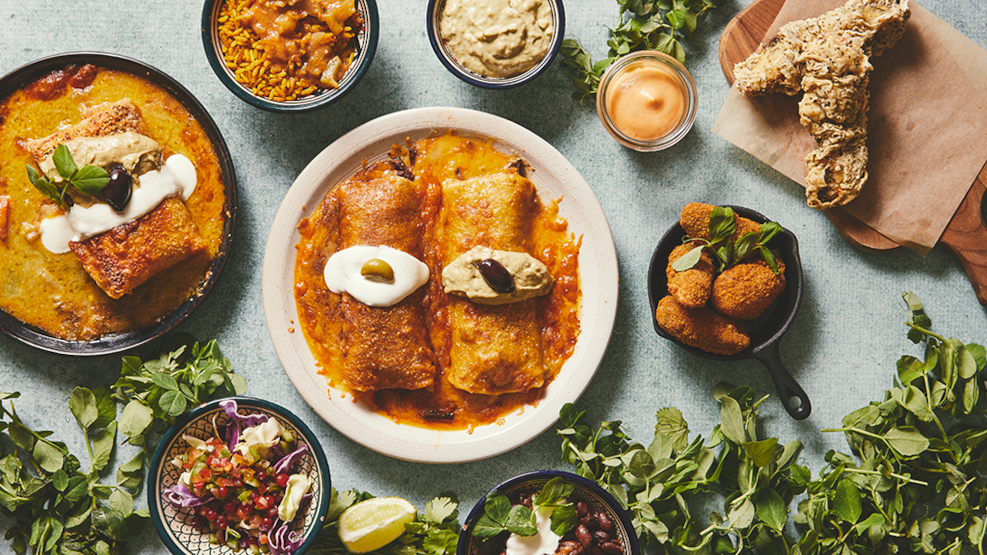 Tequila Sunrise
Visit this authentic and traditional Mexican restaurant in the centre of Horsens that serves a wide selection of Mexican dishes. Enjoy a delicious meal with your loved ones in the inviting restaurant or to go.
Authentic Mexican in the heart of Horsens
Tequila Sunrise is Horsens' oldest restaurant with more than 35 years of experience. The restaurant allows you to experience the authentic Mexican cuisine. The dishes are always cooked from scratch made from old family recipes that have been handed down through generations. Here they do not serve you tex mex – but you will be served food made with love, and an intense, varied taste.
From cactus soup to chimichanga and tostada
The menu at Tequila Sunrise presents a good selection of the Mexican cuisine. You can opt to put together an exciting three-course dinner or go straight to the big selection of main dishes. Popular Mexican favourites such as enchiladas, tacos, tostadas, chimichanga, and burritos are of course on the menu. You can also enjoy a good Mexican style steak or the popular cactus soup. There are both gluten free and vegetarian dishes on the menu.
To accompany the food, you can enjoy a selection of Mexican drought beer, craft beer, soft drinks, and wine. And you can also choose one of the exotic drinks – including the popular drink that gave the restaurant its name more than 35 years ago.
You can see the whole menu on this page.
Order as takeaway
Many of the dishes from Tequila Sunrise can be ordered as takeaway. You can choose to pick up the food at the restaurant or order delivery so you can enjoy the food at home or from the hotel room.
You can order Mexican takeaway from Tequila Sunrise on this page.
Table reservation
Tequila Sunrise is open Monday-Saturday for dinner. You can see the current opening hours at their website.
Follow this link for table reservation at Tequila Sunrise.
Family restaurant with proud traditions
It has been more than more than 35 years since Ramon and Jytte Lopez opened the restaurant. Since then, the son Daniel Lopez and his wife Katrine have taken over. They have honoured the restaurant's traditions while simultaneously renewing the restaurant. But Tequila Sunrise's vision is still the same – to create as authentic Mexican food experiences as possible.
Destination Kystlandet © 2023