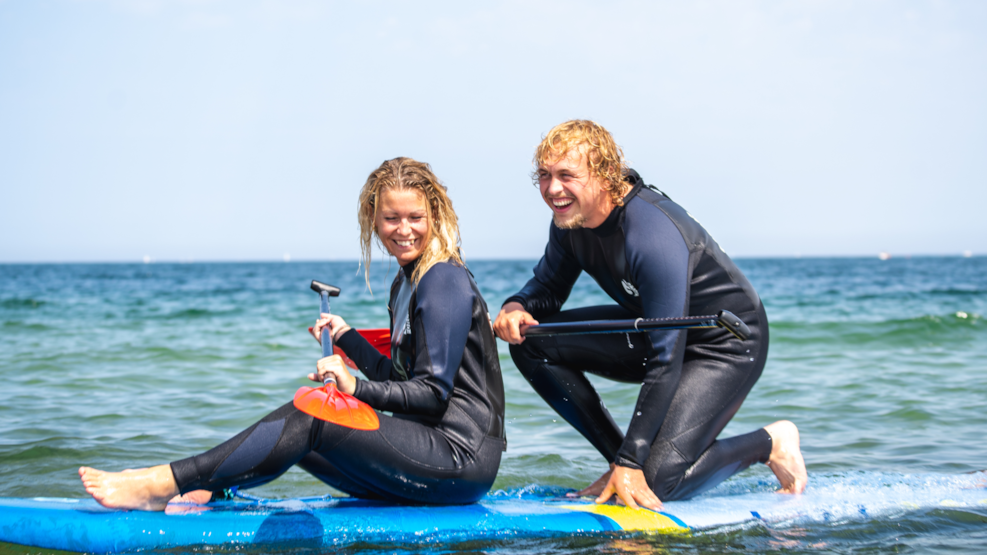 SUP board and sit-on-top kayak rental at Rosenvold Strand Camping
Experience the beauty of Vejle Fjord from the water. Rent a SUP board or a sit-on-top kayak and enjoy hours of water sports activities for the whole family.
A day on the water
Rosenvold Strand Camping lies right next to the inlet Vejle Fjord and is thereby the perfect place for water sports activities. The beautiful coastline offers hours of fun on a paddleboard or in a kayak – and when it gets windy, it is also a great place for kite- and windsurfing.
Experiences to the west and the east
If you sail to the west, you go by a moraine landscape with bluffs up to 20 metres high, which creates an impressive setting for trips near the coast. You'll also sail by the enchanting Hotel Vejlefjord and the iconic Træskohage Lighthouse.
If you sail to the east, the trip goes by Rosenvold Castle and Staksrode Forest, with its marvellous coast where trees and roots reach into the sea. Have a stop at Stenhøj Beach and take the short walk to Stagsevold Castle Ruins.
Rental
At Rosenvold Strand Camping you can rent SUP boards or sit-on-top kayaks.
Paddleboarding is a fun activity for the whole family which gets the heart rate up and challenges the balance. Rent a SUP board including a life jacket for 3 hours for 200 DKK. You can also rent a wetsuit for 70 DKK.
A sit-on-top kayak is an inflatable kayak with room for two adults and a little kid. With the kayak, you can go fishing, row a longer trip, or just enjoy some time on the water. The prices for renting a sit-on-top kayak are:
3 hours including life jackets and paddles for 400 DKK
7 hours including life jackets and paddles for 700 DKK
A day on land
If you prefer solid ground, luckily there are many activities in the area as well. Enjoy the view from Træskohage Lighthouse or take the lovely bicycle route along the Juelsminde Peninsula's coast to Hjarnø. In Juelsminde you can take a well-deserved rest at Juelsminde Harbour and Marina, and enjoy an ice-cream from Havnens Café & Isbar. If the children have any energy left, then go to the big playground Juelsminde Nature Playpark.