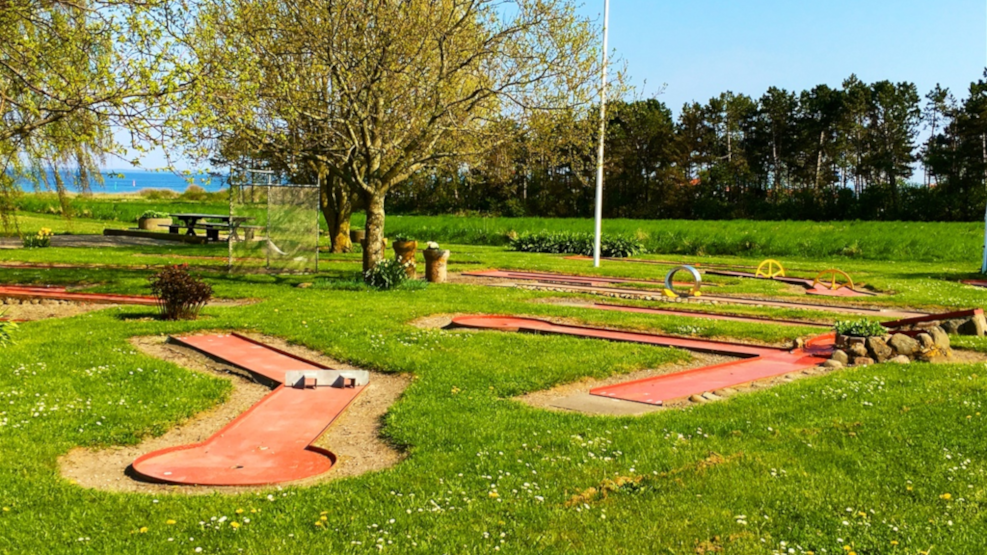 Stalden - Tunø Miniature Golf
Fun activity on Tunø
You ought to visit this crazy golf course in cosy, homely surroundings when you visit Tunø for a one-day trip or a holiday. At the farm Stalden, Anne-Marie Teilgaard (Tutte) has a big garden with a miniature golf course and lots of tables and benches where you can enjoy the sun. Here, she has welcomed tourists for more than 40 years. As you go for a round of golf on the old but well-kept course that offers challenges for beginners as well as more experienced players, you will have a wonderful view of fields and ocean.
Food and drinks
If you are not in the mood for playing miniature golf, then you might want to come for relaxation in the nice surroundings, a meal, drinks, or sweets. The café offers a selection of sausages, hotdogs, and homemade toast. There is also plenty of candy and ice-cream – from popsicles to cones in many flavours.
Stalden also sells soft drinks and beer – including beer from the local microbrewery Stormgaarden.
Opening hours
Stalden – Tunø Miniature Golf is open daily during the season when the flag is out. As a rule, it is open from forenoon to evening.
It is quite easy to find Stalden. When you get off the ferry you can follow the road up to the end of the harbour and turn left on the island's main street (Tunø Hovedgade). Shortly after, you will see a wooden sign on your right side leading to the miniature golf course.
More experiences on Tunø
The car-free island Tunø offers authentic Danish island atmosphere and beautiful nature. The island is quite small, and you can easily hike around the island on the tall slopes on a few hours. In the idyllic village, you will find several eateries and shops.
Destination Kystlandet © 2023