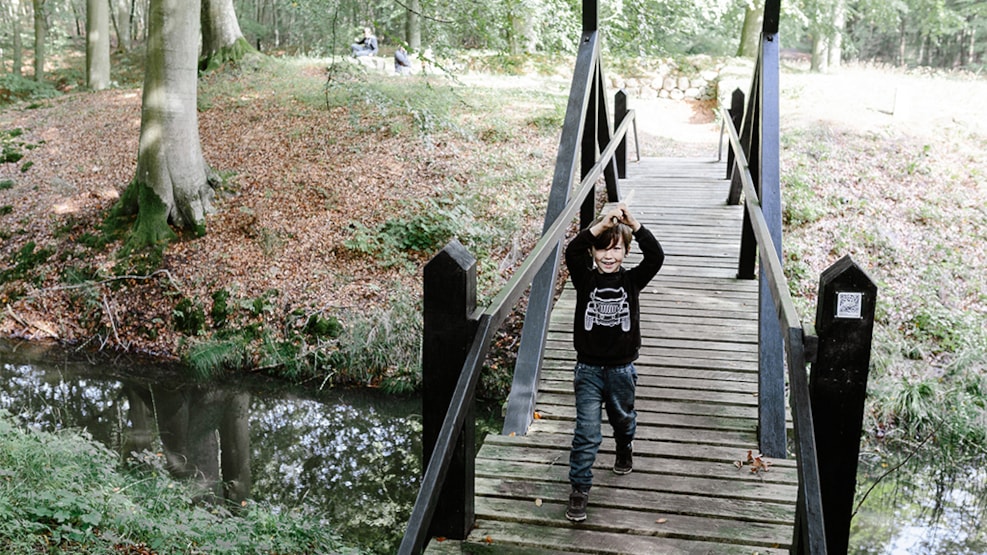 Stagsevold
These castle ruins, surrounded history and legend, can be found in the beautiful Staksrode Forest. Cross the moat on the little wooden bridge to see this facility dating back to the 14th Century. According to legend, it used to be a pirate hangout. 
Exciting history hidden in beautiful nature
The dramatic Staksrode Forest is a popular excursion point with its steep cliffs leading down to Vejle Fjord. There are several lovely hiking routes in the forest that will lead you through the fascinating landscape. The popular yellow route will take you to these old mounds from the 14th Century, hidden very well in the nature. From the route, you can see a black wooden bridge that will allow you to cross the moat to the foundation of the castle that once stood here at the time of King Erik Menved.
About the castle
The building had two-metre-thick walls made from boulders and large medieval bricks. It measured only 7x9 metres and consisted of one floor and a basement room. In addition to the building and the moat, the facility also consisted of a dry moat and a home farm that was bigger than the castle with stables room for the staff. Today, only the basement walls remain. Tools, weapons, pottery, animal bones and coins have been found inside the ruins.
It is not known who built the castle, but it is believed to be a local nobleman. What we do know is that the castle was built and destroyed during a very turbulent period in Denmark characterized by war and rebellion. It was likely destroyed by Queen Margrethe 1 around 1400 AD in her rebellion against the nobility. Archeological discoveries suggest that the castle was destroyed by a fire.
Bring the family and visit a pirate castle
Many legends and traditions circulate about Stagsevold. One of the more tenacious rumours is that the castle was home to pirates during the Middle Ages – a place where they could lay low when they were not plundering ships. This is a valid explanation for the castle's hidden location in the middle of the old forest. So, bring the kids and let them play pirates – but remember that it is a preserved area worthy of preservation.
Other legends tell of Stagsevold as the first castle was the first to be demolished by cannons, and as the predecessor of Rosenvold Castle which you can see only two kilometres away.  
How do I get to Stagsevold?
It is not possible to reach Stagsevold by car or bike. The mounds can only be reached on foot since cycling on the forest paths is not allowed. You can park your car in the forest at the end of Staksrodevej at the parking lot close to Stenhøj Beach. From here, you can follow the yellow signs on the 2,4-kilometre-long waymarked roundtrip in the forest. The castle is found a bit inland – look for the black bridge.
Destination Kystlandet © 2023