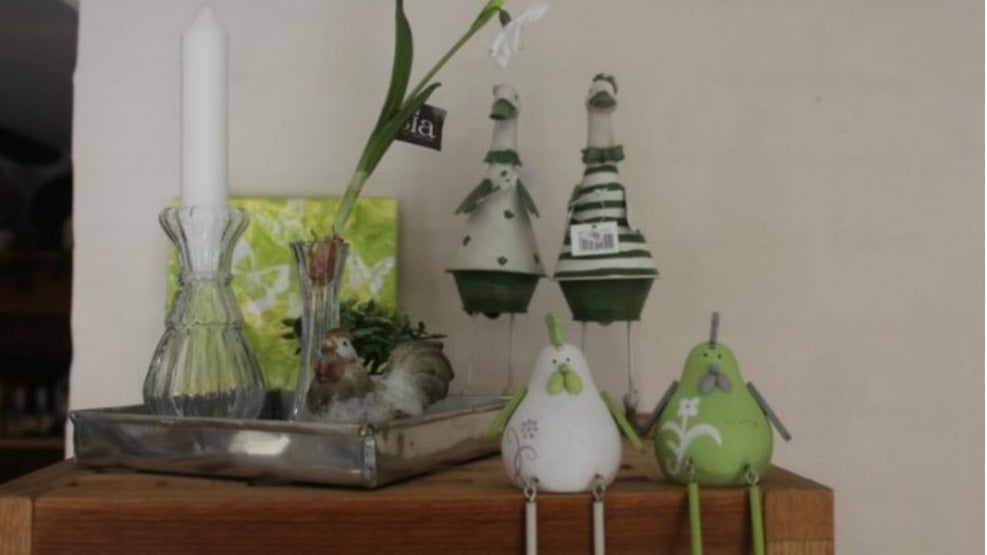 SOFI Farm Shop
Pamper yourself with a trip to the countryside at this farm shop in a small village between Horsens and Skanderborg. At SOFI's the shelves are full of applied art from all around the world. We guarantee that you can find new ornaments, gifts, and tempting specialities here.
Where old meets new
There are very few places where you can find such an authentic Danish rural atmosphere as at SOFI Farm Shop. SOFI, and its owner Helle Tholstrup, are located in peaceful surroundings in the village Dørup on the southside of Jutland's biggest lake, Mossø. Dørup is on the countryside in beautiful nature, but still only a short drive away from Horsens, Skanderborg and Silkeborg.
The store is decorated with old wooden tables, closets, and bookshelves, classic kitchen utensils, and an old-fashioned coffee-grinder that all helps create the unique atmosphere from times past.
On the other hand, there are many modern ornaments, and arts and crafts for sale in the shop that are in sharp contrast to the old things. You can find modern glasses, cups, bowls, clothing, candles, jewelry, tablecloths, and a variety of ornaments. All products are carefully selected from manufacturers all over the world.
Tasty delicacies
In addition to the interesting arts and crafts, SOFI also offers a tempting selection of high-quality specialties. SOFI brews her own coffee of exclusive coffee beans on the store's old grinder. You can also enjoy the coffee in the store's own little café.
It is also possible to purchase delicious chocolate, spices, syrup, craft beer, wine, lobster soup, and much more.
The staff are happy to put together a gift basket based on your wishes with specialties, and other products from the shop. Feel free to contact Helle Tholstrup and order one or more gift baskets, and they will be ready when you arrive. There is also a selection of pre-made gift baskets available in the shop.
Attend a market at SOFI
Every year in November you can find your Christmas spirits in Dørup when SOFI invites you to the annual Christmas market. If the free pancakes and coffee is not enough bait, then maybe the cosy Christmas decorated courtyard, and the massive selevction of decorations for sale can convince you to go – you will not regret it. At the Christmas market you can find this year's Christmas tree, and lovely decorations. You can relax and drink coffee in the café.
SOFI also hosts a summer market with lots of stalls full of exciting products.
Follow SOFI Farm Shop on Facebook where you can find information about future events, and new additions to the assortment.
Opening hours
SOFI has limited opening hours – it is open Wednesday-Friday afternoon as well as on Saturdays. You can see the exact current opening hours on SOFI's website.
Experiences nearby
Dørup is located in a picturesque area in the southern part of the Danish Lakelands, very close to the highest points in Denmark, Møllehøj, Ejer Bavnehøj, and Yding Skovhøj. Dørup is close to Lake Mossø, and you might want to visit the shop as a part of a bike ride around the lake. Along the way you will pass the historic picnic spot and nature attraction The Monastery Mill (Klostermølle). One of Denmark's most popular nature attractions, The Uncovered Bridge, is located not to far from Dørup.
Find inspiration for more experiences in the area on this page.
Destination Kystlandet © 2023