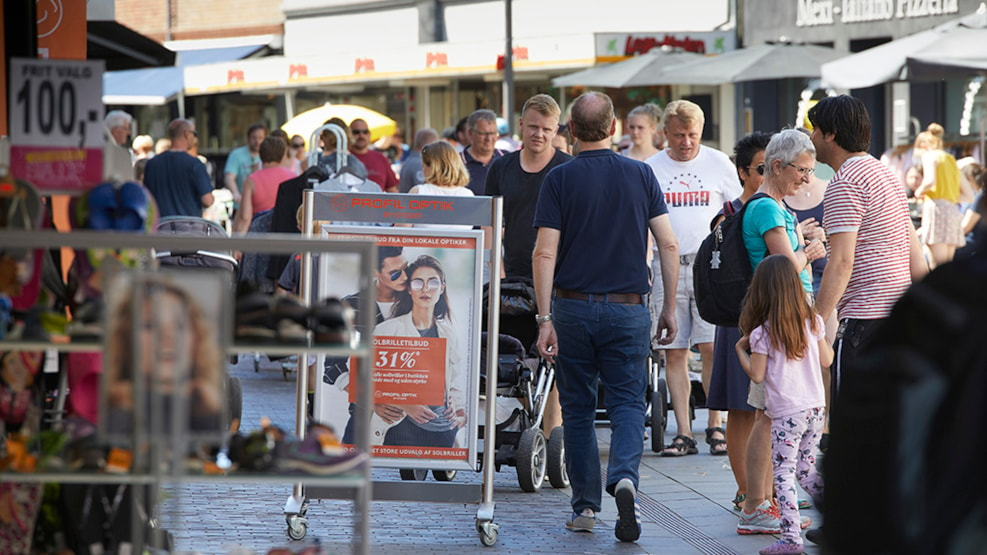 Shopping in Odder
If you love shopping, Odder is the place to go. It is a charming city that boasts of exciting shops and has something for the entire family. You will find lots of fashion and design, sports goods, books, kitchenware, furniture, toys, beauty products etc. in the cozy pedestrian street. You can even enjoy free parking, when you go shopping in Odder – in fact, there are more than 1000 free parking spaces available free of charge.
Odder offers a variety of exciting specialty shops, famous chain stores and supermarkets, where you can do your food shopping – including one of the largest Kvickly supermarkets in Denmark.
Throughout the year the city's businesses organize fun and cozy events and activities for young and old, including Shopping By Night, Summer in Odder and Halloween, just to mention a few. See all scheduled events at www.købodder.dk.
Shops and stores in Odder
Clothing and fashion
Get well-dressed. In Odder there is a large supply of shoe shops and fashion stores for women, men and children. On this page you can also find the city's opticians and goldsmiths. 
Anna & Søs: Anna & Søs is an exciting women's clothing store with a large selection of  stylish clothes for all girls and women. Here you will get personal service and clothes in all sizes from 34-56.
Mr. Lønskov: Mr. Lønskov is a modern haberdashery with many well-known fashion brands for men; Tiger of Sweden, Matinique, Gant og Hilfiger among others.
Boutique Mary: Leading in Danish women's clothing brands in the sizes 36-50.
Brillestudiet: Optician with designer frames - Rodenstock is the main supplier of lenses.
Center Mode: Ladies fashion for mature women.
Guldsmeden Anytime: Goldsmith, jewelry. Watchmaker with own repair shop.
Harding Børnetøj: Children's clothing for active kids. 0-16 years.
Holmelund: Mens fashion from well-known brands with high-quality service.
Kysthuset: Women's fashion from quality brands. ALso a large web shop.
Louis Nielsen: Glasses from 195,- Pentax single vision lenses is always included.
Maibom Eurowalk: Shoes for men, women and children, large supply.
Mikkel Marc-Lauge:Til de smarte piger - stort udvalg i jeans.
Profil Optik Arndt: Are you looking for designer glasses? - then stop by.
Simone: High-quality lingerie from the right brands. Også a large web shop.
Skjold Optik: The best glasses in the highest quality.
Skoringen: Shoes for men, women and children, large supply.
Torvets Smykker & Ure: GOldsmith, jewelry. Watchmaker with own repair shop.
Tøjeksperten: Mens fashion, the best service. Nationwide exchange service.
Sports & toys
If you are looking for new sports clothes or toys for the kids, then you can visit these stores in Odder In this list you will also find bike shops and bike mechanics.
Cykelsmeden i Odder: Repairs of bicycles - sale of bikes, accessories and equipment.
Intersport: Sports goods store with a large supply.
Legekæden: The city's toy store with a huge supply.
Sport 24 Outlet: Sports goods store with affordable prices.
Sportmaster: Sports goods store with a large supply.
Tandhjulet: Repairs of bicycles - sale of bikes, accessories and equipment.
Viggo Rasmussens Eftf.: Bike repairs - sale af bicycles, accessories and equipment.
Supermarkets
There are plenty of shopping facilities in Odder. In the supermarkets you can find fresh vegetables, meat cuts, bread, cakes, wine and much more. Below you can find a list of supermarkets in Odder.
Kvickly Odder: Welcome to Denmark's largest Kvickly, where you can find anything you need in our delicious food section.
Dagli´Brugsen Gylling: Your local co-op - large supply, low prices.
Løvbjerg: Your local grocer's. Anything you need - just cheap.
Souvenirs
Portobello: A big exciting commission flea market in Odder. If flea markets are your thing, then stop by and explore the 400 m2 store.
Anemone Blomsterkunst: Florist and arts and crafts market. 
Torrild Julemarked: 800 m2. christmas market with  decorations, candles, napkins and much more.
Violen: Florist, chocolate, wine & spirits.
Books, hobby & elektronics
AK Computer: IT, smartphone repairs - office supplies and appliances.
Annette's Haandstrik: Yarn and knitting patterns - knitting café, come and join us.
Bog & idé: Books, office supplies, games and leather goods.
PhoneWorld: Smartphone sales, IT and repairs.
STARK: DIY-retailer with a large supply.
Home & garden
Find exquisite items and furniture for the home or the holiday home.
Møllebo Antik: Visit the biggest antique shop in the region with 42 years of experience. Møllebo Antik has 2000 m2 storeroom, antique shop and workshop. 
The Ecology Garden: Organic experience garden with sales of herbs and more.
Brandts Tæpper: Carpets and wooden floors - sale and installation
El-butikken: Lamps, electrical goods and appliances.
Family Garden A/S: Plants and decorations. 
Farver og Striber: Paint, wallpaper and curtains.
Imerco: Hardware dealer.
Jelling / Odder Diesel A/S: Sale af agricultural machinery, lawnmowers, tools and much more.
Land & Fritid: Anything the farmer needs, including feed & supplies for horses and pets.
Møblér: Furniture, beds, lamps and interior accessories. 
Schmidt køkkener Odder ApS: Quality kitchen and wardrobe.
Skousen Odder: Appliances, kitchen accessory and electrical goods.
Beauty and wellness
Time for self-indulgence? In Odder you can tend both body, mind and soul. 
COACHING & MASSAGE - klinik CO.MA: Spoil yourself with a wonderful massage: Choose between hot stone massage, physiatric massage, connective tissue massage and mamalicious maternity massage.
Odder Apotek: Pharmacy with both non-prescription and prescription medication. The staff is ready for personal guidance and health guidance.
Anne Kejser Kosmetolog: Certified cosmetologist and nail technician.
Crossfit varmeværket: Fitness centre with cross training, yoga and dietary advice.
Glöd Hudpleje: Skincare with attitude. Treatments and sale of products.
Clinic Worre: Facial treatments, massage, body peeling, hair removal and tinting/shaping of eyebrows or lashes.
HelseWorld: Health products, dietary advice and alternative medicine.
Loop Lite: 24 minutes - 16 machines - all of your muscles - that gets you fit.
Matas: perfumery, health- and beauty products.
Odder Fitness Center: Witness results - strength and well-being, spinning, dance and much more.
Spektrum Odder: The local sports centre and indoor swimming pool.
Farm shops and specialist retailers
Farm shops appear in the landscape around Odder like beads on a string. Each with their unique characteristics  and specialisation, but all very charming and independent. 
Bagergården i Saxild: This bakery has a big selection of freshly baked bread and cakes. You can also find convenience goods such as fresh meat, fruit and vegetables, ice cream and dairy products in the mini market. 
Blas Kaffe og The: Visit Odders cosiest store, filled with exciting and delicious specialties and gift items such as coffee, tea, chocolate, liqourice and specialty beer, spirits, arts and crafts.
Fru Møllers Mølleri: In this farm shop you can buy freshly ground flour from their own fields, freshly baked bread and butter cookies, pickled products, meat from their own herd and much more.
Holtgaard: Holtgaard is an organic farm that grow strawberries, peas, potatoes and vegetables.
Karensminde Frugtplantage: In this orchard you can pick your own fruit or buy fresh fruit or apple juice in the farm shop.
The Ecology Garden: The store has a large supply of organic seeds and plants, wine, chocolate, candy, soap and more.
Byens Bager: Baker's shop with delicious sandwiches.
Chokoladehimlen.dk: Sale of chocolate, wine and spirits.
Smiley Frozen Yogurt: Soft serve ice cream and frozen yoghurt but also delicious pizza and kebab
Superkiosken: The kiosk at the centralsquare, bread, soft drinks, beer and slot machines.