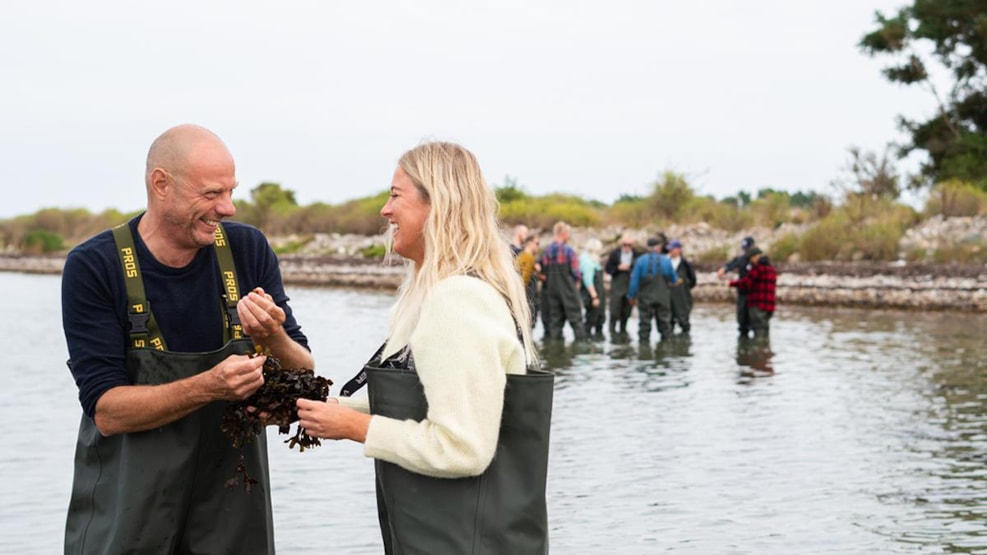 The Seaweed Farm - seaweed safari
Dive into a world of seaweed at this knowledge and dissemination centre on Endelave. Have a taste and buy exciting products that all use seaweed as a main ingredient. And go on an adventure on the popular seaweed safari in the Kattegat.
Learn more about the marine vegetable
Tanggården is a knowledge and dissemination centre for seaweed and an academy for learning about seaweed, the environment, sustainability and the climate. Seaweed is an environmentally friendly resource that can be harvested without CO2-emissions. Seaweed has many qualities and can be used as a healthy and tasty ingredient in cooking but also in a multitude of other everyday items. Therefore, many have opened their eyes to its potential as a significant element in future production.
In the Eastern part of Endelave, you can visit the Tanggården, where you can see, taste, hear and learn more about the wonderful world of seaweed.
Buy exciting products with seaweed
Tanggården is owned and operated by Mette Skjold and Bjarne Ottesen, and in the farm shop you can choose from a considerable selection of their own products. Their popular seaweed pesto is available in several varieties. You can also impress your friends with seaweed beer, seaweed rum or seaweed caviar. Or how about a unique seaweed mustard? The possibilities are many.
In addition to their own produce, other seaweed products are also sold - and not just foods. For example, you can find cosmetics in the store and seaweed is also a very durable material that can be used in the production of clothes.
Go on a seaweed safari
Seaweed enjoys optimum conditions in Denmark where it grows everywhere along the coasts. Not least along the coastline of Endelave and the rest of the East Jutland archipelago. Nordisk Tang regularly arranges seaweed safaris along the coast where you can learn to harvest seaweed and bring home your own seaweed.
The tour includes a three-hour seaweed safari, tastings and a visit to Tanggården with the opportunity to buy products to take home.
On this website you can get an overview of upcoming dates and book a spot on a seaweed safari on.
Companies and groups
Companies and groups can contact Tanggården to arrange a seaweed safari or other events. Tanggården has a lecture and event hall with plenty of space. It is possible to rent the premises or arrange a presentation on seaweed, tastings or meals.
Contact Tanggården on T +45 50 40 94 70 and enquire about the possibilities.
About Endelave
Tanggården is located on the beautiful holiday island Endelave which has beautiful nature and charming island atmosphere. Embark on the popular hiking route Kaninoen and spot the island's characteristics, the wild rabbits. Here you can find much more inspiration for your visit to Endelave.