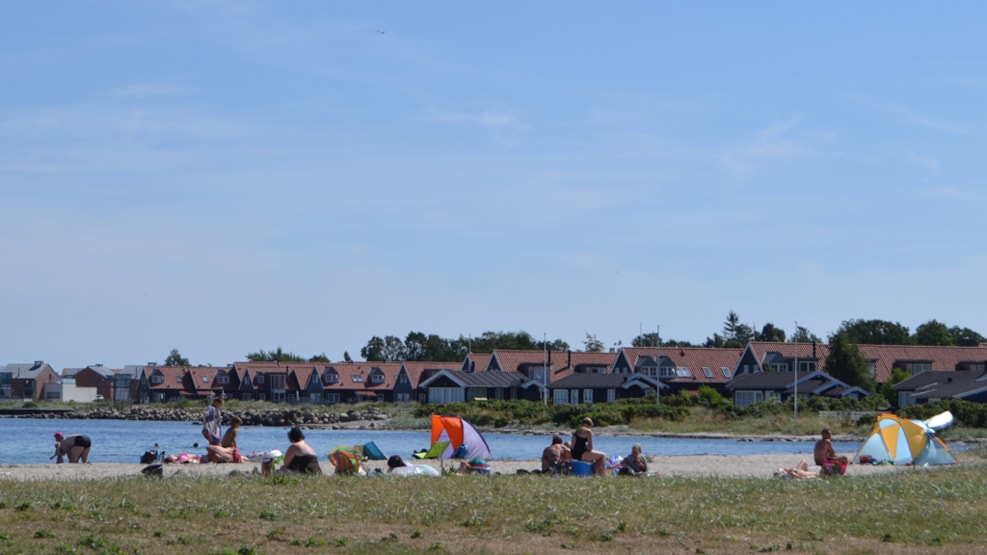 Sandbjerg Vig Beach
Close to the harbour in Juelsminde, you find this fine bathing beach in Sandbjerg Bay. The beach has fine sand, is child-friendly, and less visited than the Great Beach (Storstranden) at the other side of the harbour.
Fine bathing beach with a great location
Northwest of the lively marina in Juelsminde is a fine beach, colloquially known as 'The Bay'. As the name implies, the beach is located in a bay, which gives a great view to both sides. The beach is approximately 5 kilometes long and has fine sand without too many rocks. The whole area is suitable for bathing but you will find the best conditions opposite the parking lot at the road Bugten. The parking located right at the beach. You will find public toilets here and an ice cream parlor where you can buy cold refreshments, coffee and snacks.
Near the city centre
Further north on the beach is a holiday camp and a camp site. There are ideal conditions for hiking at the beach, and you do not have to take the car to the centre when you want to eat. It is possible to walk at the coast to the marina where there are several eateries. If you bring children, you should also suggest walking the short trip to the nearby Juelsminde Nature Play Park.
Bring the dog
Contrary to the Great Beach, Sandbjerg Vig Beach is not Blue Flag certified. That does not mean that the beach is not good – only that there is not a strict set of rules that must be followed. One of these rules is that you are not allowed to stay at a Blue Flag beach when you bring a dog. This is permitted at Sandbjerg Vig Beach if the dog is on a leash. Consider walking north at the beach to a less crowded area where you do not bother other visitors. This gives more freedom for both the dog and its owner.
The city surrounded by beach
Juelsminde is one of the loveliest holiday cities in Denmark. Most beachgoers head to the Great Beach, but there are also fine beaches in Sandbjerg Vig and Grønbjerggård Beach on the southern coast. Here, you will find the optimal conditions for a beach holiday at the east coast of Jutland, and good conditions for hikes at the varied coastline.
Destination Kystlandet © 2023