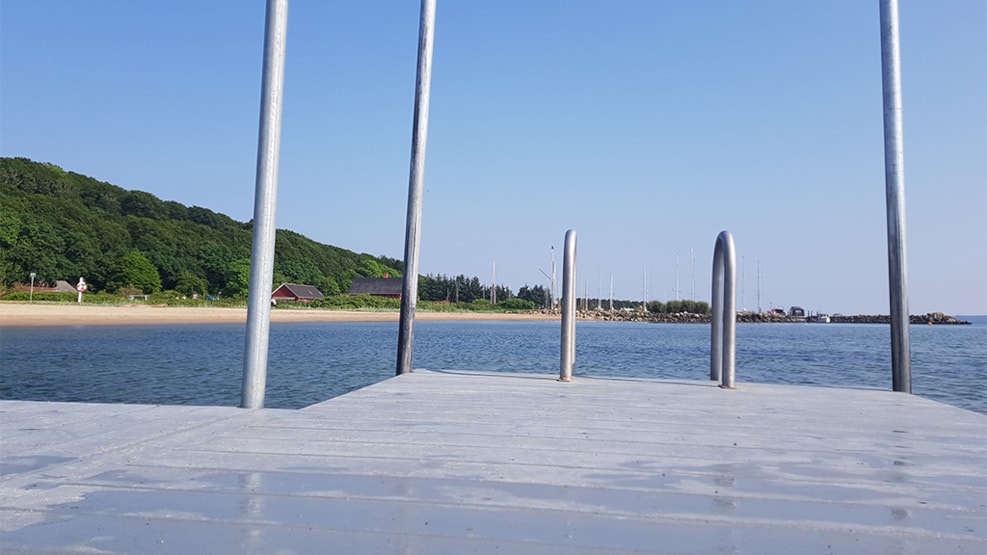 Rosenvold Beach
Rosenvold is a small oasis at the coast of Vejle Fjord consisting of a campsite, a castle, a marina, and a fine bathing beach. The beach has excellent facilities and is perfectly suited for sunbathing and going for a swim in the clean, calm water.
Peaceful and cosy sandy beach
The northside of Vejle Fjord is characterized by distinctive nature, often with tall bluffs at the coastline. Rosenvold serves as a charming break from this with its open landscape, surrounded by forest, far away from busy roads.
Here, in these charming surroundings, you can visit the small bathing beach. The beach is about five metres wide and a few hundred metres long. So, there is plenty of space to sunbathe in peace and quiet. You are welcome to use the fine bathing jetty.
Behind the beach, there is a lawn area with tables and benches and space for enjoying a ball game. There is a beach volleyball course, football goals and a basket net.
There is a big free parking lot by the beach as well as toilets and a disabled toilet.
About Rosenvold
Rosenvold is not big, and it does not require many minutes of walking to se it all. A small marina with a playground is next to the beach If you follow Rosenvoldvej southwards, the road turns left. Around the corner you can see the old castle on the left hand. The castle is privately owned, so do not enter the garden.
Nature experiences nearby
Rosenvold is scenically situated with many forests and hiking/bicycle routes nearby. A couple of kilometres east of Rosenvold, you can visit Staksrode Forest known for its dramatic slopes facing the water. If you go west, the wellness resort Hotel Vejlefjord has a beautiful, historic park worth exploring.
The bicycle route Kulturringen goes through Rosenvold and leads you all the way around the Juelsminde Peninsula.
If you would rather explore the area on foot, then you can find suggestions for roundtrips around Rosenvold on this digital map.
On this page you can find inspiration for other activities on the north coast of Vejle Fjord.
Other lovely beaches in the Coastal Land
The east coast of Jutland around Juelsminde offers many good beaches worthy of a visit. Find inspiration for your next beach trip here.
Destination Kystlandet © 2023