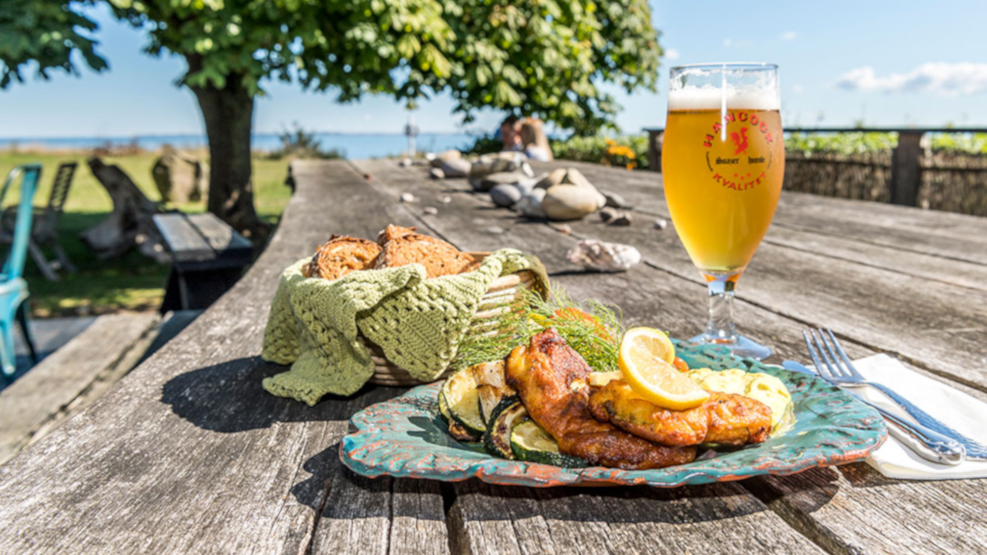 Restaurant Himmel & Hav
Beautifully located by Kysing Beach, this popular organic eatery entices delicious dishes for lunch and dinner. Come and enjoy a great meal in the atmospheric restaurant or outdoors, with an enchanting view of Saksild Bay.
Organic food made with quality ingredients
At this special restaurant by the Odder Coast, the focus is on providing guests with a unique taste experience using only the best ingredients. Almost exclusively organic and sustainably produced ingredients are used. Himmel & Hav, which translated to "Heaven and Sea" has been awarded the gold organic dining label, given to establishments with 90-100% organic ingredients in Denmark. The ingredients are sourced, whenever possible, from local, smaller producers.
The restaurant offers an unparalleled backdrop for your dining experience with a fantastic view of the Kattegat Sea. Himmel & Hav has its own access to Kysing Beach, making it perfect to combine a meal with a stroll along the shore.
Delicious meals for dinner, lunch, and brunch 
Restaurant Himmel & Hav offers a tempting menu focusing on dishes with fish and seafood. For lunch, you can enjoy dishes such as a delicious "stjerneskud" (shooting star), fish cakes, marinated mussels, a fish platter, fish or meat burgers, or the extravagant lunch platter 'De syv små bjerge' (The Seven Little Mountains) with a variety of delicacies.
For dinner, you can indulge in a weekly changing menu with three or five courses. The menu rotates regularly, ensuring a new experience with each visit.
Alternatively, you can try the popular "Vikingepizza" pizza buffet, offering unlimited pizza and salad. The pizzas are baked in their own outdoor stone oven.
For a truly delightful brunch experience, we recommend Himmel & Hav's "mokost," served on weekends from 10:00 to 11:45. Start your day with small dishes like marinated redfish, goat sausage from Tunø, and light duck pancakes with rosemary.
Himmel & Hav has an extensive wine menu, consisting exclusively of organic, biodynamic wines, and even natural wines without additives.
You can view the full menu of Himmel & Hav on their website.
Opening hours and reservations
Restaurant Himmel & Hav is open from Friday to Sunday every week. You can find the exact and current opening hours on their website.
While walk-ins are welcome, we recommend making a reservation in advance. Reservations can be made online or by phone.
Bring a piece of "heaven" home
Himmel & Hav produces all their smoked goods in their own smokehouse. As a guest, you have the opportunity to purchase smoked salmon to enjoy at your own lunch table, in your private residence, summer house, or camping site.
You can also try their special "orange ant vodka", (and yes it's the crawling little fellas), which acquires its distinctive citrus flavor from precisely 55 orange ants added to each bottle. It's a unique gift or souvenir option.
Celebrate at Himmel & Hav
Restaurant Himmel & Hav has extensive experience in hosting parties and events. They offer several different venues for your celebration, including the option to book the entire restaurant or tents adjacent to the restaurant. Additionally, Himmel & Hav has a charming setting in the Ørangeriet at the Organic Gardens and the cozy "Haverummet" located in the organic visitor garden.