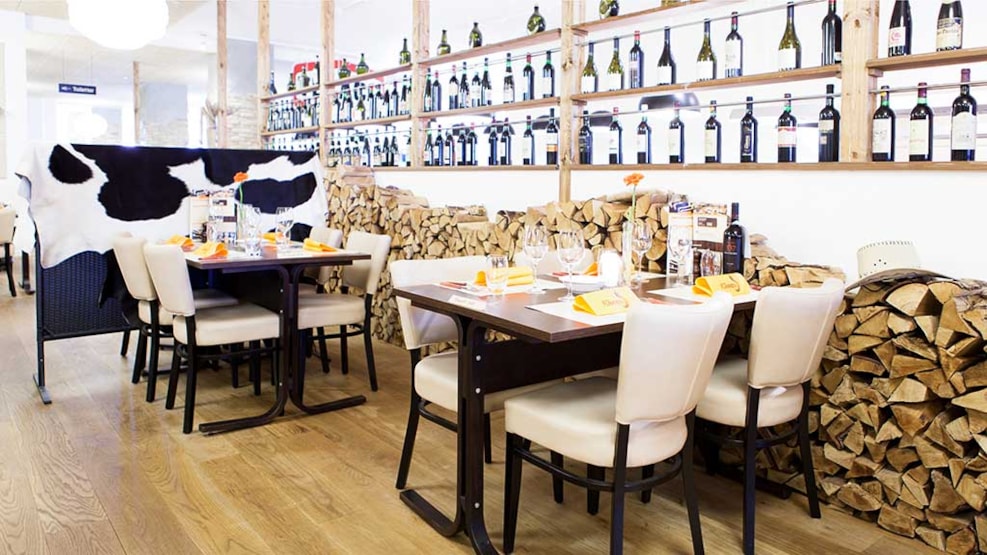 Restaurant Flammen Horsens
Flammen offers a massive, inviting, and delicious grill buffet with lots of tender meat, warm dishes and a large salat buffet. At Flammen, buffet and high quality accompanies each other in a restaurant that satisfies any taste.  
Always at least 15 types of meat on the grill
At Flammen you can easily find something you like. A cornucopia of tempting dishes awaits in the buffet. The highlight of the meal is without a doubt the tender cuts. Here, you will find many different types of meat. Anything from US Black Angus to Danish pork and several different types of white meat. Furthermore, more unusual types of meat such as kangaroo and wild boar stuffed with red dear from Flammen's own butchery.
The great accompaniment
You can always choose more than 10 different warm dishes to accompany the meat. There is a good selection of potatoes – no matter if you prefer your your potatoes mashed, oven baked, scalloped, or deep-fried. At to this at least three different kinds of sauces.
Every day, there will be a selection of starters. Dishes such as salmon, filled patty shells or bruschetta is there to give you a great start before heading to the grill.
Furthermore, there is a salat buffet with more than 50 types.
All inclusive
You have the option to purchase coffee, tea, desserts and an interesting menu of wine, beer, and cocktails. You can also choose to use the all-inclusive offer that gives you one welcome drink, 1 dessert, 1 cup of coffee or tea as well as all the beer, soft drinks, and wine you can drink.
Table reservation
Flammen is open for dinner seven days a week. At Flammen's website you can see the current opening hours and go straight to online booking.

There is free parking in front of the restaurant. 
Destination Kystlandet © 2023