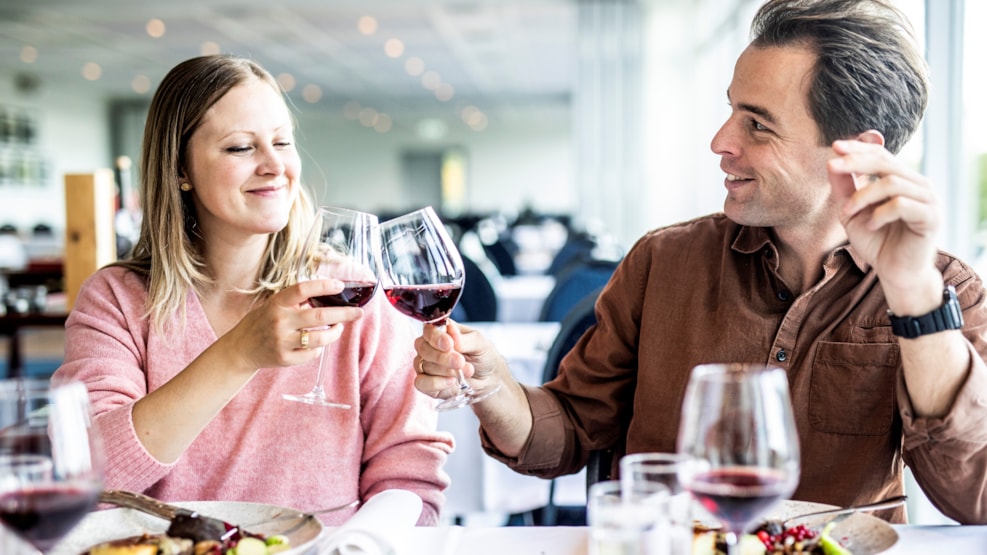 Restaurant Færgegården
Experience exquisite delicacies at the restaurant of Hotel Juelsminde Strand that has an exciting and varied menu. Everyone is welcome here – even if you have not booked a room. 
Gourmet experiences in breath-taking surroundings
Restaurant Færgegården is idyllically located at the hill Færgegårdsbakken in Juelsminde with view of the blue water of the Juelsminde bay, the forest Tofteskoven and the life and activity of the nature playground. You can choose to eat indoors in the spacious and inviting rooms or, weather permitting, on the large terrace. The views from here are formidable.
Familiar dishes with a twist
The chef at Restaurant Færgegården respects the classic cuisine prepared from good produce. But she adds a twist of elegance, humour and gourmet to the dishes that makes being seated in the atmospheric rooms an entirely unique experience. The skilled and well-trained staff will meet you with professionalism, pride in their work and, not least, a smile.
Restaurant Færgegården is a restaurant where you can expect to have gourmet food and exciting gastronomical experiences. The menu is simple and characterised by familiar dishes prepared slightly differently to give you an entirely new taste experience.
Seasonal menu
Restaurant Færgegården has monthly menus that are well-composed with a focus on seasonal fresh produce and the creativity of the chef. You can choose the entire five-course menu or select the dishes you find most tempting.
At the website, you can see the current seasonal menu. This is also where you find information on upcoming events with culinary elements.
Everyone is welcome
There is no need to provide a room number when eating at the restaurant. You can walk in from the street and will, naturally, be greeted and provided with the same good service regardless.
But that is not to say that you should not consider staying overnight at the hotel. Facilities are good and you really cannot find a better location – close to the beach, the town and the harbour in one of the best resort towns of the east coast.
When you spend the night at Hotel Juelsminde Strand, you can also enjoy the delicious breakfast buffet of the restaurant which has everything you could possibly wish for.
Book your table
Would you like to enjoy your dinner at Restaurant Færgegården? Then contact Hotel Juelsminde Strand by email or by telephone to secure your table.
Destination Kystlandet © 2023