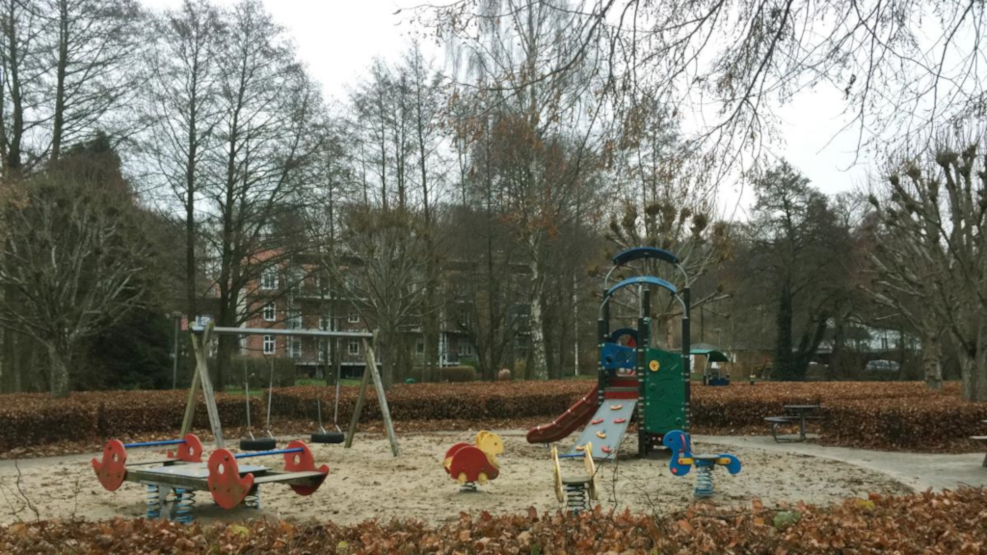 The playground in Mølleparken
A fine playground for small children in green surroundings near Odder Museum. The playground in Mølleparken near the duck pond has the most basic equipment. Visit it as a part of an excursion in the park and have a picnic next to Odder Stream.
A green oasis for children
Near the centre, behind Odder Museum is the park Mølleparken. There is a little lake (the duck pond) next to the beautiful museum buildings. From here, a narrow park follows Odder Stream. You will find the playground a short stretch down the path through the park. Around the playground, there are great facilities for taking a break and have picnic in nature to the sound of the purling stream. The area is well shielded from all the life, activity, and traffic noise of the city. The smart local ducks have figured this out too – they enjoy visiting the park and will curiously watch as you eat lunch.
Good for small children
The round playground has no wild equipment that will cause an adrenaline rush with big children. Here, you will encounter all the classic playground equipment that parents remember from their own childhood. Tire swings, seesaws, a slide, a play tower, and a playhouse. All of it is placed in a large sandpit, so you can bring the beach toys if you wish.
Buy coffee and cake at the museum
While the children are romping, the adults might as well enjoy a peaceful break in the green surroundings. In Odder Museum's café you can buy a piece of cake from Fru Møllers Mølleri or a cup of coffee to go. And if you want the children to have the best day, then why not bring some Hansen ice-cream from the café?
And why not visit the museum exhibitions now that you are here? Come in and see the water- and steammill, learn more about the history of the Odder Coast, see the lovely gardens and the changing special exhibitions.
Destination Kystlandet © 2023