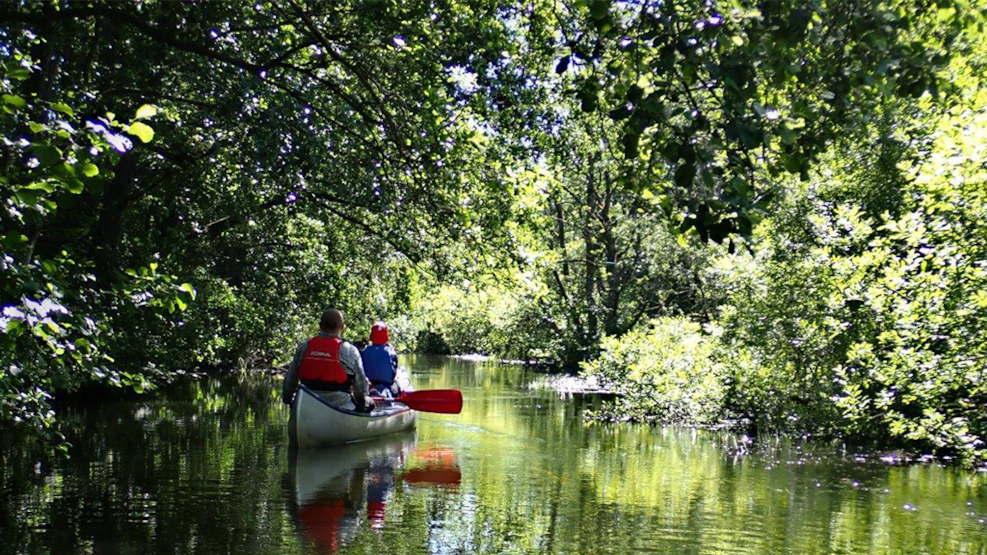 Outdoor Connection
Would you like to experience the beautiful scenery along Gudenåen and around the area of Søhøjlandet or Horsens Fjord? Or do you have a mind to learning to canoe or kayak? Outdoor Connection offers guided trips and courses with competent guidance that allow you to become one with nature. 
Down-to-earth and relaxed outdoor living
Outdoor Connection is the perfect choice if you want magnificent and unforgettable experiences in nature. You will be in a safe environment where you will be able to enjoy outdoor living. The competent guidance and instruction means that you will be able to make the most of each trip or course. Whether it is a quiet evening by the campfire or a canoe or kayaking trip, good experiences are at the centre of activities.
Take a guided tour of the beautiful countryside
Outdoor Connection organises trips in canoe or kayak through the beautiful scenery along Gudenåen and around the area of Søhøjlandet. These trips are led by an experienced guide who makes sure that you learn the basics if you do not already master them. Trips are organised for both beginners and those with experience. The trips for beginners may include a course where you learn about equipment, safety, theory and, naturally, technique. Outdoor Connection makes a range of gear available – including the craft(s) and cooking gear. See the website for scheduled trips. 
Learn canoeing or kayaking
Several types of one-day courses in both canoeing and kayaking are available.
The canoeing courses take place at Emborg Bro at Gudenåen and provide you with practical experience with canoeing as well as the required techniques and will also teach you about the safety considerations in connection with canoeing. In addition, there are trips that focus on having fun and playing games in the canoe with games and competitions.
Sea kayaking is rather more demanding than canoeing. At the beach Husodde Strand near Horsens, you can attend an eight-hour course which teaches you the basic techniques that allow you to take yourself kayaking on the fjord, at sea or on a lake.
The experienced guide
From childhood, outdoor living has been part of the life of Willi Squindo, owner of Outdoor Connection, in the form of hiking, chilling at a campfire and spending the night outdoors. He is a qualified nature guide and canoe and kayak instructor. Moreover, he is a life guard and a trained first-aider, so you are in good hands when you venture out into nature. To Willi, it is important that you are seen and feel safe and comfortable whatever activity you participate in. Willi is a local and has lived in the hilly Bakkelandet, north of Horsens, for many years – for this reason, he knows the area around Gudenåen and Søhøjlandet extremely well and is able to advise you on local outdoor experiences.
Go for a kingfisher safari on the Gudenå
During the summer period, you explore the Gudenå in the canoe on a kingfisher safari. On this tour you will paddle through the peaceful natural habitat of the immensely beautiful blue bird. Canoeing on the Gudenå, the chances of spotting the kingfisher are particularly good. You also have the chance to see many other animal- and plant species along the way. 
Plan your own trip
In addition to the trips described above, Outdoor Connection offers tailored trips for company events, family events, stag parties and the like. Contact the owner for a quote.
Destination Kystlandet © 2023