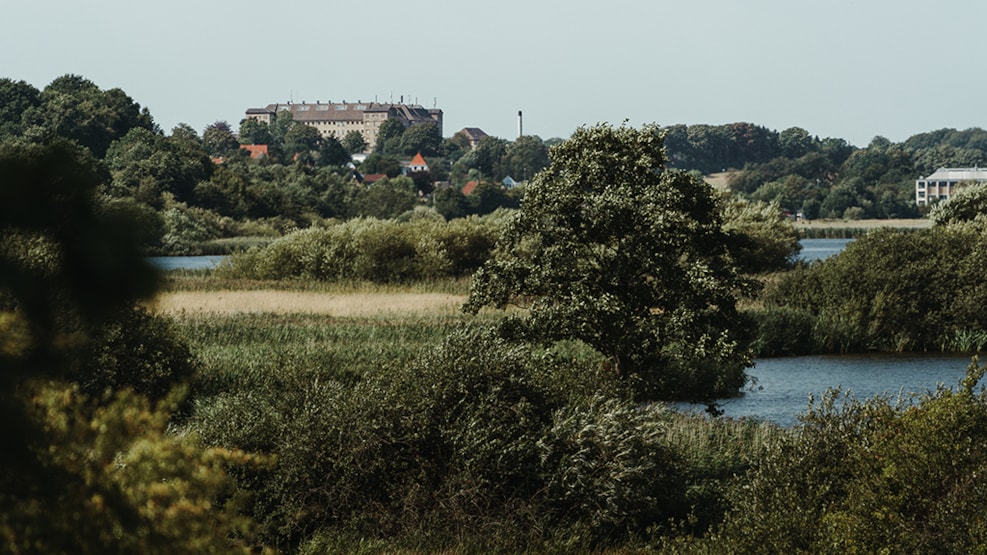 Nørrestrand
With it's unique location near the centre of a major Danish city, Nørrestrand is a beautiful and easily accessible wildlife- and nature reserve. Here you will find great nature experiences and rich wildlife, fine trails and a 13 kilometre long bike and hiking route that is wildly beautiful and impressive.
Wild nature near the busy city centre
Only 1.5 kilometre from Horsens' busy shopping district lies the wildlife reserve Nørrestrand as a distinctive city limit to the north. Especially in the southern part of Nørrestrand, closest to the city, you can experience wild, wooded nature with rich wildlife. The centre of Nørrestrand is a large freshwater lake and river delta that connects the area with Horsens Fjord. The area is home to more than half of the country's bird species and there is also the opportunity to meet deers and foxes. Many benches and tables have been set up, where you can enjoy your lunch outdoors.

Hiking and cycling in Nørrestrand
Nørrestrand is a popular recreational area for Horsens. The paths are used extensively and it is a nice area for running, cycling and walking the dog. On the south side of Nørrestrand, an upper and a lower route along the lake passes through wooded terrain. North of the lake you will walk on an idyllic hilly country road with beautiful views of the countryside, the lake and the city. The whole trip around Nørrestrand is 13 km long.
See the route on VisitHorsens' digital map (Google Maps)

Experiences along the route
In many places on the trip around Nørrestrand, you will be greeted by an excellent view. In Stensballe, in the south-eastern part of the area, you stand above the countryside and can see several of the city's iconic buildings such as the prison FÆNGSLET and the city's stadium Nordstern Areana
From the large bird tower at Lindskov Knude, on the south side, you can observe the rich bird life of the place.
In the northwestern part of Nørrestrand, you will see wild horses roaming freely on a larger area in beautiful surroundings.
Farthest to the east you will find the old Vær Church, where former chancellor Peder Griffenfeld is buried. Near he church is also Vær Lake – we recommend a walk around the lake.
The routes at Nørrestrand are in connection with routes along Horsens Fjord and the nature area 'The Four Medaows'.
See our digital map for inspiration on how to combine your trip in Nørrestrand with other nature experiences.

Go hiking around more lakes in the Coastal Land
The Horsens area has many lakes that are well suited for hikes. On this page you can find inspiration for your next round trip on foot. 
Destination Kystlandet © 2023