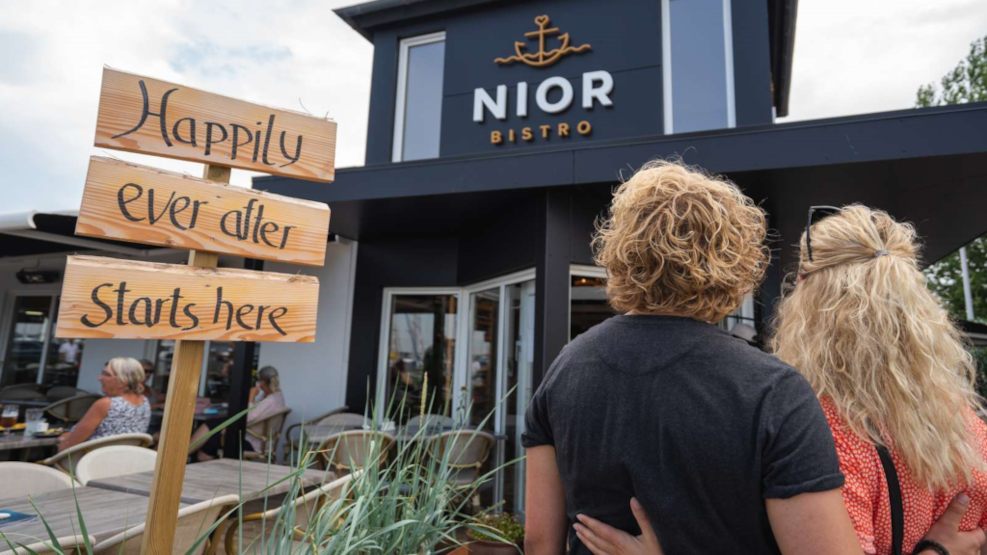 NIOR Bistro
Get a taste of Juelsminde at this traditional and modern eatery at the harbour. Enjoy a delicious meal with cold drinks outside on the patio or inside in the cosy restaurant.
Grab a bite of Juelsminde
With its perfect location at the busy marina in Juelsminde, NIOR Bistro has served as a central rendezvous for the city's many summer visitors for 30 years. Here, they serve great, summery dishes in a maritime setting.
At NIOR they do not take orders at the tables. Instead, they focus on creating perfectly cooked dishes with the best ingredients possible. For example, the fish monger in the building next door, Juelsminde Fisk is a major supplier of fresh fish for NIOR.
On the menu
NIOR has a versatile menu with many dishes that will make your mouth water for sure. For many years they have been well-known for their delicious fish dishes, but NIOR is much more than that. You can also sink your teeth into the popular rib burger or a fillet steak.
The signature dish is the shooting star with a steamed fish fillet, a fried fish fillet, cold smoked salmon, and hand peeled shrimps on bread. We also recommend the maritime platter with today's selection of fish and shellfish.
Add to that a selection of starters, snacks, and desserts so you can easily make up an exciting and varied menu.
Open all year
NIOR is open 12 months a year. When summer draws to a close, the concept changes – NIOR serves as a restaurant during winter where you will be shown to your table by a waiter.
Cold drinks under the sun
NIOR is the place to go if you want to enjoy quality drinks and cocktails in Juelsminde. The selection ranges from classics such as gin & tonic, tequila sunrise, and mojito, to more exotic drinks like Honolulu, and tipsy mermaid.
And there is hardly a better place to enjoy a cold summer drink than NIOR's patio with an ocean view and a view to the masts, the beach, and activity in the area.
Happy hour is on every afternoon from 4-5 p.m. During this hour you can choose two drinks from the menu at the price of one.
Takeaway
All courses on the menu can be ordered as takeaway. On this page you can purchase any dish in advance. NIOR will have it ready for pick-up when you arrive.
Destination Kystlandet © 2023