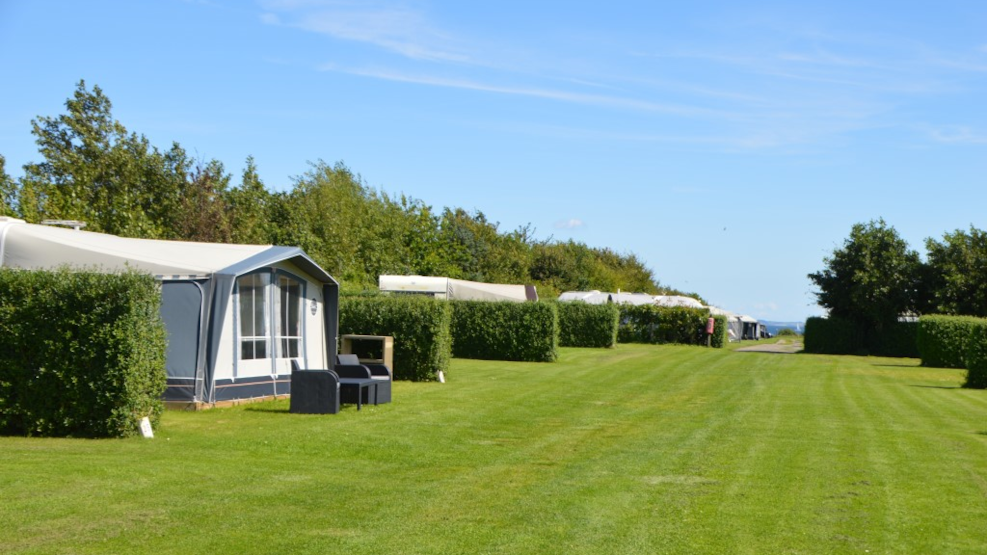 N.F.J. Naturist Camping
At Kysing Beach at the Odder Coast you will find the only naturist camp site on the east coast of Jutland. The site is a regular camp site with good facilities – the only difference is that the majority of the guests enjoy the freedom of walking around naked outside.
Lovely camp site at the Odder Coast
At Kysing Beach, you will find a great setting for the camping holiday, near Eastern Jutland's big attractions and experiences. At N.F.J. Naturist Camping you can camp in natural surroundings in a site that offers anything you need as a camper.
Everyone who is a naturist or want to try what it means to be a naturist is welcome here.
Accommodation for every taste
NFJ has room for 145 units. During the summer period it is often nearly fully booked. You can of course choose to sleep in your own caravan. If you do not have your own caravan, you can rent one with an awning.
Alternatively, you can rent one of the bright wooden cabins that come with kitchen, sofa and dinner table.
Or book one of the spacious glamping tents that are equipped with a good, comfortable bed and a refrigerator.
If you wish to sleep outside, then consider the shelter where you have an excellent view of the ocean.
Fine facilities
NFJ offers all the essential facilities such as bathing facilities, disabled toilets for those who sleep in tents, and a kiosk with the option to buy whatever you need.
Furthermore, there is a series of facilities that ensure that you get a good experience. In the communal room you can watch TV, read a magazine, or have fun with a board game. Children can look forward to the fun playground with a jumping pillow and activities such as table tennis, beach volley, football, and handball.
You can also visit the beach sauna or prepare your dinner in the barbecue hut.
Oh, and do not forget the fine sandy beach at the camp site with a bathing jetty.
A naturist camp site
Naturists are exactly like you and I – they have just discovered the comfort in not wearing clothes when the weather allows it. The site is for naturists only, but if you are curious and want to see if it is something for you, then you can visit the site for a day. A 1-day ticket gives you access to the beach, toilets, and shower facilities. You can also buy access to the sauna at a limited price.
Destination Kystlandet © 2023