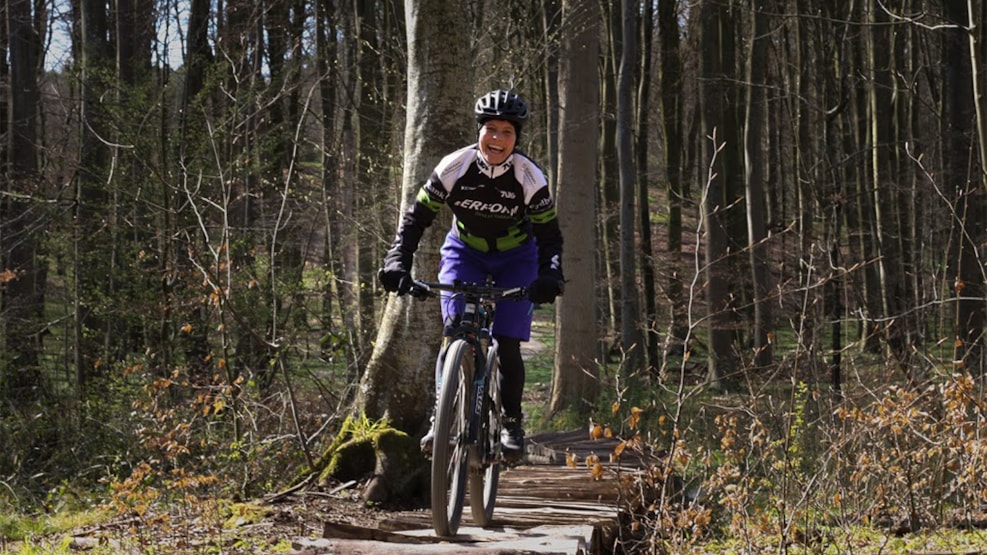 The mountain bike trail in Juelsminde
Set the GPS to Hotel Juelsminde Strand and embark on this 4-kilometre-long singletrack trail in Tofteskoven Forest. The trail is not especially challenging and can be ridden by most mountain bikers but is surprisingly entertaining.
The beginner-friendly MTB trail in the holiday village
Juelsminde's mountain bike trail is located close to the marina and the city centre. The one-way trail is quite beginner friendly without major descents, too many vertical metres, or technically challenging loops. The entertainment value is quite high and there is lots of room for play on the well-constructed turns and berms. The trail is well signposted. You will not get lost, and it is easy to find the start of the route.
On the trail
You can access the trail from two places, but the natural starting point is at Hotel Juelsminde Strand. There is a big parking lot here with lots of space. From the parking lot you will ride up the hill where there is a mound. From here you will descent towards the orbital road and along a hillside to the fun section called Florida in dense forest. Further on you have two options for the next descent – a blue descent and a more challenging red descent. On the last section of the trail called Homerun, there are two small jumps and a bridge before ending back where you started.
Bring the family
The route in Tofteskoven Forest is a perfect place to become acquainted with mountain biking. It does not have too many challenging sections but lots of room for play and mastering the techniques. And the trail is also located next to the biggest playground in Eastern Jutland, Juelsminde Nature Play Park where there is lots of playground equipment and games for the whole family. You can also enjoy your packed lunch here or grab a meal at the hotel's Restaurant Færgegården which offers a great view of the forest and the playground.
Before going home, make sure to visit the lively marina and enjoy an ice-cream in the sun.
Looking for more trails in the local area?
See our guide to mountain biking and learn more about the quality trails in the Coastal Land.  
Destination Kystlandet © 2023