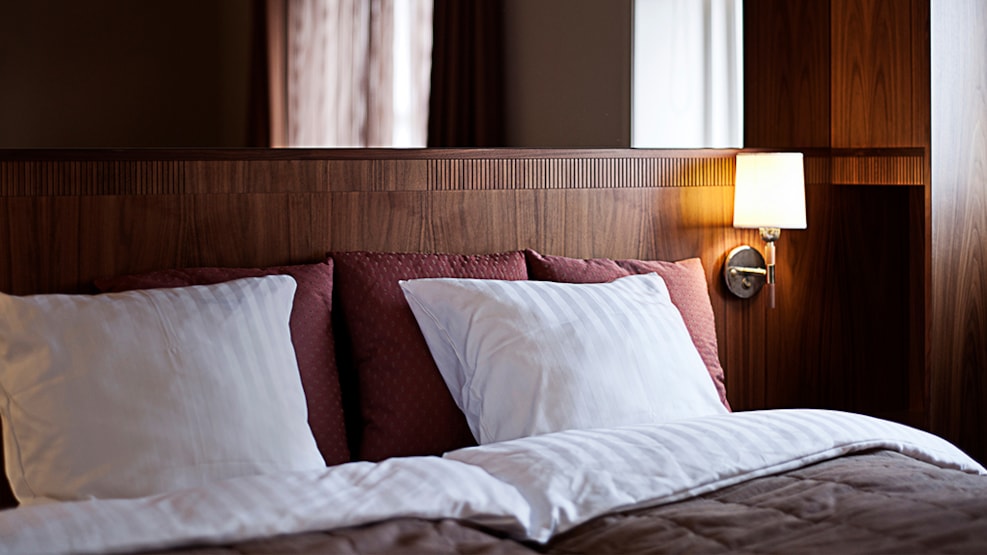 Green Experience
Montra Odder Parkhotel
Beautifully located in the heart of Odder, this hotel offers a four-star experience with great rooms, good food and lots of pampering. Montra is the perfect base for your holiday or a cosy weekend in Eastern Jutland – close to everything.
Odder's hotel
Montra Odder Parkhotel is the only hotel in the city of Odder, close to all the stores, eateries, and experiences in town. At Montra the guest is the centre of attention and the personnel will go far to ensure that you get the best service possible. The setting is cosy and homely and offers many different activities.
Unwind in relaxing surroundings
Montra Odder Parkhotel has 78 rooms, all with good comfortable beds, bathroom, TV with both Danish and international channels and wi-fi. 36 of the rooms are luxury rooms with facilities such as bathtub and sofa. For the ultimate luxury, book one of the six luxury suites with a spa bath.
All guests can use the hotel facilities. Go for a game of dart or billiards, hang out at the bar or in the wine cellar, book a wellness treatment in the beauty parlour or visit the nearby fitness centre at a great discount.
The hotel will gladly assist you in constructing a stay tailored to your needs. No matter if you are into wellness, culture, golfing, or good food, Montra has a stay that will appeal to you.
Culinary pampering
At Montra's restaurant you can look forward to cooking at a high level. Set your expectations high as you enjoy solid meals and well-known a la carte dishes that are popular everywhere. The food is served with pride here in one of the best restaurants in town, and the cosy atmosphere in the restaurant will ensure that will undoubtedly have a good experience.
Everybody is welcome in the restaurant – you do not have to stay at the hotel.
Read more about the restaurant on this page.
Events
Montra Odder Parkhotel regularly organize concerts and events with well-known Danish artists. Good food is served as a part of the event and you can choose to spend the night at the hotel.
For meetings, conferences and parties
Montra Odder Parkhotel specialises in organizing parties and meetings for companies as well as for private parties. If you need the perfect setting for the wedding festivities, the conference, or the birthday party, Montra is the solution for you. The venue has many rooms and can accommodate anything from little parties to big events with up to 250 participants. Montra offers a great deal of flexibility, counselling, and guidance, so you can organize the best event possible together.