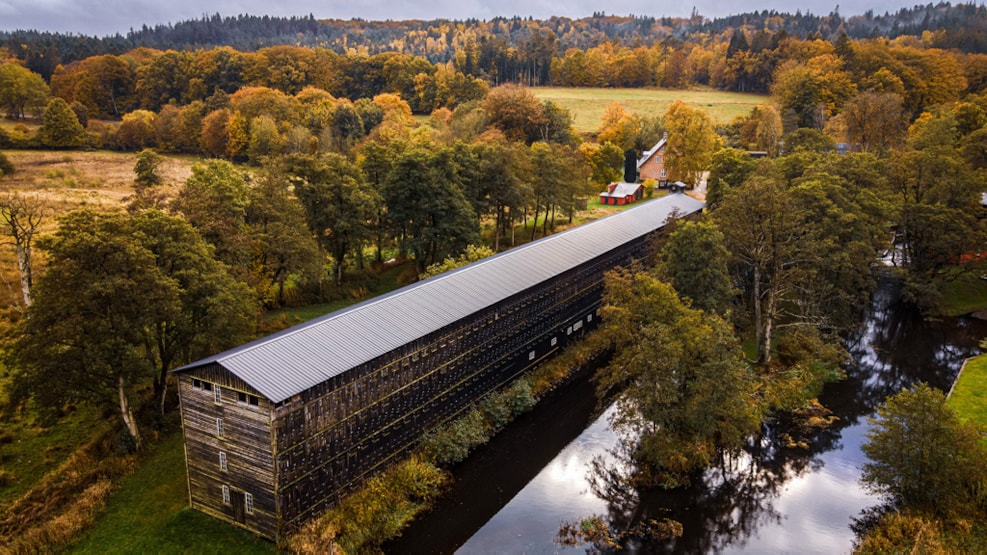 The Monastery Mill (Klostermølle)
This lovely attraction combines beautiful nature with exciting cultural history. The former Benedictine monastery and paper factory is now a popular excursion point well suited as a picnic spot.  Old, listed buildings, an exhibition and an observation tower with a beautiful view of Lake Mossø can be found here.
A culture-historic gem in the middle of nature
The Monastery Mill is located in some of the most beautiful nature that Denmark can offer. The Monastery Mill consists of a series of buildings worthy of preservation that are open to the public. Furthermore, there are great facilities outside that are great if you want to enjoy your packed lunch in the open or just feel like going for a walk in the fascinating surroundings.
There is an exhibition consisting of plates with written stories which makes it possible for you to learn more about the history of the place and hear sounds from the time when the mill was still active.
The drying barn at the Monastery Mill is Denmark's longest wooden building. In the barn you can still see how cardboard and paper was hung to dry. A bird observation tower is found in one end of the 100-metre-long barb. This offers an incredible view of Jutland's biggest lake, Mossø. You can go to the shore of Mossø and you can walk along the 1.3-kilometre-long mill canal.  
A hotspot for canoeing
The Monastery Mill is a well-known destination for the canoe trip on the river Gudenå. Both for those traveling from Tørring to the south and Ry to the north.
Many canoe rentals offer to pick up the canoe here.
At the foot of the Sugar Loaf
From the Monastery Mill there are a few paths leading to one of Denmark's most beautiful vista points, the Sugar Loaf (Sukkertoppen). The steep hill has its summit 108 metres above sea level and offers an incredible view of Lake Mossø, the marsh area Klosterkær, Salten Langsø Lake and the forests and hills near the Sky Mountain. The top of the Sugar Loaf is only a 500-metre walk from the parking lot at the Monastery Mill.
The history of the Monastery Mill
Since The Reformation in 1536, the monastery mill has been a gathering point for many people. During medieval times it was a Benedictine monastery. There are only a few visible remains from that period. In 1872 the mill was rebuilt into a factory producing paper pulp and cardboard. The factory was operational until 1973 when a fire seized all production. After the fire, the state bought the area for recreational purposes.
Parking
There is a fine parking lot on Klostermøllevej, south of the main buildings. Busses can also park here.


More historical attractions
The Coastal Land offers a multitude of historical attractions. Follow this link for inspiration. 
Destination Kystlandet © 2023