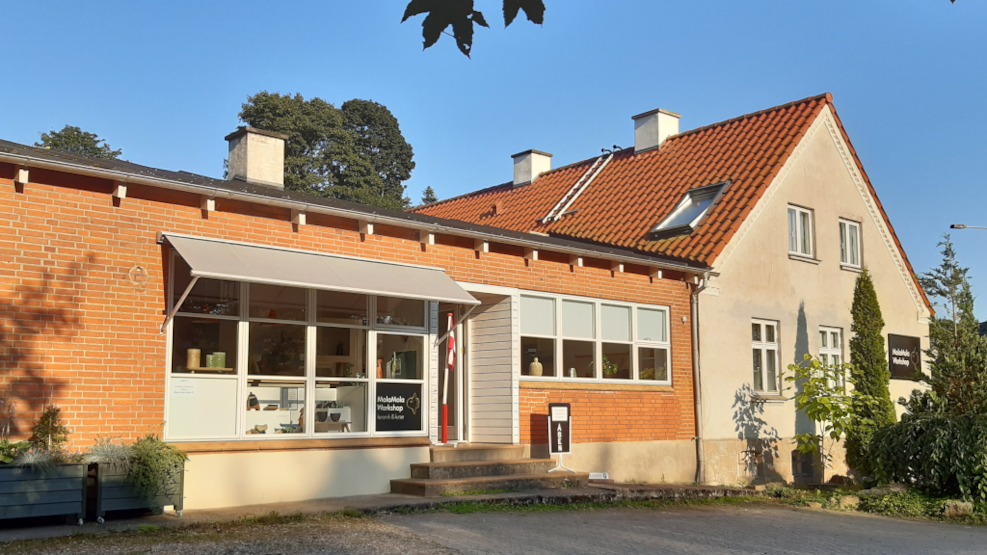 MolaMola Workshop
The local ceramicist Karin Morsbøl has her workshop in the beautiful nature of the Danish Lakelands. Here, you can attend courses for beginners as well as for more experienced potters. Stop by her exhibition where you also have the chance to buy one of her impressive works of art.
Learn more about the world of ceramics
You can often attend ceramics courses in the former grocery store in the village Voervadsbro. The courses are conducted in small teams of no more than 7 participants. This allows for a great deal of personal guidance and instruction. In this way, each participant will get the best possible experience. During the courses you will get to work with stoneware many different techniques.
Ceramics course with accommodation
MolaMola Workshop organizes residential courses with the option to sleep on the lot. A part of the house is currently being converted into a B&B, but already now you can sleep in a tent on the lot, put at your disposal by the owner. This is your chance to sleep to the sound of the purling river Gudenå. The garden used to be the official camp site for canoeists in Voervadsbro.
Enrolment
Follow MolaMola Workshop's Facebook page where future courses will be announced. You can enroll the courses by contacting molamolaworkshop@gmail.com. You are also welcome to contact Karin Morsbøl for information on future events. 
About MolaMola Workshop
Karin Morsbøl is a trained ceramics designer and teacher. She combines these two educations as she acts out her dreams and passion – teaching the art of ceramics.
In addition to the courses, Karin Morsbøl also has her own production. She works in stoneware, raku, porcelain, concrete, and wood. She prefers producing unique products but also accepts orders of utility items such as bowls, cans, and mugs.
Open in July
Feel free to stop by the workshop and the sales exhibition which also contains work by woodturner Henning Jeppesen and beautiful dog portraits by Mette Steenfeldt. The workshop is open Tuesday-Sunday 10 a.m. – 2 p.m every day in July or by appointment.
In the heart of one of Denmark's finest nature areas
Voervadsbro is located in a beautiful area characterized by hills, forest, lakes and the river Gudenå. The start of the popular hiking route the Gudenå Path Voervadsbro-Emborg is next to the workshop. The route will take you to the top of one of Denmark's best vista points the Sugar Loaf (Sukkertoppen), Klostermølle and the lake Mossø – all within walking distance from the workshop. A few kilometres away is also the Sky Mountain (Himmelbjerget) and the Uncovered Bridge (Den Genfundne Bro) – both among the most popular nature attractions in Denmark.
Get more inspiration for activities in the area on this page.