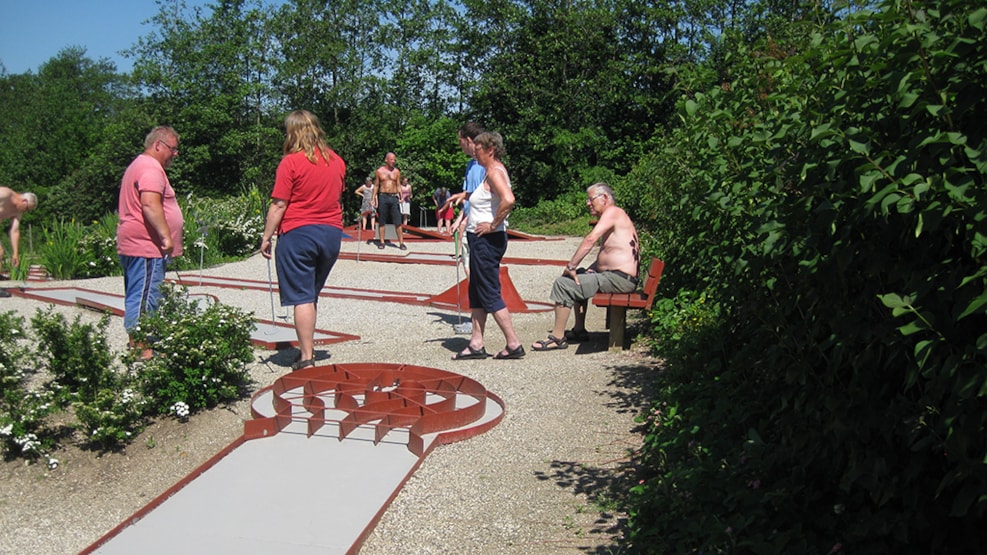 The miniature golf course at Løgballe Camping
Enjoy some quality time with the family and compete on the crazy-golf course at Løgballe Camping. It is set in beautiful nature between Juelsminde and Vejle and is the perfect excursion spot.
Family fun at its best
Enjoy a couple of hours' entertainment at Løgballe Camping on the newer and well-maintained crazy-golf course. The course is idyllically located in a quiet corner of the caravan park. The crazy-golf course has 15 holes with fun challenges for both children and adults.
The course is situated close to the forest and a stream and you will feel shielded from the goings-on in the caravan park. Shrubs and rose beds also help to create a cosy setting for the game.
You rent equipment from the information/kiosk of the park where you can also buy ice cream, soda, or other chilled refreshments.
Everyone is welcome
You do not have to spend the night at the caravan park to be allowed to play crazy golf. You just enquire in reception - you will, of course, receive the same good service, no matter what.
But it may well be that you should consider staying a little longer. It is really nice at Løgballe Camping. And if you do not have a caravan, then that is no problem. You can rent one of the charming and well-equipped wooden cabins at prices as low as DKK 300 per night.