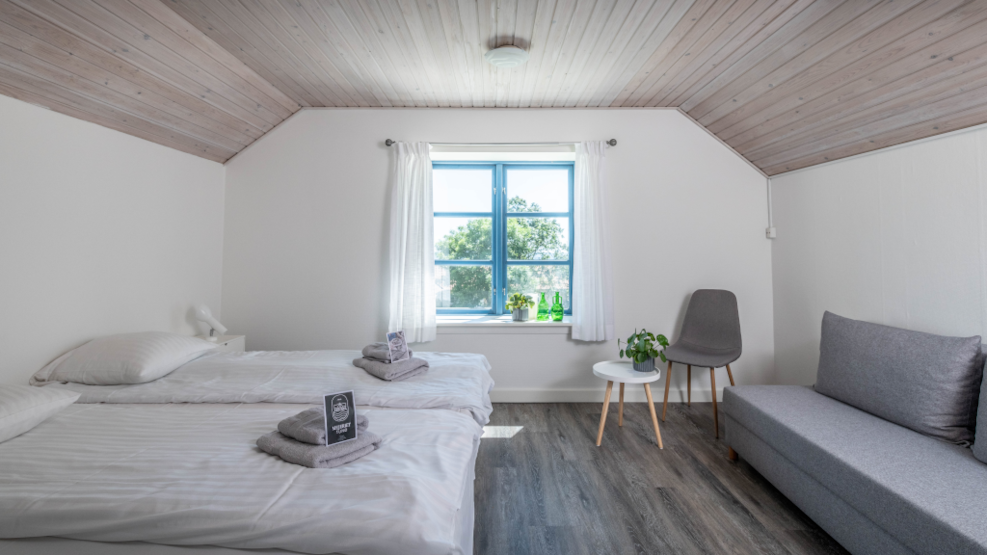 Mejeriet Tunø
Experience the unique island atmosphere in a beautiful setting at Mejeriet Tunø. In this charming seaside hotel in the heart of the little holiday island Tunø you can unwind in first row to the beach.
Accommodation with ocean view
Mejeriet Tunø is only 200 metres away from the nearest beach and the island's vibrant harbour and marina. With its central location the seaside hotel is the obvious choice for a beach holiday. All the island's attractions can be found within short distance, and there are good opportunities for hiking and bike rides in the nature. 
Bright welcoming rooms
At Mejeriet Tunø you can sleep in newly renovated double rooms. The rooms are decorated in Scandinavian design - bright pleasant rooms with a relaxed atmosphere. 
In connection to the hotel, there is a restaurant that serves a breakfast buffet and delicious varied dishes for lunch and dinner. At the restaurant there is a large outdoor lounge with an excellent view to the calm waters of the ocean. The restaurant is a festive gathering point for the island, where you can often go to concerts and events. 
The vibrant atmosphere in the restaurant is in stark contrast to the calm surroundings in the rooms. 
Mejeriet Tunø is the right place for those who seek authentic experiences; concerts with a great mood and cold beer, but it is also for those looking for presence and quiet yoga mornings in the sunshine. 
From October 27th 2019 until March 31st 2020, the restaurant is closed down for winter
Prices
Double rooms: 625 DKK per night. 
Peak season surcharge: 100 DKK per night. 
Weekend surcharge: 200 DKK per night. 
Parties
Host your parties at Mejeriet Tunø; Weddings birthdays, confirmation or summer parties - Mejeriet Tunø will tailor the event to your wishes.