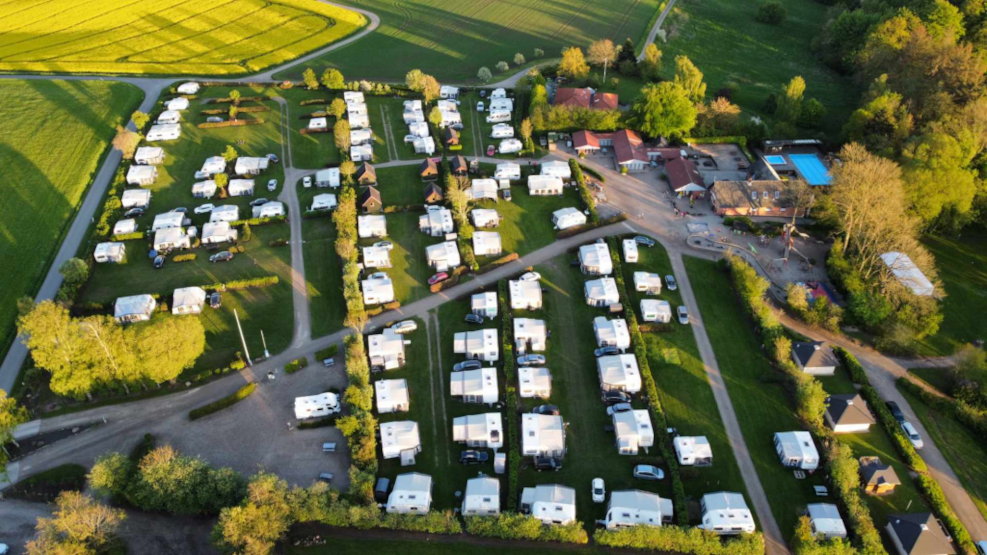 Løgballe Camping
Løgballe is a central meeting place in Denmark with ample room for closeness, peace and tranquility. Loceated in the rolling, hilly landscape between Juelsminde and Vejle, surrounded by beautiful nature, it is a good choice as a base for the camping holiday in Eastern Jutland. 
Welcome to Løgballe Camping
At this cosy campsite you are always greeted by a warm and friendly atmosphere in a quiet setting that invites relaxation.
Overnight stays for all tastes and budgets
At Løgballe Camping you have great flexibility and many options for staying overnight. You can stay overnight in your own caravan and tent on the site, and outside the boom, you can spend the night in your motorhome with an arrival and departure time of your choice, around the clock.
If you do not have your own vehicle or tent to stay in, then the cosy cabins on the site can be a solution for you. There are four different categories of wooden cabins and equipment levels. The option of camping for every taste and budget - in a tent, caravan or motorhome. Or how about one of our cabins - in four different categories and equipment level. You can rent the least expensive one for only DKK 300 a night in high season.
The site is 4.5 hectares and has four highly varied areas:
• Udsigtsmarken (Vantage point field) - here there is peace and quiet and beautiful views of the valley, hills and forest.
• Solgården (Sun Courtyard) - close to the sports field and with sun all day/evening.
• Midten (The Middle) - at the heart of it all. Here it is teeming with lovely families with children
• The sports field in the meadow where you can meet with the whole family/friends/club and play sports and almost be in your very own world.
The site has great facilities and many service buildings with all the essentials for you to have a fantastic experience. You will find lovely kitchen facilities, washing up rooms, laundry rooms and good shower rooms.
At the shop you can buy, among other things, bread, rolls, Danish pastries, groceries, something for the sweet tooth and barbeque equipment.
You are not going to be bored here ...
There are many opportunities for fun activities on the site.
Take a dip in the heated swimming pool, which has a separate children's pool. The pool is open from June to September - also for day guests.
Or try a game of mini golf on the popular 15-hole course idyllically landscaped down towards the brook and forest.
The site also has a dog playground, ball pitches and courts, pétanque and darts, so there are facilities to ensure that you are not going to get bored for a while.
Continuous activities are organised on the site and many diverse activities can be enjoyed for children and adults in the summer, such as bread on a stick, football tournaments, baking competition, creative workshops, stories, talks and lectures, walks in the beautiful scenery and much, much more.
Explore the area
Løgballe is located beautifully between Vejle and Juelsminde in an area characterised by agriculture and forest. It is not far from the site to an extremely beautiful part of Vejle Fjord with plenty of forest and magnificent scenic areas. Visit Staksrode Forest, where you will find one of Denmark's most gorgeous and dramatic stretches of coastline with high slopes down to the water. Or go for a walk on the historic and picturesque 'kurveje' ('spa paths' - signposted footpaths and tracks) at Hotel Vejlefjord.
It is not far to Vejle and the incredibly cosy harbour town of Juelsminde, which has delicious eateries and beautiful beaches.
And within a short drive you will find East Jutland's major attractions and towns such as Billund, Horsens and Aarhus, where great experiences await.
Suitable for sports events and competitions
With over 30 years of experience looking after small and large groups, you are in good hands at Løgballe Camping. Whether it's a big family party or a small club weekend, we are happy to prepare ready-made programme proposals for the whole weekend.
Løgballe Camping is the country's only organiser of High School Camping. During weeks 28, 34 and 36, you can experience a combination of the freedom of camping, and the depth of high school with fantastic social intercourse. It offers a mix of lectures and singing, evening tales, hiking and excursions.
Book your stay
If you want to experience the great atmosphere of a holiday at Løgballe Camping, please contact the company or fill in the form on this page to enquire about the possibility.