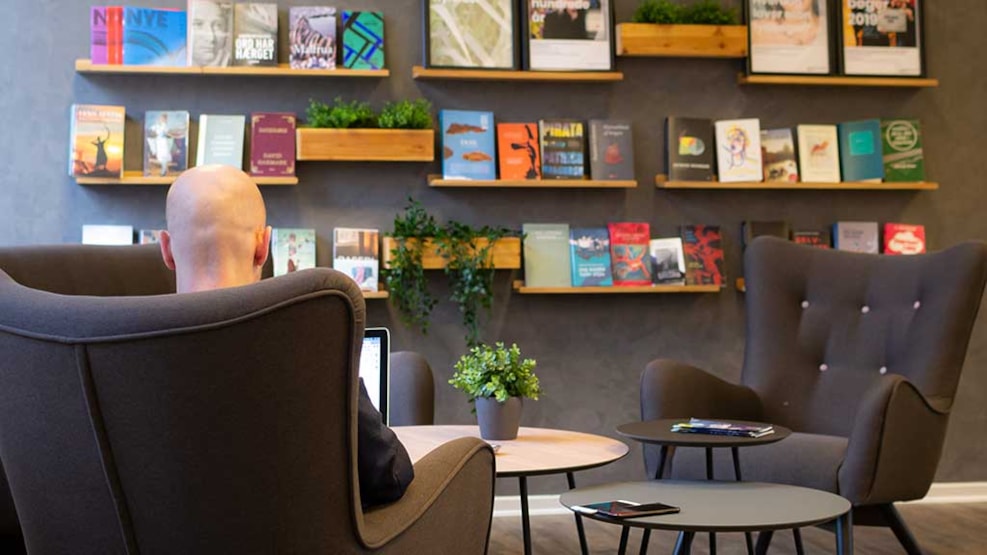 The Libraries of Horsens Municipality
Visit Horsens Library or one of the other six local branches and let yourself be inspired for new reading. Enjoy the peace, enjoy some quality time with your children, listen to a lecture or participate in one of the many events.
Enter a modern library
At the library, learning and literature are combined with entertainment, experiences and togetherness. Here, you can delve into an exciting novel, read today's newspaper or work on your project in peace.
Whether you visit the large, three-floor main library in Horsens or one of the many local branches, you are guaranteed competent guidance and many uses.
Naturally, however, a modern library also has a digital presence. The website of the libraries in Horsens municipality gives you access to e-books, magazines, reference works, online media, films, music, and much more.
Here, you can always access entertainment and learning, both during your holiday or in busy everyday  life.
Find your local library
Horsens Library is centrally located in the city in Tobaksgården just a few minutes' walk from the pedestrian area. Scattered around the municipality you also find six local branches, so you are never far from the nearest library. You find libraries in Brædstrup, Gedved, Hovedgård, Østbirk, Søvind and at Endelave. On the website, you can find the addresses and opening hours of the individual branches. In general, the opening hours of the libraries are really good, meaning that you also have the opportunity to visit them outside normal working hours. The opening hours are extended by the self-service solution which allows you to scan your way into the library using your health insurance card.
Play games, print or surf
You can borrow one of the library computers to surf, stream or work as much as you like. If you need to print, copy or scan, this is also possible at the library for a nominal fee.
At Horsens Library, you can borrow one of the special gamer-PCs in the gamer room. These computers have all the right equipment and the most popular games.
Events all year round
At the libraries, you can experience lectures, concerts, theatre, and much more. In connection with the school holidays, there are creative events and other events that are adapted to the youngest family members.
The largest event of the library is the Crime Fair which is held every year at FÆNGSLET in Horsens. The Crime Fair has a huge program and, every year, it attracts thousands of bookworms from all over the country. It is a unique opportunity to make a surprising book bargain, get your bedside table stocked up and maybe even meet your favourite crime writer from home and abroad.
Destination Kystlandet © 2023