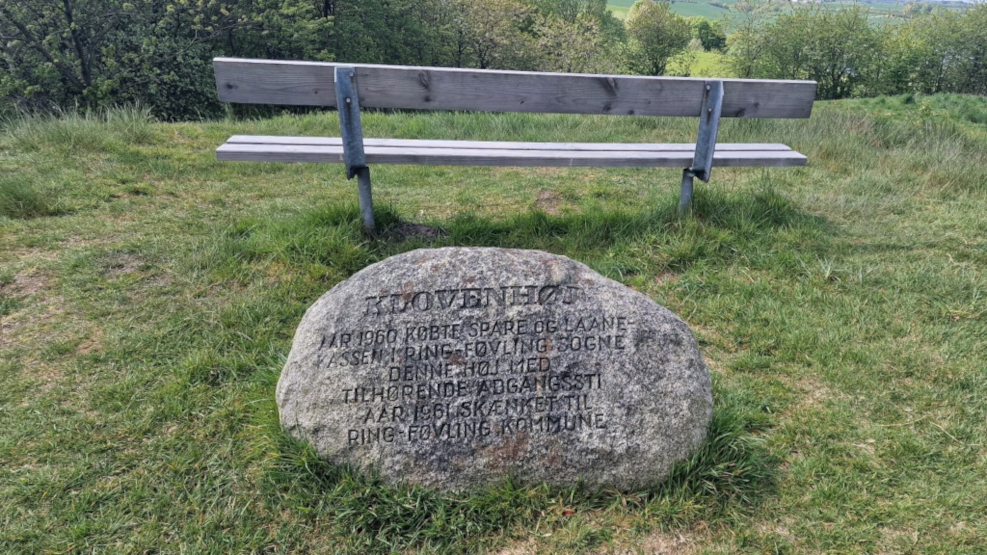 Klovenhøj
Klovenhøj burial mound is located in Brædstrup and is particularly prominent in the landscape. The burial mound, which is believed to be from the Bronze Age, has a staircase leading to the top, providing a beautiful view of the surrounding countryside.
Burial Mound with a View over Brædstrup
In the town of Brædstrup, near Hotel Pejsegården, lies this protected burial mound, which can be accessed via a path from Søndergade. A staircase leads up to the top of the mound. There is also a bench and a memorial stone. The mound has a flattened top, providing an opportunity to stay at the summit and enjoy the panoramic view of the town, fields, and Ring Lake.
The exact date of construction of Klovenhøj is uncertain, but its flattened top and size indicate that it is from the Bronze Age (1700-500 BC). Klovenhøj stands 4.25 meters high and is 25 meters wide. It has never been excavated by archaeologists.
One of Many Burial Mounds in the Area
In the vicinity of Klovenhøj, there are a large number of burial mounds and remnants thereof. From Klovenhøj and one kilometer to the east, there have been up to 40 burial mounds, although most of them are not visible in the landscape today.
The burial mounds, which are individual graves, were generally constructed as high as possible to honor the deceased. This was achieved by making the grave visible in the landscape for passersby and by placing the deceased as close to the gods as possible. They were often located near natural travel routes in the area, so that passersby could see that important people resided there. The burial mounds were thus associated with a certain status for both the individual and the local area.
Brædstrup is the highest situated town in Denmark, and the entire Hilly Land (Bakkelandet) offers many hilltops adorned with burial mounds. Not far from Brædstrup, at Slaggård Banke, you can experience one of Denmark's most impressive collections of burial mounds. The 9 burial mounds at Slaggård Banke and the 11 mounds at the nearby Vorbjerg Høje create a distinct landscape that is worth a visit. And Yding Skovhøj, also located within a short driving distance from Brædstrup, is actually the highest point in Denmark when including the burial mounds on top.
Part of Brædstrup's Treasure Hunt
Klovenhøj is one of the points you visit along The Brædstrup Treasure Hunt. So bring your family and children to Brædstrup and enjoy a fun activity and receive a medal as proof.
On this page, you can find inspiration for other experiences in the charming town of Brædstrup.
If you are seeking inspiration for other historical attractions in the area, you can find it here.
Destination Kystlandet © 2023