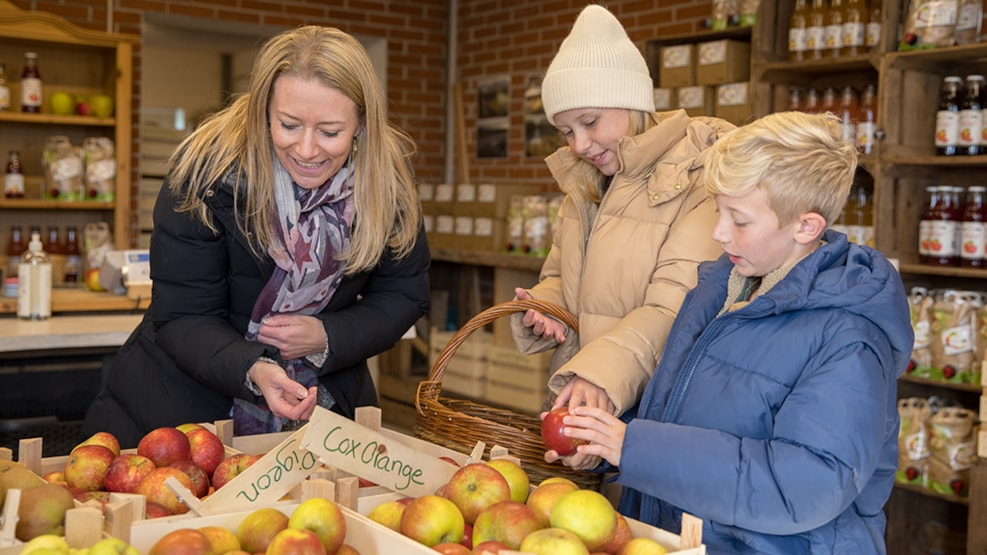 Karensminde Orchard (Frugtplantage)
You can pick you own fruit or buy fresh fruit and juice in our store at Karensminde Frugtplantage. Our season starts around mid july, where cherries, raspberry, red currants and blueberries are ripe. Later you can pick or buy plums, blackberry, pears and apples

Your favorite kind
We have both new and old varieties of fruits. Among apples we have Pinova, Elstar, Wellant, Gala, Mutzu, Bellida, Cox Orange, Ingrid Marie and Belle de Boskoop. Within pears you´ll find Concorde, Comice and the wellknown danish Clara Frijs.
If you have a taste for plums try our Opal, Jubillee, Victoria and Reine Claude.
Furthermore we have both sweet and sour cherries, blackberry, blueberry raspberry and redcurrants.

Apple juice
Our apple juice is produced from handpicked apples from our own orchard. There are several different mixtures to suit every taste.
Buttercup initiative
Karensminde Orchard is part of the local initiviate among farm shops called The Buttercup, or in Danish Smørblomsten. They work towards a greater knowledge of the local produce and the fine taste you get at the Oddercoast.