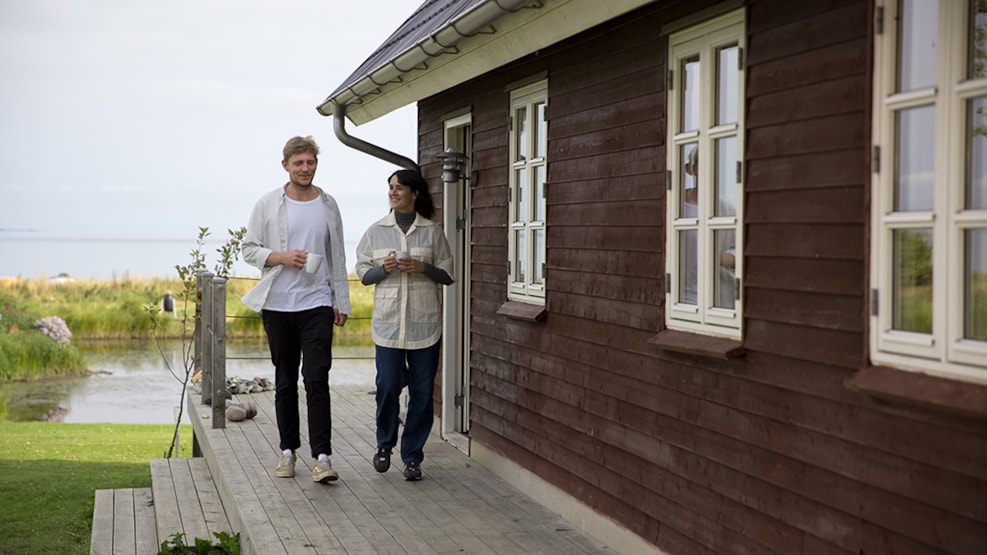 Kærhuset & Stalden
Experience the unique atmosphere on the picturesque island Endelave with a stay in a large, spacious holiday home with room for the whole family. Here, you are based at a very central location, very close to the coast, beach, and nature.
Island stay with space to breathe
The holiday homes Kærhuset and Stalden are located only a few minutes' walk away from the ferry landing on the holiday island Endelave. The houses are both spacious with lots of beds. This is the perfect setting for a big family or a large group of friends – no matter if you are looking for a long holiday or a weekend getaway. You will not find a better base to explore the island of wild rabbits.
There is plenty of time and space to lower your shoulders, and for all your worries from the mainland to vanish.
Kærhuset & Stalden is located on a big lot of 20.000 m2 next to Endelave's charming village pond. There is lots of room to be active with facilities such as a football goal, a fire ring, and barbecue facilities. The houses are only a hundred metres away from the water's edge and a fine sandy beach.
Kærhuset
Kærhuset is a bright and practical holiday home with a total of 12 beds. The house is equipped with all the modern facilities that you require for your holiday. There are two bathrooms, and the modern, well-equipped kitchen has a dishwasher a refrigerator/freezer and a large chest freezer with lots of space which makes Kærhuset a good base for the angler. There is also a living room with a television and a dining room with enough chairs for all. The 12 beds are placed in six double rooms.
Stalden
Stalden used to serve as a stable, but today it is a lovely well-equipped, and thoroughly renovated addition to Kærhuset. Stalden has a total of nine beds and the chance to have two extra beds. The kitchen has all the necessary domestic appliances. 1st floor has a big common room with room for 26 seated guests. There is a bar, refrigerator, and TV in this room which makes it a perfect choice for the birthday party.
Book your stay on Endelave
You can book Kærhuset and Stalden together or you can settle for Kærhuset. It is not possible to only book Stalden. You can rent for a weekend or on a weekly basis. The prices vary depending on the season. You can see the prices over the course of the year on Kærhuset's website. We recommend that you book some time in advance.
Contact the owners by phone or mail to hear if the house/s is/are available.
About Endelave
The island of wild rabbits in The Kattegat offers a great combination of impressive nature and authentic island atmosphere. Time uniquely passes by at a slow pace in the charming little village. Here, you can enjoy a nice meal or visit one of the island's little shops. Contrary to the village, nature is quite spectacular – and you can explore it on foot, by bike or even on horseback.
You can find inspiration for your trip to Endelave on this page.
Destination Kystlandet © 2023