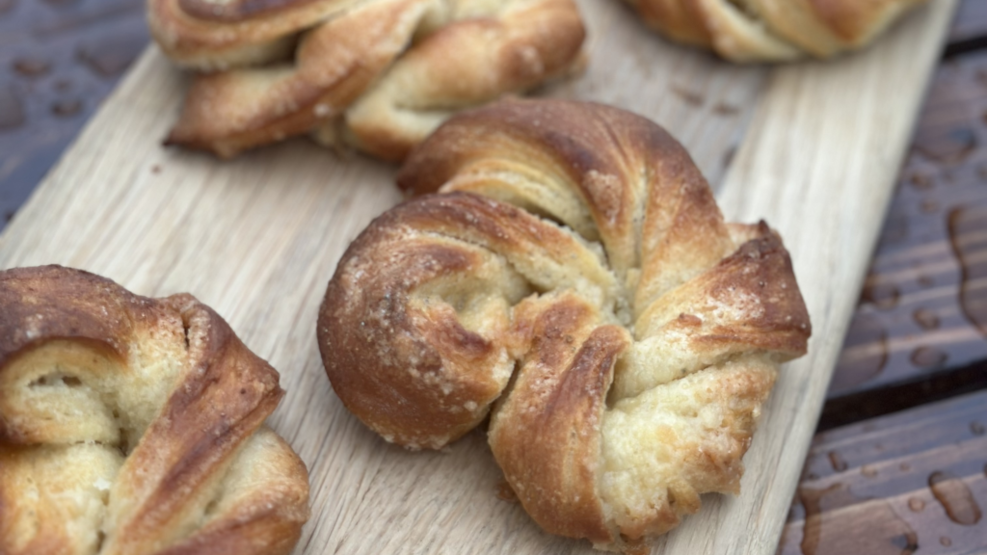 Juelsminde.nu - Sourdough bakery and fishmonger
At the marina in Juelsminde, you find this traditional fishmonger's, where you can always buy a large selection of freshly smoked products, carved fish, and much more.
Well-stocked fishmonger's in the middle of the marina
Experience the fantastic and cosy fishmonger at Juelsminde Harbour, where quality is always top-notch. The wide and varied selection of fresh fish, smoked goods, delicacies, and more perfectly aligns with the high level of service offered by the staff. The scent of fresh smoked goods, the famous fish cakes, and fillets tantalize the sense of smell as soon as you step into the shop. Counters are filled with both whole and filleted fish, an abundance of seafood, delicacies, and specialties. Purchasing fish in this store isn't just a simple transaction; it's an experience.
The heart of the city for 90 Years
For almost a century, there has been a fishmonger operating in the buildings at the marina in Juelsminde. Throughout this time, the shop has been a symbol of quality and a contributing factor to the development of the harbor area. Juelsminde Fisk is not just a shop but also a piece of local cultural heritage.
It's a place you MUST visit during your stay in the town.
Sourdough Bakery
In the charming sourdough bakery in the heart of Juelsminde Harbour, the foremost task is to offer the freshest and most delicious bread and cakes every single day. All made with only the finest ingredients and based on proud traditions and methods. Their specialty is sourdough bread, developed through slow and natural fermentation, typically lasting 24-36 hours. This aids digestion and develops a deeper taste, aroma, and crust. Additionally, sourdough is richer in nutrients and less likely to spike your blood sugar. Sourdough contains lower levels of gluten and is generally easier to digest than bread made with baker's yeast. Customers are crazy about the always freshly baked selection, so it's definitely here to stay.
NIOR Bistro
Adjacent to the fish shop is the highly visited eatery where you can taste the delicious fish sold in the shop. NIOR Bistro offers fish dishes prepared from scratch by the kitchen's trained chefs. In addition to the establishment's signature dish (the popular "stjerneskud"), there are ample opportunities to enjoy well-prepared dishes and exciting beverages while unwinding and observing Juelsminde Harbor life.
There are many seats both indoors and outdoors. When the sun shines, you have the opportunity to sit on the terrace overlooking the beach or right by the harbour quay with a fantastic view of the water, boats, and plenty of lively activity.
Destination Kystlandet © 2023