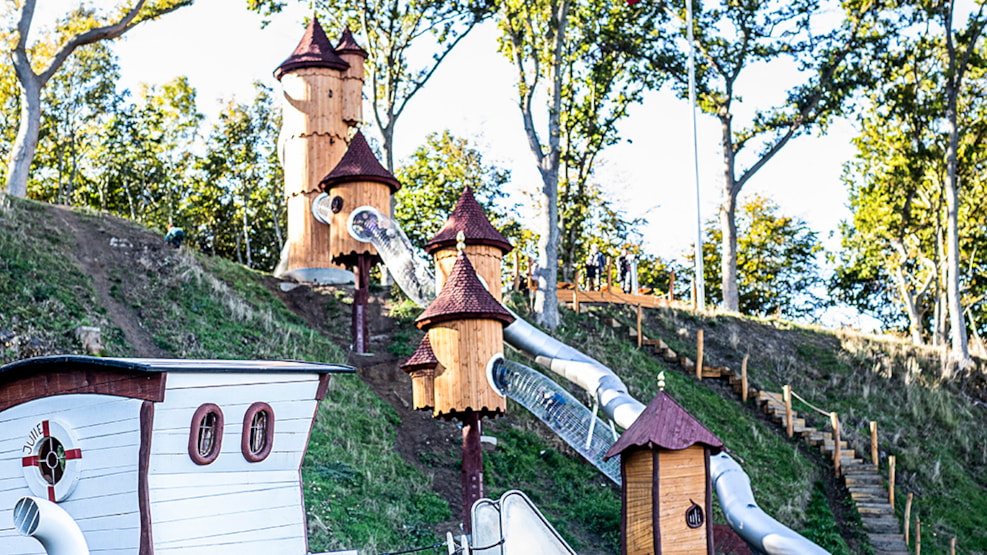 Juelsminde Nature Playpark (Naturlegepark)
Juelsminde Naturlegepark is not just a nature playpark – it is a paradise full of play and games. You can slide down a mountain, play on the multipurpose pitch, do forest fitness and see if you can complete the "Tarzan-track", or you can just enjoy an ice-cream in the scenic setting
Active play in beautiful surroundings
In the scenic settings around Odelsbjerget near Juelsminde town centre, you find a paradise for children and childish grownups. You find a plethora of playground equipment, facilities, tracks and challenges. The varied activities on offer mean that the children are able to play for hours while you relax or handle the shopping in the centre of town.
The characteristic towers
When you arrive at Juelsminde, you will notice the 8-meter-tall play towers located around Odelsbjerget. It is possible to crawl from tower to tower via a large grid.
From the top of the hill, you can get a rush if you take the long trip down the slide. If you need to pluck up the courage, you can enjoy the views from the top where you will find seating as well as binoculars. From here, you can enjoy the excellent views of Juelsminde and the coastline.
Get your heart rate up
Great and small can let themselves loose on the large multipurpose pitch where you can enjoy several different kinds of ballgames.
At the top of Odelsbjerget, you will find gear for forest fitness and, in the forest behind the nature playpark, there is a long MTB track.
Play until the early morning
There are enough options to prevent you from feeling bored in a hurry. The young ones can have fun at the large toddler playground or on the play ship Julle which is a playground version of the ferry "Julle" that used to depart Juelsminde. At the playground, there are playhouses, a seesaw, swings, a carrousel, roll bars and much more.
Adrenalin junkies can go on the long zip-ride to let themselves loose on the trampolines.
There is also a Tarzan-track – see if you can complete the challenging track without falling down.
Around the nature playpark
The playpark has its own parking lot which is located off Ringvejen. You can also park your bicycle here, and recharge your e-bike. 
Grownups can relax in the house where you can also enjoy your packed lunch or dinner. There is a coin-fired gas barbeque which means that the entire family can enjoy an outing on a warm summer's evening with barbeque and fun. There are also toilet facilities at the house.
You can buy ice-cream, snacks and cold drinks from the kiosk in the park. If you grow hungry and feel like something good to eat, you can access the restaurant of Hotel Juelsminde Strand from the park. There is also a grocery ship right by the park.
The area is well-lit with activity sensors which means that it is also possible to use the area after the sun has set.
The nature playpark is located at the edge of the beautiful forest Tofteskoven which is well-suited for shorter walks. All the while, city shopping, the busy marina and the beach Storstranden are a mere 500 metres away.