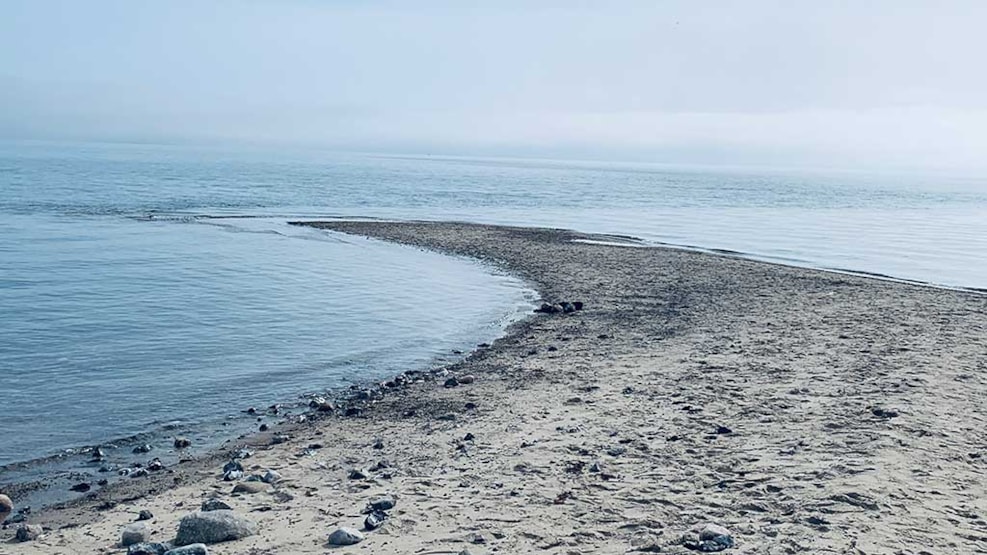 Inshore fishing at Bjørnsknude
Bjørnsknude is a long and pointed peninsula in Juelsminde, stretching several kilometers out into the sea. This captivating reef holds a long history in the stories of anglers. Here, the waters from the Vejle and Horsens fjords converge, attracting a large number of sea trout and garfish that pass by.
Good fishing grounds, but beware!
In Juelsminde, a 5-minute drive from the town's harbor, lies the tip of the peninsula Bjørnsknude. This stunning reef, stretching far into the Kattegat, offers fabulous fishing opportunities with good catch prospects, but it is definitely a place that should be approached with extreme caution. The currents here can be strong and unpredictable. Fortunately, there are rocks and beaches on both sides of the reef, making the area fishable even during tidal shifts. Due to the sometimes violent currents, the appearance of the reef varies from season to season. One year, it might be covered in mussels, the next with eelgrass, and the following year barely visible. The whims and forces of nature come into play here.
That being said...
Many anglers have had unforgettable experiences in this very spot. It's an all-year-round location and a definite hotspot for sea trout fishing. As the water temperature rises in early March, more stable fishing begins, and the sea trout move onto the reef. From mid-April, the long-beaked garfish also arrive. They are formidable fighters and excellent eating fish.
During the summer period, it's primarily the enticing sea trout that dominate the reef. The sea trout destined to find their spawning waters in Vejle and Horsens Fjord potentially pass by this spot. This results in the capture of impressive and truly large fish at this location every year.
Spinning or fly fishing?
Let's delve a bit deeper:
Regular spinning rods in 9-11 feet with a size 2500 - 3000 reel are preferable. At the start of the season, flashy-colored spinners are recommended. From mid-May to September, long tobis-like spinners are often a reliable choice.
In autumn, compact 5-7 cm spinners work well. There's a large number of sand eels on the reef during this time.
Bombarda fishing is also productive on the reef. A 10-12 foot rod with a size 2500 - 3000 reel. The flies used are the same as described below for fly fishing.
For fly fishing, fly rods in 9-10 feet #6 and #7 weight are preferred. An Intermediate line/shooting head or sinking poly leader works well during daytime, while floating is optimal during night fishing.
Shrimp and sand eel flies are highly effective at this location.
Finding your way to Bjørnsknude
Unfortunately, there isn't a parking lot directly at the tip of Bjørnsknude. Most people will drive down Bjørnsknudevej to find parking, but parking by the summer houses is prohibited. It's important to adhere to this.
If you don't mind a little beach walk, the nearest recommended parking spots are at Grønbjerggård Strand on the south side (on Sønderstrand road) or the public parking lot at Storstranden. Both offer a 1.5-kilometer walk, but through a quite beautiful coastal stretch.
Other fishing spots in the area
On this page about coastal fishing in Kystlandet, you can find inspiration for your next catch on the eastern coast of Jutland.
Need the right fishing gear?
Effektlageret is the largest provider of fishing equipment in the local area. In addition to a large webshop, Effektlageret has a physical store in Horsens with a wide selection for all types of fishing.
Destination Kystlandet © 2023