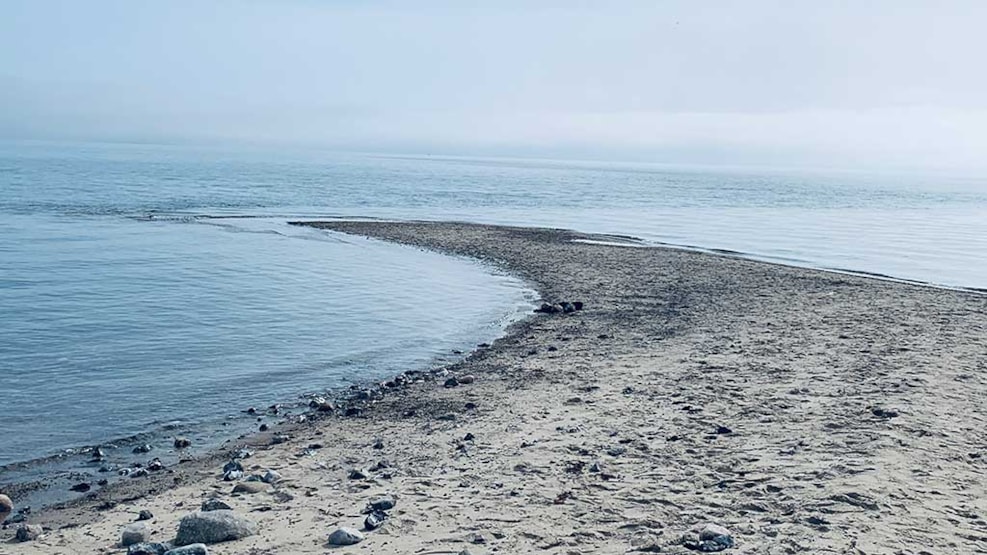 Inshore fishing at Bjørnsknude
You will find Bjørnsknude only 5 minutes in car from the center of Juelsminde. Here, we speak of a breathtaking reef, with a long history in an angler perspective. The waters from Vejle and Horsens fjords meet here. That not only means good conditions for anglers but also that you have to be cautious. The current here can be heavy and unpredictable. Luckily, there is stones and beaches on both sides of the reef, which makes fishing possible even at changing of the tides. Because of the, at times, heavy current, the reef changes appearance from season to season. One year it can be full of mussels, the next it can be seaweed and the third year, it can perhaps barely be seen. The power of nature rules here.
That said, many anglers have had unforgettable experiences at this exact spot. When the water temperature rises in the beginning of March, the stable angling season starts and the sea trout arrive at the reef. From mid April you will also find the beaked garfish – a fish that is a formidable fighter and tastes great. The garfish can be catched from the parking lot and out to the reef.
In the summer, it is primarily the arriving sea trout, which dominate the reef. The sea trout who must find their spawning water in Vejle or Horsens Fjord, must potentially come by this site. This means that each year, nice and big fish are catched at this spot.
Spin fishing:
Ordinary spin fishing rods in 9-11 feet with a 2500 – 3000 wheel is preferable. In the beginning of the season, blink in harsh colors are preferable. From mid May until September, long sandeels looking blink are often a safe bet. In the autumn, the compact 5-7 cm. blink work well. At this time, there are many gobies on the reef.
Bombarda fishing is also good on the reef. A 10 – 12 feet rod with a 2500 – 3000 wheel. The fly's are the same as described below under fly fishing.
Fly fishing:
Fly rods in 9 – 10 feet #6 and #7 are preferable. An intermediate line or sinking polyleader does well during daylight, while a sinking one is better during nightfishing.
Shrimp and sandeels fly's are really effective at this spot.
Parking Bjørnsknude:
You park in the wayside, where the asphalt road ends. Parking at the summer houses is prohibited and it is important that this is respected.