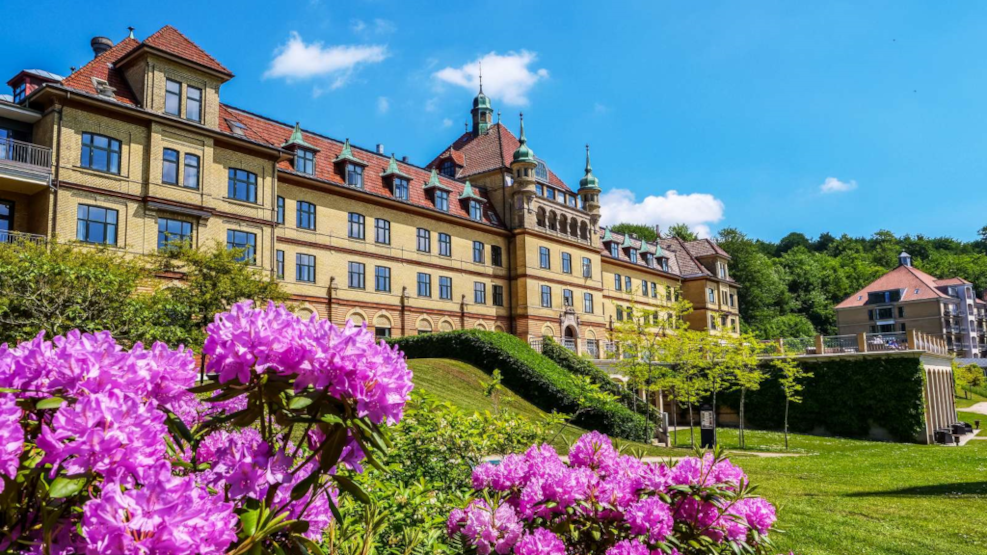 Green Experience
Hotel Vejlefjord
Relaxing spa stays await in beautiful surroundings with smiling nature and amazing wellness.
Experience the ultimate sensation of pampering in idyllic surroundings
It is not without reason that Hotel Vejlefjord is often referred to as "the castle in the forest". The impressive building is located by the banks of the fjord and surrounded by beech wood.
A spa- or weekend stay at Hotel Vejlefjord always includes access to The Thermal Baths & Thalasso Spa, three-course dinner, accommodation, and breakfast buffet. You can choose to add welcome packs that will be delivered to your room or spa treatments to your booking.
The Thermal Baths & Thalasso Spa
In the Thermal Baths made from stunning granite every bath, cave and room will offer a unique sense experience. Heat, cold, light, sound, steam, summer rain, massage showers, and saunas will surely make you relax. Make sure to take the time to experience it all.
In the Forest Sauna you can experience sauna infusions before immersing in the fjord or cooling down in the ice bath.
In Thalasso Spa you can find the salt bath where you can float effortlessly. The Salt Sauna has many amazing qualities. From here you can enjoy the splendid view of the park while the heat makes your body relax.
The nature surrounding the hotel
The amazing nature is a part of the experience at Hotel Vejlefjord. Go for a walk in the beautifully landscaped park slanting downwards towards the fjord, take a fjord dip from the bathing jetty at the beach or follow the historic treatment paths around the forests and along the fjord. Scattered around the area, you will find many benches, quotes, and curiosities. Here, you will find plenty of room to enjoy the view, the smells, and the tranquility.
The restaurant
The brasserie, the glass hall and the panorama terrace frame the culinary experiences depending on the weather. There is a cosy relaxed feeling in the restaurant, and an evident manor atmosphere. Healthy and honest meals are served – always cooked with fresh seasonal ingredients.
Rooms
The hotel's 116 rooms are located in three different buildings. You choose your own room type and whether you want a balcony or view. Hotel Vejlefjord is ideal for weekend stays, spa stays or classic hotel stays – for the girlfriend getaway or romance.
Meetings and conferences
Hotel Vejlefjord offers conference facilieties with modern comfort combined with beautiful atmospheric surroundings and an amazing view.
Destination Kystlandet © 2023