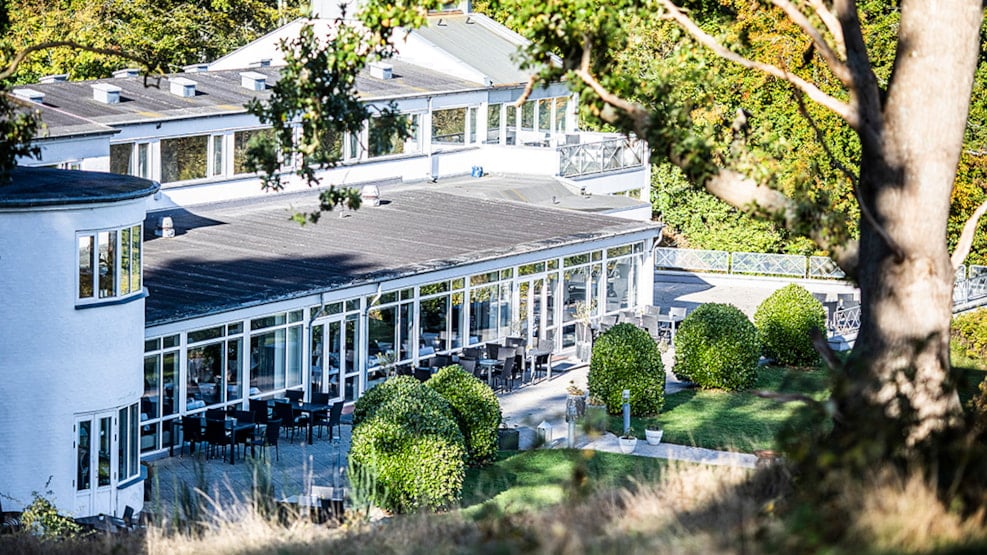 Hotel Juelsminde Strand
Hotel Juelsminde Strand is the biggest and best accommodation in the resort. With its central location near the cosy harbour, beach and the town's shops and eateries, the hotel is the perfect base for your coastal holiday on the eastern coast of Jutland.
Cosy hotel with good facilities
This newly refurbished hotel has 70 beautiful rooms to offer, and all rooms have a toilet, bathroom, free WiFi and TV. The hotel has a private restaurant and bar, as well as a cosy terrace and garden. The hotel's restaurant, as well as many of the rooms overlook the town, the beaches and the Kattegat, and when you need entertainment, you can have a game of pool, darts or table tennis.
When hunger sets in
At the hotel you will find Restaurant Færgegården, which serves delicious and well-prepared dishes in the evening. The dishes are prepared with respect to the traditional, but with a twist of elegance and gourmet.
The restaurant also offers a delicious buffet breakfast that can be booked with your stay.
Close to everything
Hotel Juelsminde Strand is right on the approach road to the small cosy harbour town, which attracts lots of tourists every year during the lead up to summer. The hotel is a short walking distance to all the town's experiences, including the large marina, popular swimming beaches and the town's shopping centre.
The hotel is located in scenic surroundings and borders Tofte Forest. Just outside the hotel, you will also find the huge play universe, Naturlegeparken - a sure hit with children and childish souls.
From Juelsminde, it is not far from Jutland's big attractions and towns such as Horsens, Vejle, Aarhus and Billund are just a short drive away.
A great choice for meetings and parties
Hotel Juelsminde Strand embraces both swimming and business guests. There are excellent and modern conference facilities with a room accommodating up to 180 people, meeting rooms accommodating up to 35 people, and a number of group rooms. The many rooms and options provide great flexibility and adaptation to the needs of each company.
You can also choose Hotel Juelsminde Strand as the starting point for your next party, family get together, wedding, confirmation or similar. If you have unique wishes for a special themed party, the hotel will help make it happen.