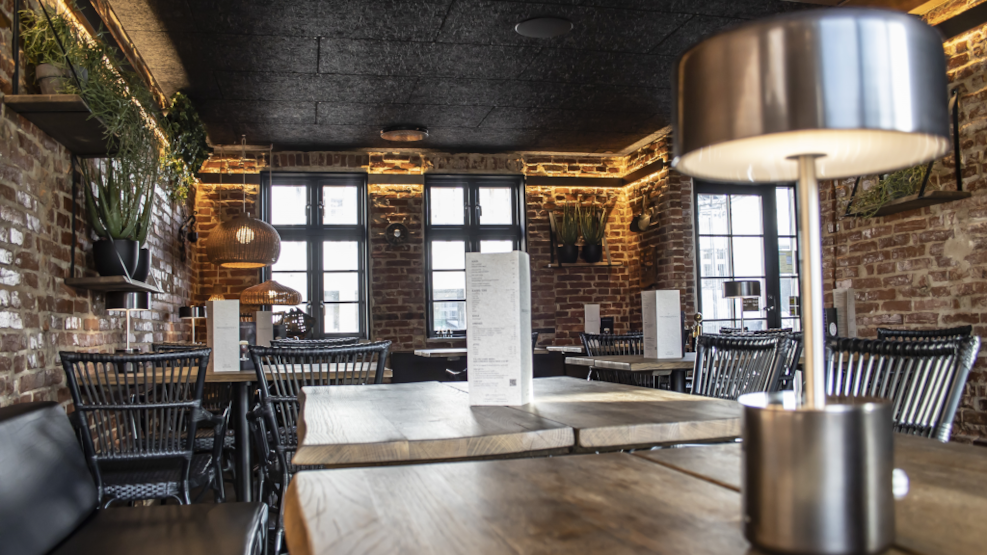 Høllsberg's Garden (Høllsbergs Have)
Visit this modern and inviting gastropub in the centre of Juelsminde with outdoor- and indoor service of cold drinks and great food experiences. The place is an ideal choice of restaurant near the harbour, and in the backyard, you can relax in good company in the shade or under the sun.
Charming beer- and wine bar in the city centre
This combination of eatery and bar is located in the middle of the central shopping street in Juelsminde, Odelsgade, and only 200 metres from the marina. As the name implies, Høllsberg's Garden has a cosy backyard where you can enjoy the Danish summer with cold drinks in a homely and relaxed setting. Inside you can choose to sit in the bar/restaurant which is tastefully arranged with raw bricks, wood, and dark colours.
Høllsbergs Garden has a comprehensive drinks menu with many different types of drinks. Here you can enjoy a good glass of white wine, sparkling wine, cocktails, good barista coffee, quality liquour, and craft beer. There is also a selection of soft drinks and non-alcoholic drinks. In other words Høllsbergs Have is perfect as a coffee shop, wine bar, and a restaurant with room for everyone – from friends to couples and families with children.
Great food experiences
Høllsbergs Garden has a small but carefully selected menu of lovely dishes and snacks that you can enjoy for lunch and dinner. The keyword is quality – focus is on good ingredients, and you can taste the passion in every bite.
You can try one of their delicious boards (meat board, salmon board, or cheese board), a salad, some jamon iberico or croque monsieur. They also offer a selection of snacks, and homemade cake.
You can see the whole menu on this page (in Danish).  
Live music
Live music and other events such as communal eating are frequently organized by Høllsbergs Garden. The events are published on Høllsbergs Garden's Facebook page where you can also see if registration is mandatory.
Opening hours
The opening hours vary depending on the season but is often open for lunch and dinner. You can see the current opening hours at Høllsberg Gardens website.
Destination Kystlandet © 2023